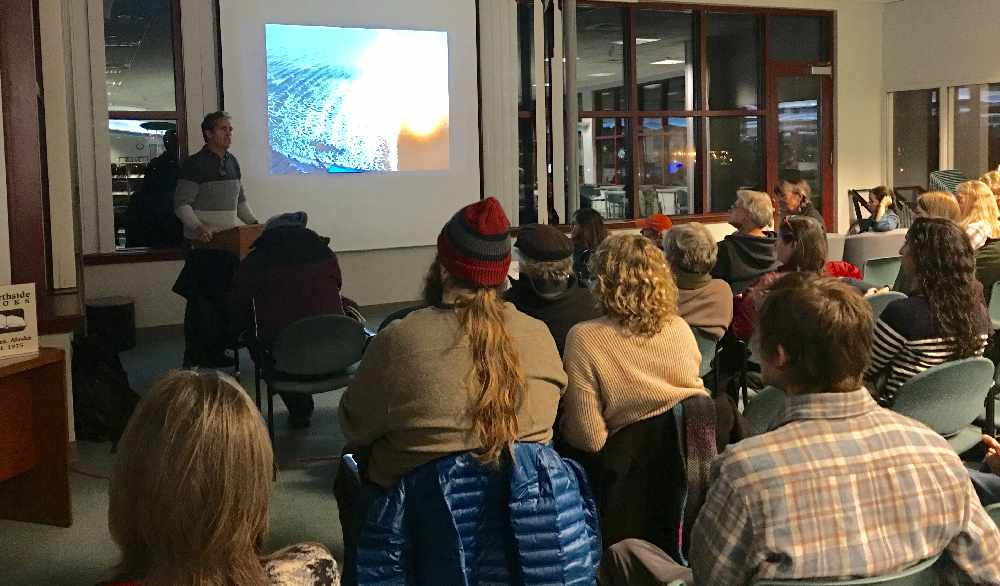 Juneau, AK (KINY) - Juneau Public Libraries and the Gold Town Nickelodeon theater had their first Science on Screen event of the year.
The evening started with a talk from author Jonathan White at the downtown library, which was then followed by a viewing of Black Beauty at the theater ending with a discussion. There was also an opportunity to buy his latest book from Hearthside Books, as well as the chance to have it signed by White.
Beth Weigel, the program coordinator for the Juneau Public Libraries, talked about what a unique opportunity the program is for the Juneau community.
"The idea of Science on Screen is that it pairs a speaker, who can talk about science with some sort of film usually it's a documentary or a classic film of some sort, that is then used as a jumping-off point for the speaker to talk a little bit more in-depth about science. It really is about promoting STEM and they're particularly interested in reaching communities that might not have the same opportunities for science engagement and things like that. So we feel really lucky to have this be our third season of Science on Screen."
Jonathan White, who was the guest speaker and author of "Tides: The Science and Spirit of the Ocean", spoke about how his life on the sea sparked a hunger for knowledge on the tides.
"Myself as a sailor and a surfer on a journey to understand how the tides work, but I go to all these different places around the world where the tides are dramatically at play. I'm talking about what's going on there, the science of it, but I'm also interviewing people and their relationship with the tide and the history, spirit, and the poetry, basically the humanity of the tide, as well as the science of the tide"
White told of a time when his schooner was trapped in deep mud after a mistake in knowing the tide left him and several clients stranded, which triggered the need to know everything about the tide. What he thought was going to be a month long study, turned into a lifelong pursuit of knowledge that took him all across the world.
Collette Costa, owner of the Gold Town Nickelodeon, spoke highly of Science on Screen and was excited to bring more experts in for more events.
"We're one of only a couple dozen theaters across the US that gets this grant and I think it's the perfect combination of two super nerdy things making one uber nerdy evening of movies and science."
Costa also talked about another guest they'll be having for National Science on Screen Day.
"March 27th is the National Science on Screen Day and they designate a day every year. We'll be having a speaker who is a CTO at Intel (Chief Technical Officer) and he has developed a number of different innovative research tools, but primarily he's been working on this algorithm that acts as sort of a fingerprinting ID system for humpback whale tails."
Science on Screen is in full effect with several events being planned over the next few months. Keep an eye on the Juneau Public Libraries and the Gold Town Theater for announcements and timings.
For more about author Jonathan White, check out his website.