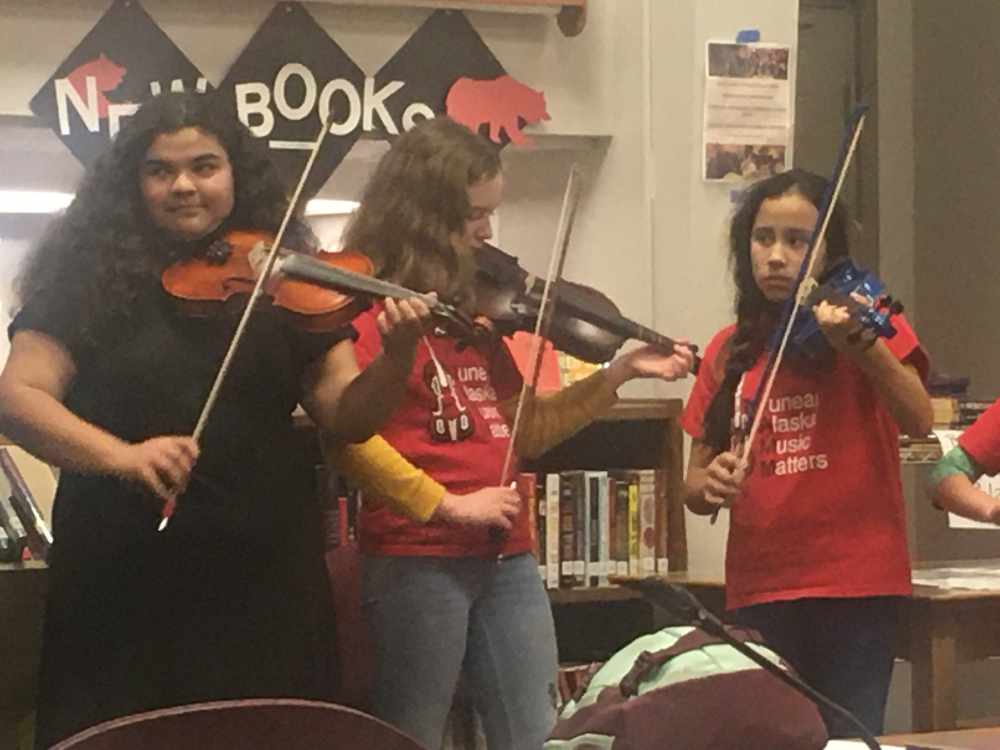 Juneau Alaska Music Matters students performed two students at Tuesday's Juneau Board of Education meeting.
Juneau, Alaska (KINY) - An opt out provision is now open to all students after concerns were raised about privacy.
Superintendent Dr. Bridget Weiss told the Juneau Board of Education she has made a few adjustments to the Bark Program. She met with staff, students and a parent who had concerns at the October board meeting. She also worked with Bark to make some changes. Data is now being held for 15 days rather than 30 days. Parents no longer receive emails from Bark offering services, the profanity filter was eliminated and the severity filter was adjusted to less sensitive to result in fewer false positives.
"We have made some headway and communicated with individuals who had requested opt-outs of the program," she added.
Bark is a parental control phone monitoring app to help keep kids safer online. Bark monitors social media, text, and email on Android and IOS devices.
School officials were criticized last month for implementing the program without giving students and parents enough information.
Dr. Weiss said the district has worked with the Juneau Police Department to create a community-based, multi-disciplinary partnership dedicated to the prevention of targeted acts of violence through the cooperative sharing of information and resources. The program will work to identify threats and indicators to commit violence, determine the seriousness of the threat, develop an intervention plan that protects potential victims and address the underlying problems or causes of the threatening behavior. The purpose is for prevention and intervention rather than discipline.
"This is at the very, very infancy of design. It is a great example of a partnership with an Agency that plays a very strong role in our community. It is an attempt to be proactive rather than reactive," she added.
Student enrollment of 4,615 students is 38 students above projections.
Natalie Watson of AWARE gave a report on the Boys and Girls on the Run program. The after school program teaches kids life and other skills. After 10 weeks they compete in a 5 K run. This year the run is held on December 7.
YDHS students plan a community involvement day soon with trips to various agencies like Tlingit and Haida Central Council, Juneau Police, AWARE, the Zach Gordon Youth Center and other visits. Students would like to raise the community profile of the school. One idea is a hot chocolate day downtown.
The Board decided not to approve a policy change that would prohibit any mention of alcohol or drugs like bumper stickers on cars parked in school parking lots.