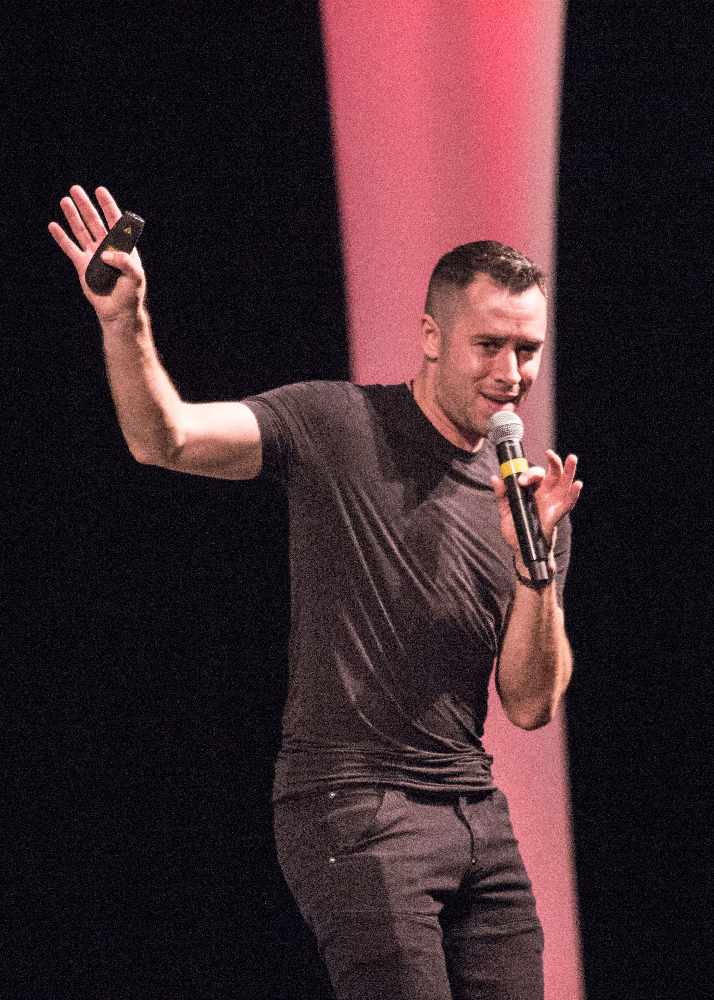 Jesse LeBeau addresses the crowd at the Pillars of America speaker series that began Wednesday.
Juneau, Alaska (KINY) - Jesse LeBeau gave an inspiring speech about turning weaknesses into strength as the Pillars of America speaker series began Wednesday.
His high energy performance focused on the amazing basketball tricks and skills he has learned during his career. It was also heavy on audience participation.
LeBeau grew up in southeast Alaska near Ketchikan. He played both high school and college basketball and went on to become known in the world of street ball. He even ventured into the entertainment industry to do a movie with former NBA MVP Kevin Durant.
He said taking action is what is important to his success. "Don't let fear stop you from getting what you want out of life."
A few seconds of courage can stand between you and your dreams, he added.
He said growing up he felt he didn't have the opportunity to do what he wanted to do. He wanted to be a basketball player, receive a scholarship to college, and one day to get paid to play basketball. "There was one problem, I was born with the body of a hobbit."
His nicknames growing up were 'Baby J and Young Jimmy Neuts'
He was an underdog as he played against bigger and stronger players.
"I was overlooked and underestimated. I wasn't big enough and I wasn't strong enough."
One of the biggest insults he heard came from a tall eighth grader who snatched a rebound away from him while playing on the playground during lunch at school. He asked Jesse what he was going to be when he grew up and asked if his future job would be as a pony rider, a jockey.
"We have all had dumb things said to us. Those words haunted me and I would replay them."
He urged the crowd not to let someone else's words bother them or define them. He also urged them not to play the blame game. He challenged the crowd not to make excuses but to improve themselves with hard work and dedication.
LeBeau got up at 5 a.m. each day and worked on his basketball game. He practiced, he worked on his shooting, dribbling and defense, and made himself the best player that he could be.
"If I wasted all my time worried about what other people thought of me, I would never get what I wanted out of life."
The thing that mattered the most in his effort to be the best was his attitude. He had help along the way from his father and coaches. After college he got a job on a fishing boat. The captain of the boat hated him and mistreated him. Jesse wrote down his list of goals in his life. The captain found the list and ridiculed him in front of the crew. Jesse had written he would go to California and get involved in the entertainment industry and play basketball professionally. The captain would later get to see Jesse meet his dreams and appear on television in a commercial.
"If you want to be a true leader, speak out. Help people that are going through difficult things," he added, "Be a light, encourage people, be something bigger than yourself."
He got started doing a Nike commercial with Kobe Bryant of the Los Angeles Lakers. The movie Thunderstruck led to an appearance on the sitcom, Saved by the Bell and in commercials and music videos with several stars like Rajon Rondo, Justin Bieber, Paris Hilton, Ron Artest, Steve Nash, Charles Barkley and the Rock.
His childhood hero, Allen Iverson, former NBA All-Star, said to him that confidence is very important. He emphasized that attitude is everything and to believe in yourself. "I'm here today because I'm the last person who should ever get to do these things. I'm an undersized underdog who struggles like you. I have the potential to be average. I took action, I believed in myself, and I wrote goals. The thing that made the difference was I tried my hardest in every situation, not to get bitter, but get better."
He urged young people to go for their dreams because they have nothing to lose.
The Pillars of America series has brought over 80 speakers to Juneau over the past 27 years. The Glacier Valley Rotary puts on the event each year.
Local Juneau businesses have donated close to $1 million over the past 27 years to make the event possible.