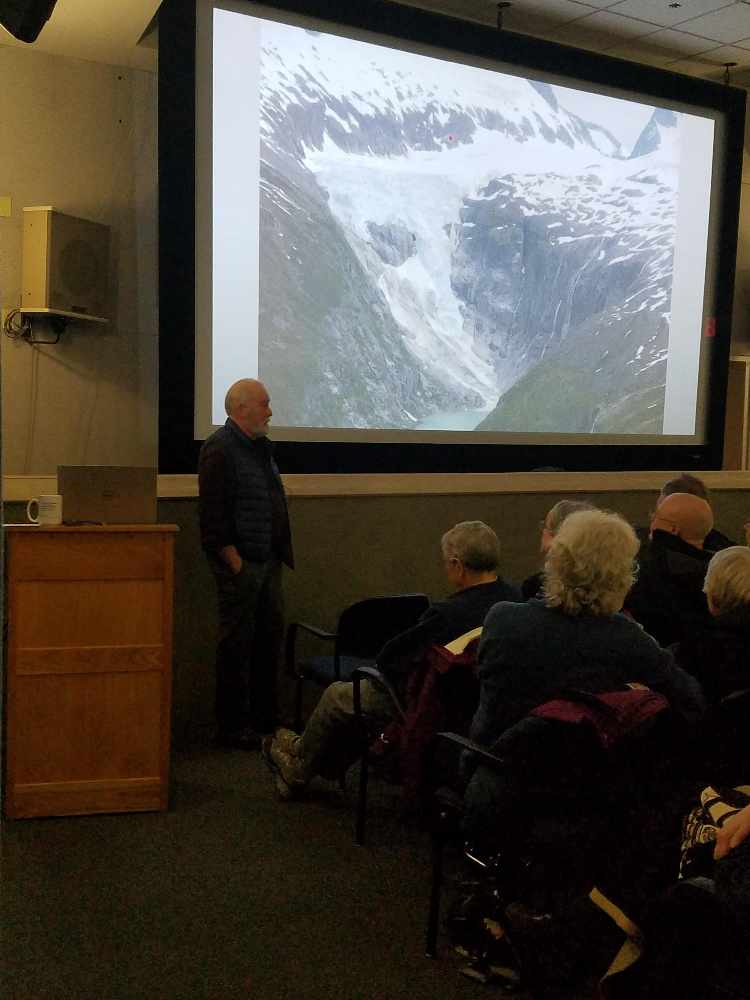 Juneau, AK (KINY) - A Tsunami was cause for flooding in Cowee Creek
On Friday Night, as a part of the Mendenhall Glacier Visitor Center's fireside chat series, Rick Edwards gave a talk on the effects of an alpine tsunami in Cowee Creek, when an earthquake caused 1.6 million tons of rock to become dislodged from the mountainside and about 88% of that rock slid into the alpine lake that feeds the creek. Mr. Edwards equated the phenomenon to throwing a bag of potatoes into a bathtub, only the volume of this bag of potatoes equaled about 5.3 federal buildings.
The resulting wave was up to 33 feet high, and the water had enough force to pull up about 1,500 trees, fundamentally changing the landscape, and scouring the ground down to bedrock in some places. Tsunamis caused by rockfalls are rare, and Mr. Edwards said that it is more common for these phenomena to be caused by volcanoes or landslides.
Mr. Edwards states that in deeper ocean waters, tsunamis can move up to 500 miles per hour. While they're slower in alpine lakes, he says that a landslide near a lake is not material for your next Kodak moment. If you see a landslide or rockfall go into a lake, get to high ground as soon as possible.
He noted an alpine tsunami in the Valont Dam in Italy that achieved a 500 foot wave and killed 2,500 people.
The next fireside chat will be held on February 16th at 6:30 and 8:00 PM, and will feature Kevin White, as he discusses how a wild bull moose ended up in Juneau.