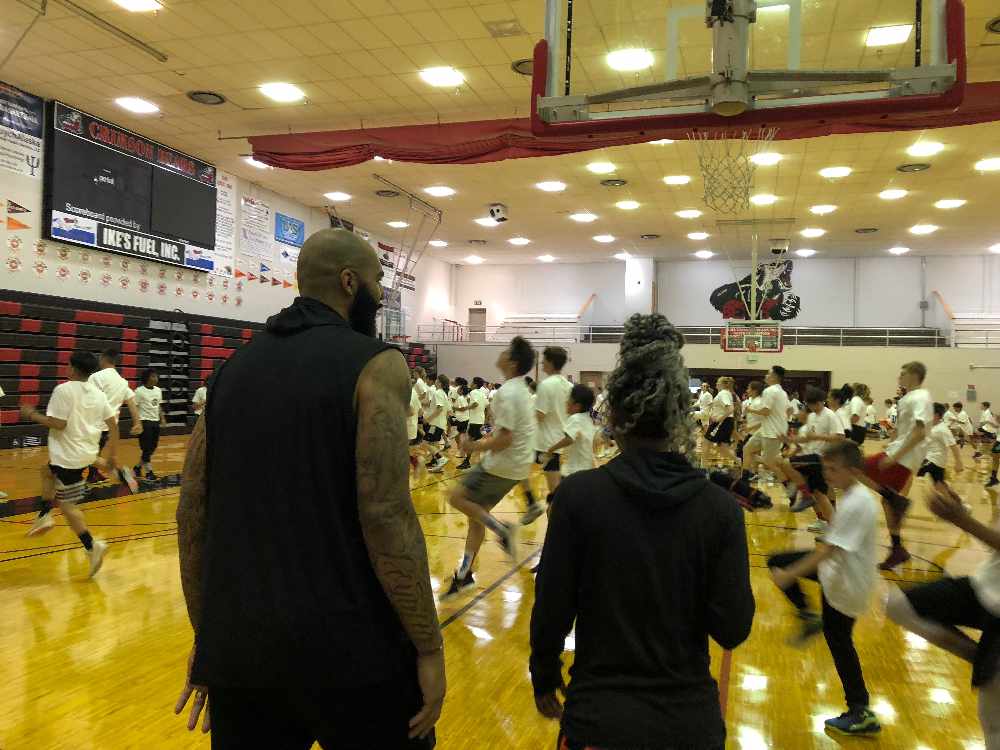 Carlos Boozer Jr immediately set the kids to work on their fitness.
Juneau, AK (KINY) - A retired NBA All-Star has returned to his hometown of Juneau to give back during a week-long basketball camp. The camp is being held at the Juneau Douglas High School and will conclude on Friday, August 10th.
Carlos Boozer Jr has played for many successful NBA teams throughout his career where he played with the Cleveland Cavaliers, Utah Jazz, Chicago Bulls and Los Angeles Lakers. He spent his last years as a professional player with the Guangdong Southern Tigers. Boozer also won a bronze medal on Team USA at the 2004 Summer Olympics and then a gold medal at the 2008 Summer Olympics. Behind this success is a man that's eager to pass on his knowledge to the next generation, one that was humbled by the overwhelming support from Juneau for this training camp.
"I was able to bring my own team up to help out all these kids. This is a community that I grew up in, so for me to be able to come back and get back to this community is a big deal for me. Just an honor for me to be here."
His coach during his time at JDHS, George Houston is also helping the camp and who was glad to be a part of it.
"It's great to have Carlos back and bring the extra people with him to do the camp. It's going to be a great week of camp for us."
Kids from 5-18 years old of all levels of skill were able to sign up to be a part of a focused week where any and all techniques could be worked on. Boys and girls alike were able to attend. Boozer also brought with him several players and coaches to help further add value to the week for the kids. Boozer also brought his parents, his brother, and other friends that he considers a part of his family.
Boozer was extremely thankful to the community who have welcomed the camp.
"It's just great to see kids that are excited to play basketball, excited to have fun here, having a good time, and then sacrificing their summer to be in the gym."
"That's what I did growing up and I just told the kids when camp started that I did the same thing. I was sacrificing hanging out, going fishing, going to Sandy Beach to be in the gym and get better at my game."
"I applaud the kids that came, I applaud the parents. Thank you for trusting me to help teach your kids some lessons that I learned along the way. Thank you, I appreciate the community. I appreciate you guys being behind us."
He hopes to see the program continue annually. This year marks the second time they've had the Basketball camp.