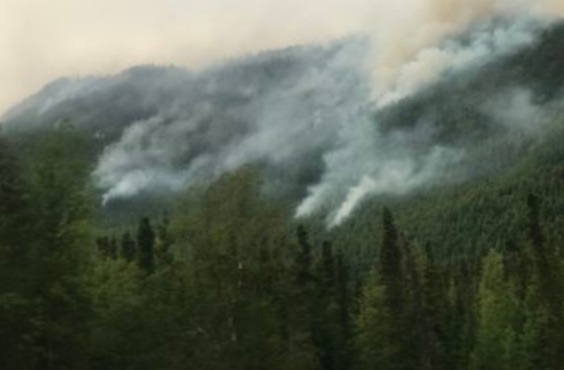 The Swan Lake Fire is spreading toward Jean Lake and the Skyline Trail.
Kenai, Alaska (KINY) - The Swan Lake fire continues to be active throughout the day as temperatures climb into the 90s. The Swan Lake fire is estimated at 92,657 acres with roughly 408 crew members and is currently at 14 percent containment.
According to KSRM Radio in Kenai, helicopters will continue to provide water drops in the southeast corner of the fire to slow spread toward Upper Jean Lake area which occurred early Saturday. Crews will be assessing and developing a plan for fire containment in the Jean Lake area and along the Sterling Highway near the Skyline Trail as the fire continues to spread in that direction, according to a release from the Incident Management Team.
The Fuller Lakes Trail, within the Kenai National Wildlife Refuge, is now closed as fire personnel begin assessing the area for potential future operations should the fire continue moving to the east.
Fine fuel moistures have reached critically low levels and fuels normally resistant to fire are becoming more available to burn, according to the release.
The following areas remain closed: Watson Lake CG, Peterson Lake CG, Kelly Lake CG, Jean Lake CG, Mystery Creek Road, Skyline Trail, Seven Lakes Trail, Fuller Lakes Trail, Kelly Lake Cabin, Trapper Joe Cabin, Big Indian Cabin, East Fork Moose River, Watson Lake, Kelly Lake, Peterson Lake, Jean Lake and Bottenintin Lake. Contact the Refuge Visitor Center at 907-260-2820 or online at http://kenai.fws.gov.
An air quality monitoring station has been set up near Cooper Landing. Real-time reports are available 24 hours a day at http://tools.airfire.org, click on the Monitoring PM2.5. and slide the map to Alaska.