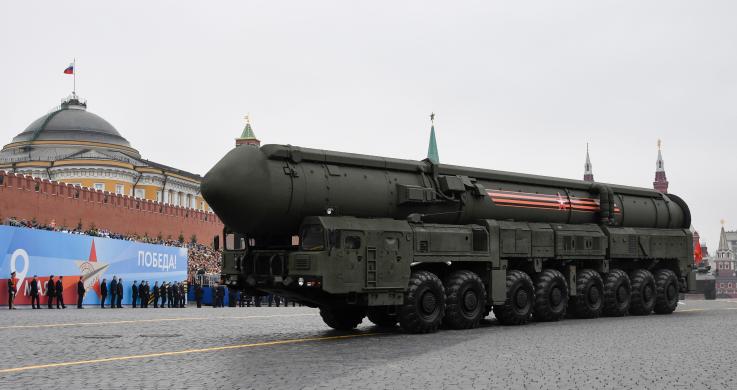 A Russian Yars RS-24 nuclear-capable intercontinental ballistic missile system in Red Square during the Victory Day military parade in Moscow, Russia on May 9, 2019.
Washington DC (KINY) - A senior U.S. intelligence official has warned that Russia is likely conducting secret nuclear weapon tests at remote Arctic sites as it works to modernize its atomic arsenal, despite an international treaty prohibiting such activities.
According to a report in Newsweek, Lieutenant General Robert Ashley, the director of the U.S. Defense Intelligence Agency, made the claim in a speech given on Wednesday at the Hudson Institute think tank in Washington, D.C., The Wall Street Journal reported. He said the U.S. believes that Russia is carrying out low-yield testing at Novaya Zemlya—a secluded archipelago above the Arctic Circle where the USSR often tested nuclear weapons.
Ashley's comments mark the first time the U.S. has publicly accused Russia of violating the Comprehensive Nuclear Test Ban Treaty ratified by Russia in 2000, which prohibits any tests that create a nuclear yield.
The U.S. never ratified the treaty, though has not carried out a nuclear test since 1992, The New York Times explained. Not enough nations ratified the agreement for it to take effect, though the Journal noted that major powers have agreed to abide by it.
"The United States believes that Russia probably is not adhering to its nuclear-testing moratorium in a manner consistent with the 'zero-yield' standard," Ashley told the audience. He added, "Our understanding of nuclear weapon development leads us to believe Russia's testing activities would help it to improve its nuclear weapons capabilities. The United States, by contrast, has forgone such benefits by upholding a 'zero-yield' standard."
Ashley did not specify how large the suspected tests have been, simply stating, "We believe they have the capability to do it, the way that they're set up." Low-yield testing may only involve a very small amount of explosive power, though the production of any nuclear yield at all would contravene the treaty.
Other administration officials also spoke at the Hudson Institute event, though none provided further clarity on the nature or size of the tests, nor how the U.S. became aware of them, the Journal reported.
Thomas DiNanno, a senior State Department official, said Moscow is "probably engaged in that sort of testing," while National Security Council member Tim Morrison said Russia had taken "actions" to advance its nuclear capabilities that do not adhere to the zero-yield standard.
There has not yet been an official response from the Russian government in Moscow. The country's Permanent Representative to International Organizations in Vienna, Mikhail Ulyanov, said Russia "voluntarily and unilaterally established a moratorium on nuclear tests since the end of the 1980s. We are observing it," state news agency Tass reported.
Noting that Ashley presented no evidence to support his claim, Ulyanov pointed out that Washington never ratified the treaty. "Last year Americans said that they will maintain nuclear test sites in the condition of readiness for a possible resumption of nuclear tests," he added. "This position serves as evidence that the U.S. moratorium is unreliable, and they can cast it aside at any moment."
Vladimir Shamanov, who is the head of the Russian State Duma Defence Committee, told the Interfax news agency that Ashley "could not have made a more irresponsible statement," according to ABC. "Nuclear tests cannot be carried out secretly," Shamanov added, suggesting claims to the contrary "reveal that the professionalism of the military is systemically falling in America."