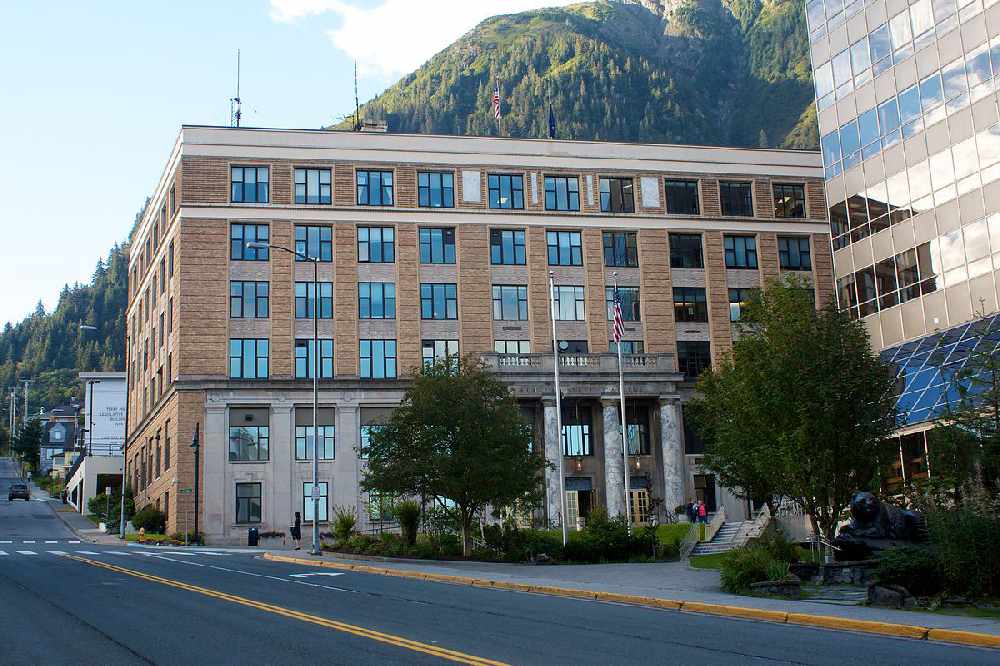 The Alaska State Capitol in downtown Juneau.
Juneau, Alaska (KINY) - Lt. Gov. Kevin Meyer and the Alaska Department of Law have approved a proposed ballot measure that would permanently move sessions of the Alaska Legislature from Juneau to Anchorage.
According to the Anchorage Daily News, in a certification message sent to the measure's three Anchorage sponsors late Wednesday, the lieutenant governor said the sponsors had enough support to begin gathering signatures in earnest and that the Department of Law did not find any legal problems with the measure.
The proposal is sponsored by Republicans David Bronson of Anchorage, Camille Carlson of Fairbanks and Leona Oberts of Soldotna.
Bronson is chairman of a group, Equal Access Alaska, that has registered with the state campaign watchdog to support the political campaign to come.
The Alaska Division of Elections is preparing signature booklets for the group, which will have one year to gather the signatures of 28,501 registered voters.
Those signatures must come from at least three-quarters of the state's 40 statehouse districts, and in at least 30 districts, the number of signatures must be equal or greater to at least 7% of the votes cast in that district during the 2018 general election.
If the sponsors get enough signatures, the measure would be up for vote in 2020.
Bronson said the group doesn't have the signature books yet, but if people are interested in the petition, the Equal Access Alaska website is a good way to get in contact.
If it reaches the ballot, the measure would be the eighth since statehood about the location of either the capital or the Legislature, according to statistics kept by the Alaska Division of Elections. The only successful vote was in 1974, but Alaskans balked at the subsequent proposal, which involved a $2.8 billion bond issue to construct a new capital from scratch in Willow.
That bond issue was defeated in 1982, and with it went the Willow concept.
In1994, voters approved a ballot measure requiring voters to be informed of the cost of moving either the capital or the legislature to a different location.
The measure proposed this year attempts to get around that restriction. It states, "since this initiative deals only with the locations of meetings, the provisions (of the 1994 ballot measure) shall not apply."
The new ballot measure also proposes to repeal parts of that older initiative.