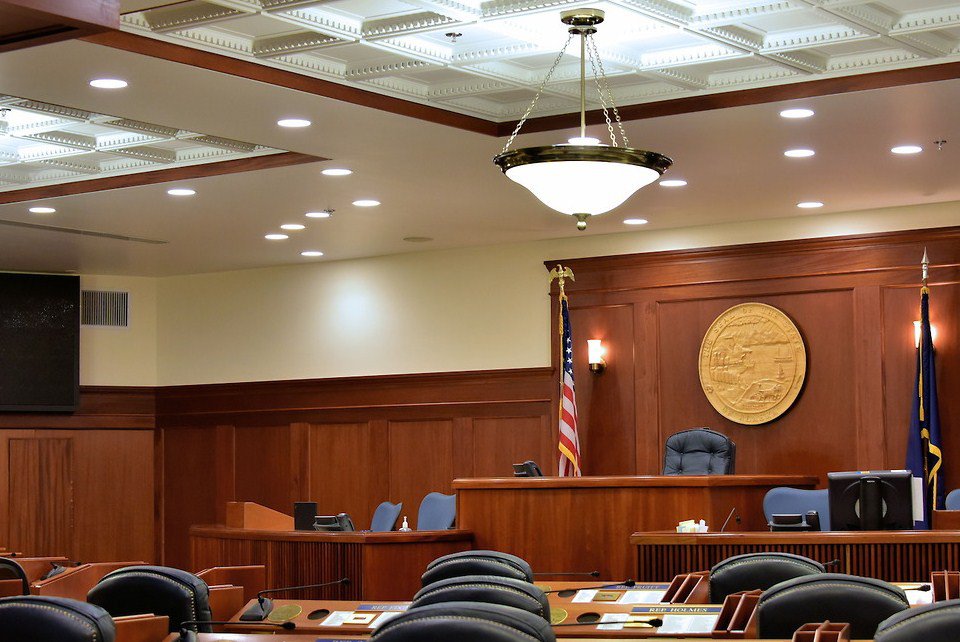 Juneau, Alaska (KINY) - The Alaska Senate unanimously passed an amended version of the governor's capital budget Saturday, which addressed the reverse sweep mechanism that failed an earlier three-quarters vote.
Sen. Mike Shower, R-Wasilla, was excused from the call of the Senate.
According to KTUU-TV, co-chair of the Senate Finance Committee Sen. Natasha von Imhof, R-Anchorage, argued in favor of the amended capital budget, citing provisions including $12 million for village wastewater and safe water infrastructure projects, and $73 million to go toward a state match which would secure nearly $750 million in federal funds for highway and airport infrastructure.
The budget also included vetoed items from mental health capital budget, including nearly $10 million in matching grants for homeless assistance programs and special needs housing.
The $176.3 million capital budget is funded by the Constitutional Budget Reserve account, which von Imhof says currently has a balance of over $2 billion as of today.
The bill also includes $250 million in what von Imhof described as "headroom to help pay for supplementals that we anticipate will be coming down the line these next several months," including outstanding earthquake repair costs for state buildings, wildfire suppression efforts, medicaid payments or increases in debt payments due to potential credit downgrades.
Sen. Lora Reinbold, R-Eagle River, spoke against the bill, suggesting it hadn't been vetted enough by the Senate Finance Committee, that not enough time had been given to consider it, and suggesting that the process lacked transparency.
"This was done out in the open," Sen. John Coghill, R-North Pole, said, pushing back against Reinbold's assertion that the process lacked transparency. "It was done in a committee. It's not new language."
Reinbold said that if she voted yes on the bill, it would be because she supports infrastructure, funding for crime bills, WWAMI, shelters for victims of sexual assault and domestic violence, adding "The reason I'm leaning no is because I feel like this is coercion, intimidation, immense games are being played behind the scenes, and few really understand the large impacts...of this bill."
Other members of the Senate echoed Coghill's statements, describing the process the bill went through and its similarities to a previous capital budget that passed the Senate by a unanimous vote.
"There is no subversive, secret issues in this bill, it's very straightforward. It's basically a compilation of the previous capital budget bill." Sen. Bert Stedman, R-Sitka, said, arguing for a passage of the reverse sweep and for the headroom provision to meet unexpected costs, like wildfire suppression efforts. "We're not going to let our towns and cities burn because we're too tight to have head room."
Sen. Peter Micciche, R-Soldotna, described the bill as "relatively traditional, although much lower," than previous year's capital budgets.
"I just hope we don't find ourselves in the same place," Micciche said. "I know we all believe we're compromising. We need to take it to the next level. We need to find what it is that gets our work done. This is a first step. I'm willing to support it to get this conversation moving forward."
Sen. Bill Wielechowski, D-Anchorage, said failing to pass the capital budget would cause unnecessary harm to Alaskans.
"It would be a self-inflicted wound on our economy, on the people of Alaska. We don't need to do that," Wielechowski said. "We have the ability in this body right now to say to Alaskans 'We want our economy to move forward, we want to protect and grow our economy and create more jobs and keep the jobs that we have, keep the promises that we have,' and the way that we do that is voting 'yes' on this bill."
The capital budget now heads to the House Finance Committee on Sunday.