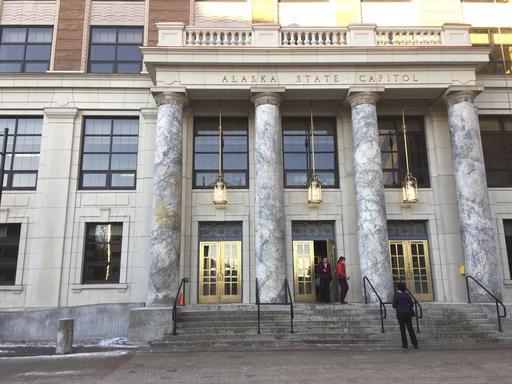 The Alaska State Capitol in downtown Juneau.
Juneau, Alaska (KINY) - The Alaska House of Representatives moved through dozens of amendments to the state operating budget Wednesday with the goal to hold a floor vote Thursday.
However, according to KTUU TV, legislative procedure may leave some amendments unheard before the House moves the bill toward an up-or-down vote.
Over two days, the House has debated and approved amendments to smaller spending areas of the budget with the House Majority Coalition rebuffing deeper cuts to the Alaska Marine Highway System and Medicaid.
Rep. Neal Foster, D-Nome, successfully introduced an amendment that would restore 50% of state funding for municipal school bond debt.
In a 22-15 vote with three members excused, the House added nearly $70 million back into the FY2020 budget for local governments and unorganized boroughs across Alaska.
Earlier in the afternoon, Rep. Chris Tuck, D-Anchorage, introduced an amendment that would restore funding to the Legislature with an increase of $1.6 million.
Anticipating the additional expenses of possible special sessions, Tuck said that adding more money now to the Legislative Budget & Audit Committee could save money in the future by cutting down on the need for supplemental budgets.
"We have a lot of challenges we're going to be facing this next year," he said. "We don't know how many additional special sessions we're going to have, we do not know where those special sessions are going to be."
Minority Leader Rep. Lance Pruitt, R-Anchorage, argued against raising the Legislature's budget, saying supplemental budgets could be written as needed.
Tuck's amendment was approved by a vote of 24-15, with Rep. John Lincoln, D-Kotzebue, excused.
On Tuesday morning, an amendment introduced by Rep. Sara Rasmussen, R-Anchorage, that would save $33,200 by cutting funds to the Alaska Commission on Postsecondary Education was passed.
Other amendments to the budget aimed at cutting costs further were routinely rejected along caucus lines.
On Wednesday morning, Rep. Andy Josephson, D-Anchorage, successfully introduced an amendment to add five prosecutors and nine support staff to the Department of Law and the Office of Public Advocacy at a cost of $799,226.
Before the school bond debt reimbursement vote, the House's version of the operating budget contained around $257 million in cuts that members of the bi-partisan House Majority say are "significant."
On Tuesday, Gov. Mike Dunleavy said that "it's a step in the right direction" but he would be looking for deeper reductions further in line with his own budget proposal to cut $1.6 billion in state services.
Amendments to address the amount to appropriate for Permanent Fund Dividend payments were among those left unheard before the House voted to adjourn around 7:30 p.m. over the objections of House Minority members.
"Adjourning at this time, as we all understand, will put a bill automatically into third reading unless there's an agreement by the body to move back and allow for amendments to be heard," Pruitt argued. "This is the place where an individual has the opportunity to express a desire to amend, whether it's this bill or any bill that would be in front of them, it's on this floor, and I believe they should be afforded that opportunity."
Pruitt requested that the House either not adjourn or that an agreement be made to return the bill to its second reading Thursday morning so that voting on amendments may continue.
In a 24-12 vote, with three members excused and one absent, the House unceremoniously voted to adjourn, automatically sending the bill into third reading.
Wednesday night, House Majority leadership indicated that the caucus will meet early Thursday morning to determine whether or not to continue the amendment process which would require a simple majority vote.
If a vote to return to a second reading is not successful, members would begin debating and voting on the final House version of the budget.