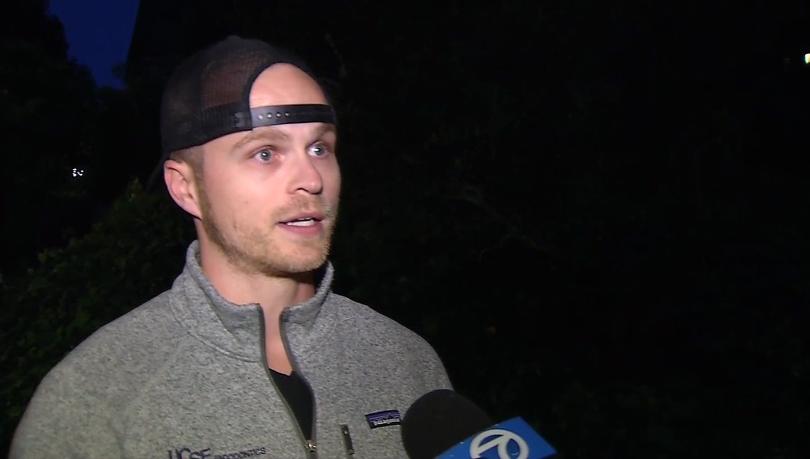 Adam Walker.
San Francisco (KINY) - The son of former Gov. Bill Walker made headlines this week after he helped thwart a would-be kidnapper on the streets of San Francisco.
According to KTUU TV, Adam Walker, son of former Gov. Bill Walker, was walking with his wife near 17th Street in the city, when they reportedly passed a woman and her young son walking the other direction.
Moments later, they heard a scream, and saw a man running off with the young boy. "Shortly after we walked by her, she was screaming for police, for help, saying that someone had taken her child," Adam told reporters.
"He put the toddler down, and smiled at everybody, and then started sprinting," Adam's wife Sabrina, said.
Several onlookers began shouting for someone to stop the man, at which point Adam tells KTUU that instinct took over.
That's when Adam gave chase, following the man, later identified as 34-year-old Roscoe Holyoake.
"I just started taking off after him," Walker said in a phone interview Tuesday afternoon. "Initially I thought I was running alone until I got about halfway down the street and noticed another gentleman running next to me along the sidewalk."
After several blocks of chasing, Walker and the other good Samaritan on the sidewalk began gaining on Holyoake.
Walker says when he saw other people ahead who could help cut the man's escape off, he started yelling to get their attention.
Seeing he was running toward others who were now engaged, and with Walker and the other pursuer close behind, the suspect realized the jig was up.
"It was at that point that I grabbed onto the back of his shirt and his backpack and kinda escorted him over to the sidewalk and up against the wall of this building that was right there," Walker said. "One of the other gentleman called the cops right away and within a minute or two, the cops were there and cuffed him and arrested him."
Asked if he was concerned for his own safety, Walker said instinct took over before he had time to make a logical decision.
"The man's running away and even though he didn't take the child, that fatherly instinct kicks in, as 'this person should not be on the street,'" Walker said. "If he gets away, he's gonna take someone else's child. He could even take our own child. So instinct just kind of kicked in initially."
But thoughts of his own safety weren't lost on him completely as he chased down the suspect.
"As I was kind of gaining on him, I did notice that his fists were clenched. I wasn't sure if he had something in his hands or not, a knife or something like that, I don't know," Walker said. "Luckily, by the time I was within arms reach of him, he had totally stopped anyway, and his hands were up."
His father said he was proud of how his son acted.
"Saturday night we were talking on Skype, and at the very end he said, 'Oh by the way, there's something I should probably tell you,'" Bill Walker said. "We just couldn't be more proud of him, of his instincts. I mean everything just kind of kicked in, the Alaskan way of, if there's a problem, you run to it."
"I sent him a text Saturday night, and I said you know, Adam, you don't know how many children you might have saved, by apprehending that individual, because this, most likely, was not a one-off situation," Bill said.
According to the San Francisco Examiner, Holyoake is an Australian disc jockey who performs under the name DJ Roski on his social media profiles.
Holyoake was been charged with felony kidnapping and child endangerment, and was held on $500,000 bail, according to the Examiner.