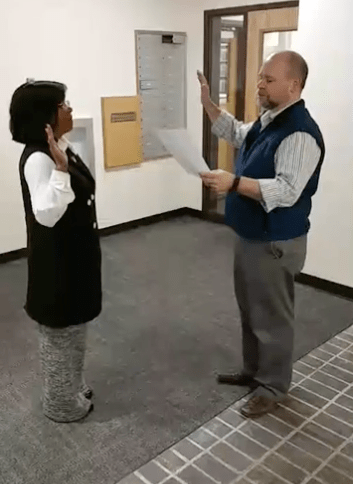 Sharon Jackson, left, is administered the oath of office by a court clerk on Wednesday in Juneau.
Juneau, Alaska (AP) - Sharon Jackson has been sworn in as the representative in House District 13, but it may have been a premature gesture, according to lawmakers.
House Republicans disavowed an attempt involving some of their members to have a new legislator sworn in by taking an oath at a courthouse Wednesday.
Gov. Mike Dunleavy appointed Sharon Jackson to replace Nancy Dahlstrom, who was elected in November to an Eagle River-area seat but became Dunleavy's corrections commissioner before the session started.
Jackson was not sworn in with other lawmakers Tuesday amid bickering over the proper procedure for accepting her nomination. The House has no organized majority in place. Republicans hold 23 of the House's 40 seats, but legislators do not always organize strictly on party lines.
State law also called for Jackson to be confirmed by fellow House Republicans.
On Wednesday, a video posted on Rep. Josh Revak's Facebook page showed him and Rep. David Eastman attending a purported swearing-in ceremony for Jackson at the Juneau courthouse conducted by a deputy clerk.
Rep. Dave Talerico, a Republican House leader, said Republicans expect an official swearing in of Jackson on the House floor in accordance with state law and the Constitution. Talerico, in his statement, referred to Jackson as representative-appointee.
Doug Wooliver, deputy administrative director with the Alaska court system, said a provision in state law gives clerks of court, judges and others authority to issue oaths. But he said that doesn't give the oath itself any special legal status.