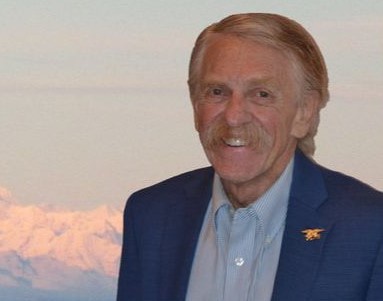 Rep. Laddie Shaw.
Juneau, Alaska (KINY) - The former Navy SEAL showed off his skills at saving a friend on Tuesday afternoon.
Representative Shaw of Anchorage was involved in a lifesaving effort on Tuesday after a paragliding accident near the cruise ship docks in downtown.
Shaw, a past Director of Veterans Affairs and Alaska State Trooper Academy instructor, was paragliding from the tram area with his friend, Brett Neyhart, when flying conditions worsened due to heat, elevation and what Shaw calls a wind shadow, due to the size and height of the cruise ships docked in Juneau.
"Those cruise ships are so big, with a north wind, they cause mechanical turbulence," Shaw said. "So the wind hits the side of that ship and basically creates a wind shadow."
Wind shadow is the term used to describe the disturbed airflow downwind of obstructions like trees, hills and buildings.
After descending rapidly due to worsening conditions, Neyhart's wing failed about 50 feet from the ground, according to Shaw, and he hit the ground hard in a spin.
Shaw told News of the North he was frightened by the sight of Neyhart hitting the ground.
"I said I have got to land, get out of my harness and go over and take care of my friend, because he was unconscious" Shaw said. "Just as I got to him he began to come around. I have to tell you, I was unnerved."
Shaw says Neyhart suffered a cracked skull and some bruising. He was taken to BRH, treated and released to the care of his family.