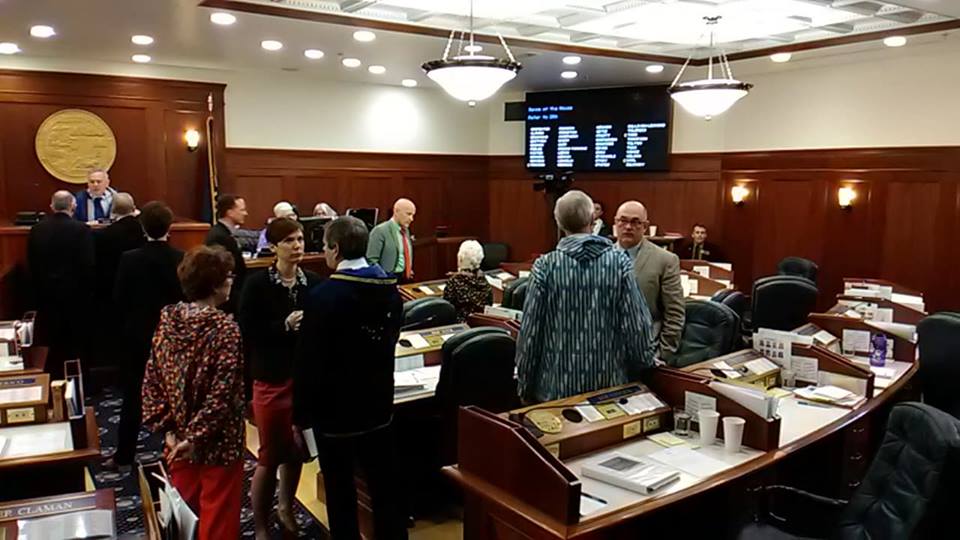 That Alaska House of Representatives during an at-ease on Friday, April 26. (Photo by Greg Knight)
Juneau, Alaska (KINY) - Rep. Ben Carpenter of Nikiski released a letter on the House floor Friday stating that "unsubstantiated allegations" by members of the House have "defamed the personal character" of certain nominees of Gov. Mike Dunleavy on the floor last week.
The Legislature rejected nominee Karl Johnstone for the Alaska Board of Fisheries and tabled Scott Flamme for the Board of Veterinary Examiners. The rejections came after a debate that included statements by a number of House Majority representatives against their nominations.
The letter, which can be found here, goes on to say the members committed an "abuse of the privilege of legislative immunity" and condemns the actions Carpenter says has "undermined the dignity of the Legislature," resulting in a "breach of trust that must be restored."
Speaker Bryce Edgmon limited comment on the floor regarding the matter and attempted to move the issue to the Community and Regional Affairs committee, which is co-chaired by Democrat Reps. Sara Hannan and Harriet Drummond.
House Majority Leader Steve Thompson then asked to move the body into adjournment until Saturday. After a number of at-eases, the body adjourned to 10:30 a.m. on April 27.