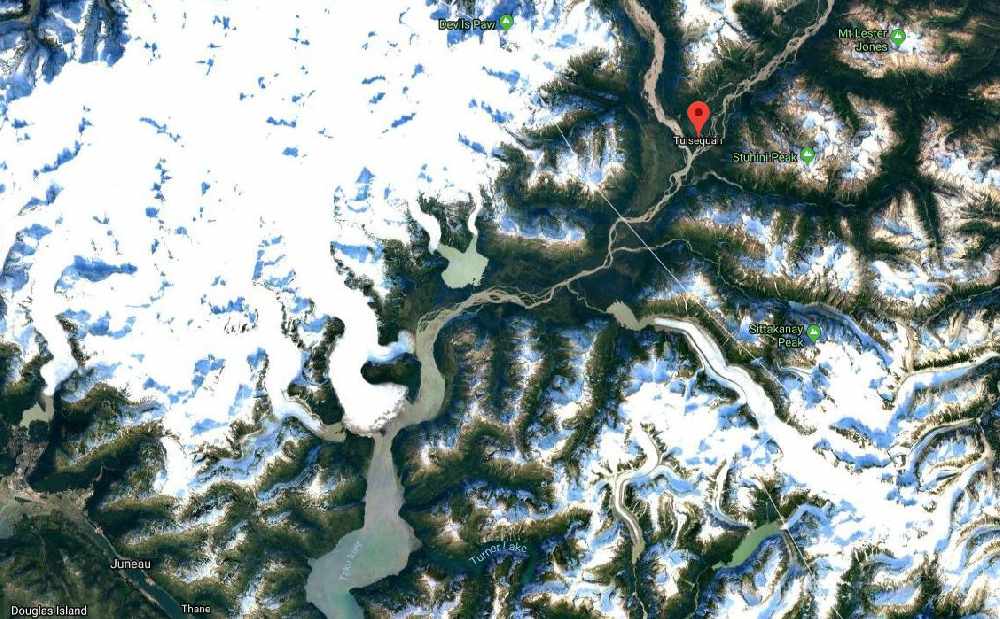 The location of the Tulsequah Chief Mine in Canada.
Ontario, Canada (KINY) - On Oct. 8 the Ontario Superior Court of Justice halted the receivership process for Chieftain Metals, owner of the abandoned and polluting Tulsequah Chief mine.
The process began in 2016 when Chieftain (incorporated in Ontario) defaulted on an agreement with West Face Capital, which had loaned Chieftain over $26 million.
"This ruling is significant because the receivership was constraining B.C.'s efforts to take responsibility for this abandoned and polluting mine and clean it up and close it down," said Chris Zimmer, Alaska Campaign Director with Rivers Without Borders. "The Province can now move aggressively to fund and implement the cleanup and closure plan that was released in August. We urge Alaska's leaders to work closely with the Province to ensure it follows up on its commitments to clean up and close down the Tulsequah Chief."
Despite over two decades of violations of both B.C. and Canadian federal laws and permits, inspections, and cleanup orders, little has been done to halt the toxic acid mine drainage by Chieftain or previous owner Redfern. In 2018, after Chieftain had ignored yet another enforcement order, B.C. began taking steps to take responsibility for mine cleanup and closure.
"It's encouraging to see the B.C. government moving to take over responsibility for the mine," said Zimmer. "Two companies have gone bankrupt trying to re-open this mine, both leaving a significant acid mine drainage problem in the Taku watershed, the Alaska/B.C. transboundary region's top salmon producer. Permanent mine closure with full reclamation would be the best and most cost-effective solution. We urge the B.C. government to promptly implement and fund the plan it issued in August."
Despite the fact that four years of receivership produced no credible offers for the mine, the court did grant West Face Capital the right to make an application to the court to re-start receivership proceedings within two years in the unlikely event a buyer comes forward.
"West Face made an ill-advised investment, and despite four years of receivership, the firm is continuing a desperate attempt to sell a mine that nobody wants. The Tulsequah Chief isn't a viable mine, economically, politically, socially, or environmentally and there is no support in B.C. or Alaska for mine development," said Zimmer.
The Tulsequah Chief has created opposition and controversy on both sides of the border for more than two decades. The notorious mine is located on the bank of the Tulsequah River, the largest tributary to the Taku, just upstream of the U.S./Canada border, in the heart of the traditional territory of the Taku River Tlingit First Nation.
The TRTFN urged resolution of the receivership process, stating in extensive testimony that, "Taku River Tlingit is opposed to further development and operation of the Tulsequah Mine… The goal of remediation is to see the Tulsequah Mine site remediated and reclaimed such that the water and environment is healthy, leaving a positive legacy for future generations."