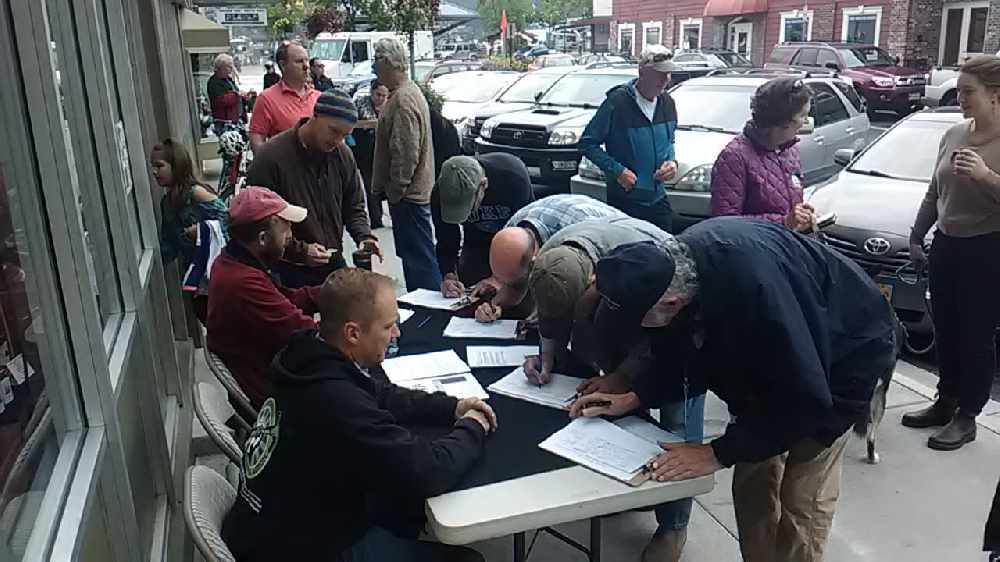 Registered voters sign the petition in Juneau on Aug. 1.
Anchorage, Alaska (KINY) - As of Thursday, 18,198 signatures have been received since the signature-gathering effort kicked off on Aug. 1
According to a press release, the first day saw large numbers from Anchorage, Fairbanks, and Juneau, and the second round of numbers includes smaller communities and volunteer efforts around the state.
"Alaskans from over 70 different communities have signed their names to Recall Dunleavy from the office of governor of Alaska. The people of Alaska are taking their future and the future of our great state back into their hands," said Meda DeWitt, chair of Recall Dunleavy.
"We wanted to only release the numbers of signatures that we have physically in-hand. There are signature sheets from all over the state that still need to be mailed in from this week's efforts - e.g. 1,200 in Fairbanks, 600 in Soldotna, 58 in Kake, and over 100 from Dillingham which just kicked off their signature-gathering event [Thursday]. This brings us to over 20,000 in a week" said DeWitt.
"I have worked on a number of statewide ballot initiatives over the past 10-plus years, which have to meet similar signature requirements as a recall. In my experience, these can take up to a year to obtain signatures, and no such effort has ever been completed in less than three months. For the recall to have already obtained two-thirds of the necessary signatures in one week is absolutely historic. It's fair to say that Alaska has never seen anything quite like this movement," said Scott Kendall, counsel to Recall Dunleavy.
The campaign's website RecallDunleavy.org has raised over $25,000 in small donations from over 270 Alaskans since launching July 31.