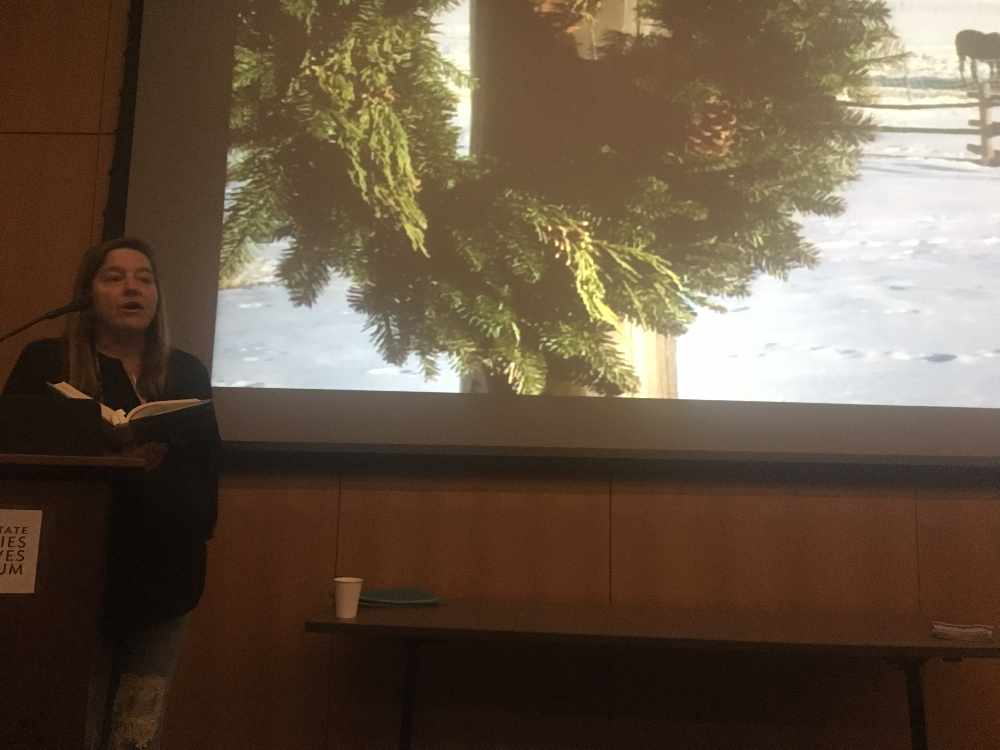 Juneau, Alaska (KINY) - Award-winning author Pam Houston spoke about her life and career during a presentation at the APK Alaska State Libraries Archives & Museum.
Houston is the author of Deep Creek: Finding Hope in the High Country. The memoir discusses how she learned to care for a piece of land and the creatures on it after she purchased a 120-acre homestead in the Colorado Rockies.
She also discussed how the ranch became her sanctuary and a place where she discovered how the natural world has mothered and healed her after a childhood of horrific parental abuse and neglect. She detailed how elk calves and bluebirds marked the changing seasons, winter temperatures dropped to 35 below zero, and dealing with a large wildfire in the region that burned 110,000 acres. It grew to the largest fire in Colorado history and came within a half-mile of her ranch.
As a child she suffered emotional abuse at the hand of her mother and sexual abuse at the hands of her father. Her father broke her leg when she was four years old. She told a reporter once that her parents really didn't want to be parents. To escape, Pam often went into the woods.
She spent a lot of time in nature, appreciating the trees, the meadows, and the wildlife that surrounded her. She said it was her place of healing.
Deep Creek came about from her editor who wanted her to write a life adventure. She made a list of adventures she'd like to attempt like a trip to Turkey or mushing sled dogs. "I realized I don't need to go on an adventure because I'm already living one."
Creede, Colorado has a population of just over 500 residents. She was told by other authors that it was a cool place to live. Houston was paid $21,000 for her first book and used it as a down payment on the ranch. It was five percent of the asking price.
She wrote anything she could to get the money to pay off the note on the ranch. She also took some teaching jobs. She learned quickly about how to maintain a high altitude ranch learning things like cleaning your chimney, and protecting the wood from the sunshine.
"I learned to care for it and I also learned to let it care for me, it is a beautiful place, it grew me up, it taught me responsibility."
She has written other books including Cowboys are my weakness Her first book in 1992 won the Western States Book Award. It also earned a New York Times notable book in 1992. Another well known book she wrote was 'Contents may have shifted'. Her books include major themes like the relationship between men and women, the outdoors, animals and childhood trauma.
Her stories have been selected for volumes of The O. Henry Awards, The Pushcart Prize, Best American Travel Writing, and Best American Short Stories of the Century.. She is the winner of the WILLA Award for contemporary fiction, the Evil Companions Literary Award and several teaching awards.
"I thought my father wanted to kill me and I thought he would. Home and good were two things that were not related to me. That is why I traveled so much. This ranch became my safe place."
It took her eight years to write the memoir. She said over the years she became cognizant of the climate catastrophe that we are going through. "The southwest is a poster child for the changes. It feels 10 degrees hotter."
"I wake up every morning afraid what is happening to the climate, and I go to bed every night afraid."
The book was about chopping wood, pulling lambs, growing hair, draining the pasture and doing ranch things. "90-percent of the book is about daily life on the ranch."
"How can I still love the earth and the wilderness and celebrate it, take joy it in it and be healed by it, and at the same time hold onto the grief, the truth and the sadness that the planet is in serious trouble."
My childhood home sent me out into the world to find healing and happiness and I am very happy with how it turned out, she added.