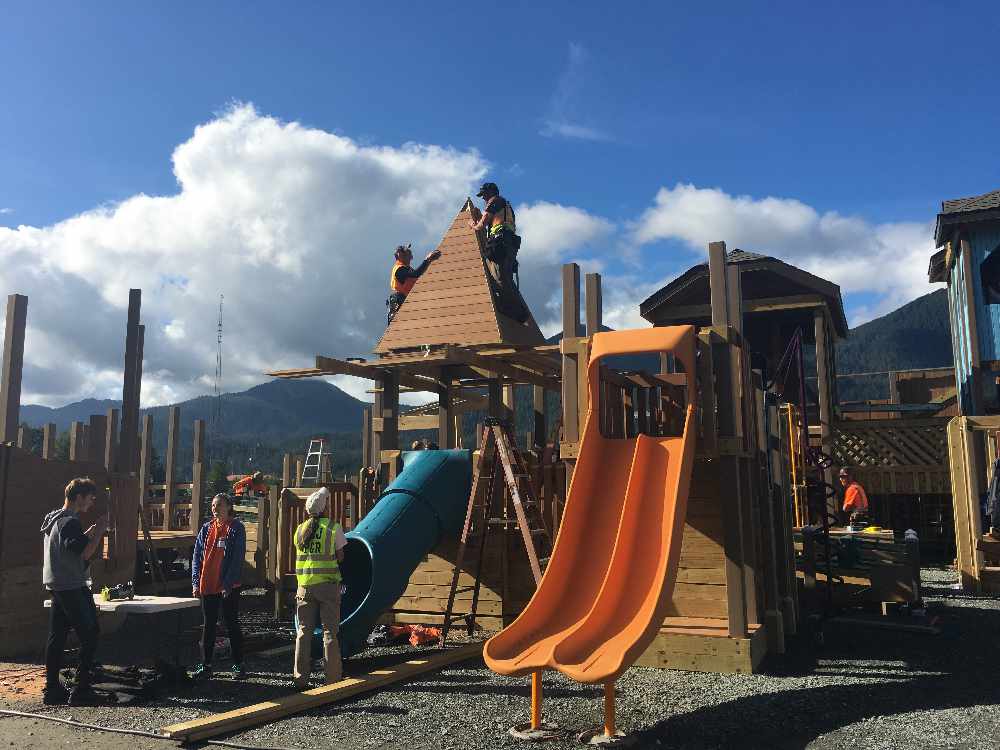 Juneau, AK (KINY) - Even in the construction phase, Project Playground stands a physical manifestation of community in Juneau.
We were given a quick walking tour of the project as over 70 volunteers and contractors slowly put the pieces in place. Surrounding the park is a fence with each picket having a name of someone or an organization who gave their support. The park had been victim to a fire last summer but now returns bigger and better.
Volunteer Coordinator Christina Eddy shared with us the excitement and energy of the project.
"It has been amazing to watch our community come out. There are all walks of life, all ages here to participate. The younger youth are watching them bring back something that they loved. Seeing them really put their hearts into, it warms my heart and I am so proud to be in this position and see these people give their time."
"It just fills me with so much joy and I am so excited."
The project had some assistance to better create an inclusive and safe environment.
"A member of SAIL joined our team and consulted with us over some of the design options that we could have to create the accessibility. One of those was a really large fundraiser, almost all of the pickets on our fence show that support, for a 100% poured and placed surfacing, which is kind of a spongy material."
"This playground will have no shredded tire, it's 100% poured and placed, which means you can pretty much move anywhere."
She told us during a tour of the project that pieces of the shredded tire can get caught in wheelchairs, so this surfacing will enable anyone to move about the park. Aside from the surfacing, there were several design elements that invite kids to play with others and allow for those who need assistance to get around the park like larger multi-person swings and handholds carved into the boards for lifts.
"There will be structures that have assisted lifts that allow you to access further into the playground. We also have inclusive elements for play of all ages. It's just a really interactive, open, and large concept and I'm really excited to see how the kids will take those components and use them."
The hope is to have the playground finished by the end of September.