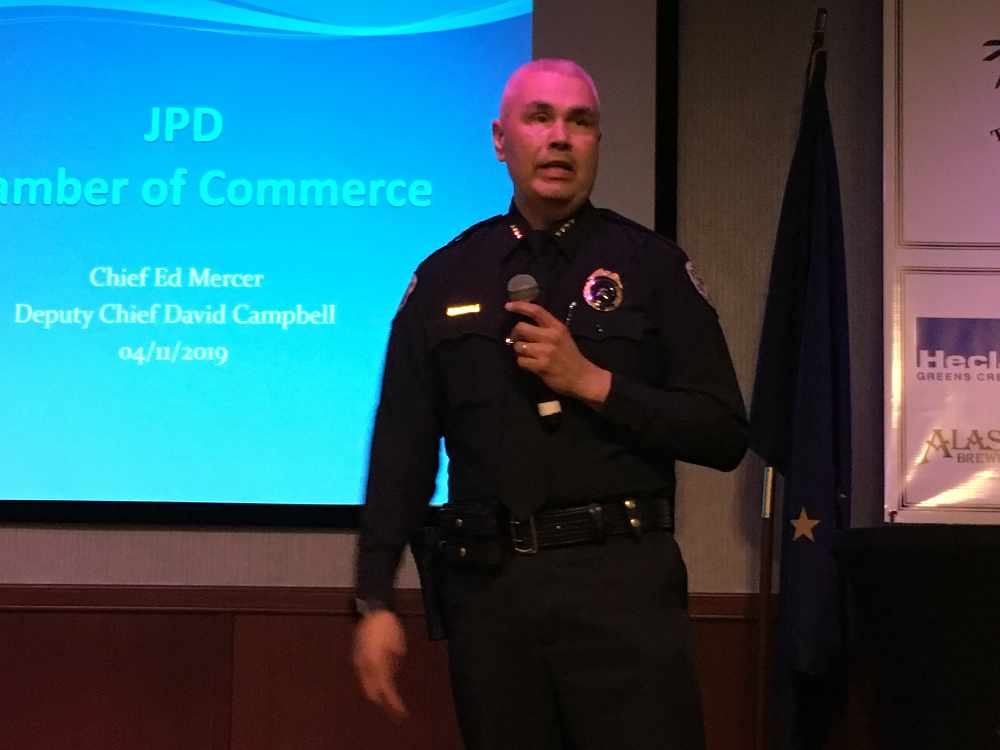 Juneau, Alaska (KINY) - Drugs and burglars continue to be a problem for Juneau Police.
The Chief discussed the effort to hire employees, crime statistics and positive trends in a speech at the Alaska Business Roundtable Luncheon today.
The Department has six police officer vacancies. That compares to 13 vacancies in April 2018. "Our initiatives are paying off. We are making some strides. We currently have four officers in field training or attending the public safety academy."
The average stay of a police officer is 4.4 years.
The dispatch center is also under staffed. They have seven employees with one in training. They'd like to have a dozen on staff. The dispatchers are trained for up to nine months. The center receives 50,000 calls for service and 15,000 calls to 911 on an annual basis.
In addition to Juneau Police, the dispatch center serves Capital City Fire Rescue, Alaska State Troopers, the Forestry Service, NOAA and other agencies.
The department also plans to enhance the drug unit. K9 Officer Mike Wise is being transferred to the drug unit.
Deputy Chief Dave Campbell said 100-percent of Juneau Police Officers live in the community. He said the police officers are recognized in the community and take part in community events.
Sgt. Matt Dubois will be promoted on April 15 at 3 pm at the police station. The public is invited.
The 2018 crime statistics showed an 8.73 percent decrease in crime. They had two homicides, 41 rapes, 37 robbery cases, 183 aggravated assaults, 294 burglaries, 1,125 thefts, 131 vehicle thefts, and seven arson cases. The biggest reduction was in robbery cases, 19.6 percent. The biggest increase was in vehicle theft, 37.9 percent.
There was a 39.6 percent increase in serious crimes in 2015, 24.52 percent in 2016, and 6.12 percent in 2017.
"Last year's crime rate is good news. 2017 was our high water year. The highest year we've ever had on record. We are trending back down but the 2018 numbers were still very high," Deputy Chief Dave Campbell said.
The biggest crime problem is property crimes, burglaries and thefts. Campbell said it appears a lot of the crimes are committed by repeat offenders. He said most of the vehicle thefts are crimes of opportunities with keys left in the ignition or in the car. Another reason is home burglaries with a vehicle in the garage. The thieves fill the car with stolen merchandise and then use the car to get away.
The Department plans to switch from the Uniform Crime Report, first initiated in 1929, to another national program to gauge crime, which began in the 1980s. The change was mandated by the state.
Campbell said a lot of stolen property is sold and traded among other Juneau residents and not in pawn shops. Alcohol, prescription drugs, cash, and guns, are the biggest draw for burglars and thieves. "They're looking for something consumable and something they can put in their pockets. If you run into them two blocks away you can't tell if the item was stolen."
Campbell said drugs and the heroin epidemic are the main cause for the increase in crime.
Chief Mercer said there are a number of daytime burglars who check the snow for tracks during the winter to see if there is activity in the home.
"We are seeing forced entries. A lot of the victims are out of town and they learn the home has been burglarized by a neighbor or when they come back to the home."
"A slap on the wrist and they are back on the street ready to victimize people," he added.
Chief Mercer said neighborhood watch programs are doing a great job in limiting crime. "It's not just a police problem, its a community problem, we need to work together and look out for each other."
Commercial burglary calls typically come at night. It doesn't take very long for a burglar to get into a home and they are normally in the home for a short time. They look for valuables and leave.
Juneau Police offer free of charge security advice on how they can make private property less appealing to an opportunistic thief. The community can also call the police and tell them you are on vacation and would appreciate police watching the home. They put the address on the list and keep a close eye on the home in regular patrols.
Chief Mercer said crime reform has hurt police officers in Alaska. Repeat offenders and a lack of prosecutors are other factors in the rise in crime.
"There is very little jail time in many crimes, we arrest them building good cases, they go to jail for a very short time and are back on the street," he added.
Campbell said opioid addicts have a tough time functioning in the real world and holding jobs leaving crime as an alternative source to fund the habit.
Mercer said many criminals don't mind being arrested and have an I don't care attitude, "They say so what, arrest me, I'll be back on the street again, that doesn't sit well with us, as we provide public safety and try to protect the citizens."
Mercer said with the hike in crime, the District Attorney does not have the resources to keep up with the caseload. Mercer said in some jurisdictions, 80-percent of criminal cases are dismissed, partly due to a lack of prosecutors.
Campbell said there is a need for District Attorneys. He noted Juneau has more judges at the Dimond Court House than they have prosecutors.
Mercer praised the city attorney's office who prosecute the misdemeanor crimes in the community.
In 2014 the City Attorney took over 50-percent of the criminal cases. In 2018, the City Attorney had 1100 cases and the District Attorney 450.
Another police problem is teenage runaways.
Police said Senate bills 32, 33, 34, and 35 involve enhancement in penalties and sentences for certain types of crime.
In other announcements
A celebration of life will take place May 11th for Charlotte Richards, a huge supporter of the Chamber and a former Citizen of the Year in 1997.
Mount Roberts Tram will host a gin tasting event on April 26. You can sign up on the Chamber website. Tickets are $50 and it includes the tram ride.
A Chamber after-hours social will take place on May 9th at Harris Harbor put on by the Alaska Marine Exchange. The event begins at 5:30 pm.