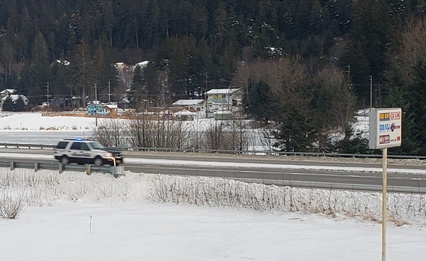 An Alaska State Trooper responds to the incident on Thursday morning. (Photo courtesy Richard Burns)
Juneau, Alaska (KINY) - Juneau police have released the details in a shooting incident from Thursday morning.
Just after 9:20 a.m., the Juneau Police Department responded to the 5500 block of Douglas Highway regarding 62-year-old Juneau resident, Ruth Anne Simpson, who was actively shooting a gun outside her residence.
Responding officers located Simpson standing outside her residence and she was quickly taken into custody without further incident. A gun was located in the arctic entryway of the residence. The gun was identified as a lever-action 454 Casull.
The investigation by the officers determined that Simpson was upset because she believed someone had killed her dog. Officers learned that the dog was OK, and was just being cared for by another family member. Officers determined that Simpson had fired at least 11 shots from her gun. It's believed that Simpson fired the gun in the direction of North Douglas Highway and that at least two parked vehicles in the area were struck.
One of the vehicles had multiple bullet holes in it, while the other vehicle had been struck by a single bullet.
Several officers from the Juneau Police Department, Alaska State Troopers and the United States Forest Service assisted with this call.
Simpson was placed under arrest for misconduct involving weapons, reckless endangerment and two counts of criminal mischief. Simpson was taken to jail and held on $3,500 bail.