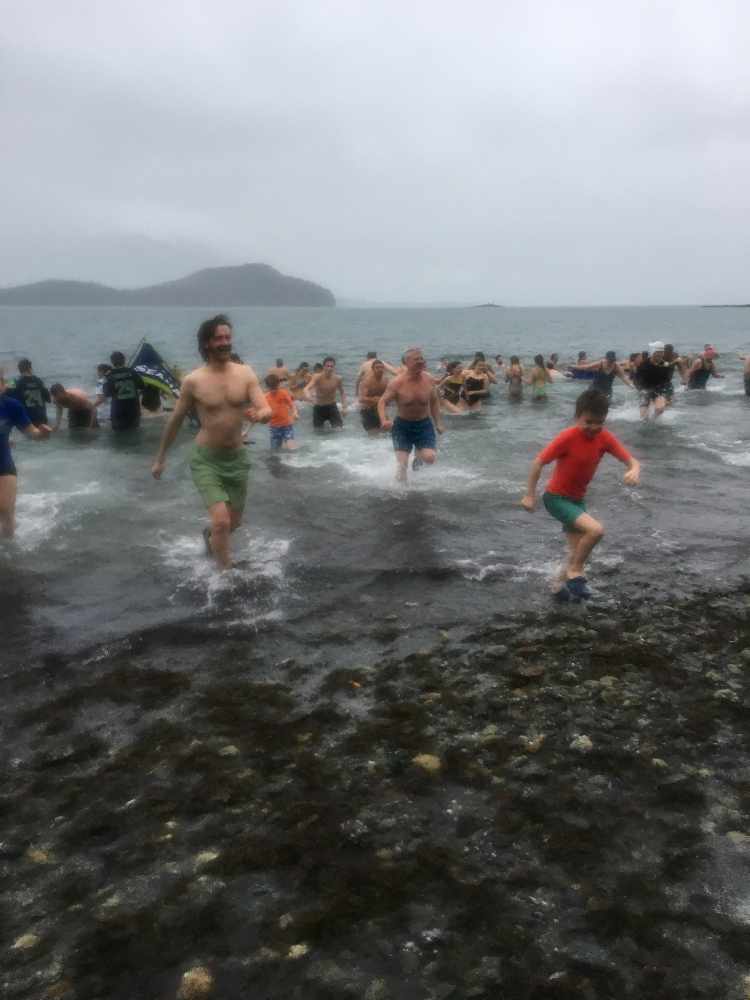 Auke Rec was filled for the 1st day of the year
Juneau, Alaska (KINY) The 28th annual Juneau Polar Dip attracted around 200 people to Auke Rec Picnic Site on New Years Day.
The group was met by warmer than normal temperatures, about 45 degrees, but some gusty winds and rain.
Carl Brodersen, who has experienced the bone-chilling cold waters for 12 years, was the organizer this year. "It's a fun way to start the year. Everything from here on out is downhill."
Young and old joined together to enjoy the event.
Rosalie Debenham tried the event for the first time in Juneau. She said she expected it to be cold, "I think it would be fun. It was scary to put your head in cold water but it was fun."
Some use the event to set New Year's resolutions. Others come to encourage others. Susan James said she came to make sure her husband Mike makes it all the way into the water this year. "He didn't do it all the way last year so I'm here to make sure he does."
"Its a little bit of insanity but its fun, fun crazy," she added.
Others came just to take photos, others brought their dogs to give them exercise.
Kerry Howard said she doesn't take part in the group plunge but does it on her own. "It is very exhilarating for me. Its an instant shock. You feel so good that you have done it. You feel invigorated for the day and for the rest of the year."
audio from Kerry Howard