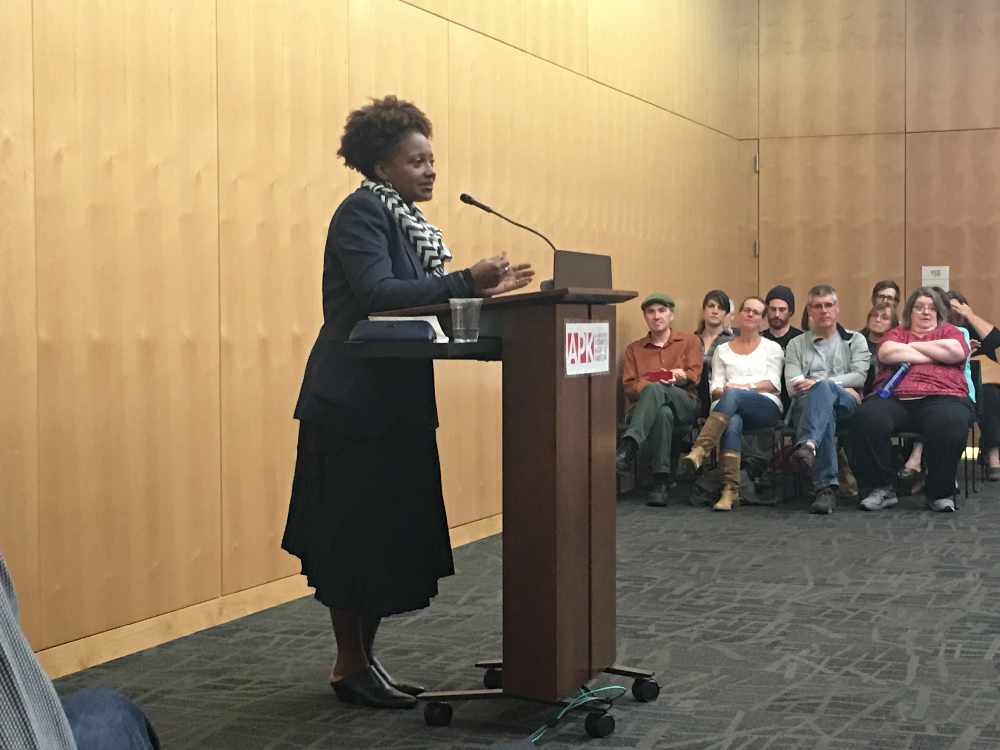 Juneau, AK (KINY) - The Alaska State Museum hosted the Poet Laureate of the United States.
Tracy K Smith visited Juneau as a part of her project "American Conversations: Celebrating Poems in Rural Communities" where she read several poems from her book "Wade in the Water" and also the works of other poets from "American Journal: Fifty Poems for Our Time", which has 50 poems by 50 living poets. Topics covered include natural beauty, Americana rooted in biblical sources, and being a parent. For part of the presentation, she asked the audience to say what they pulled from a poem, encouraging interpretations of the work.
After the presentation, dozens visited with Smith thanking her for her visit to Juneau or asking for an autograph or photo. We sat down for a quick interview, first asking her to explain the importance of writing in today's world.

"I feel like as a ready, poetry is an alternative to our fast-paced, surface skimming, the language we live in, the quick instant reactions, the many ways that the language of advertising is pandering to our unconsidered appetites and opinions, I think that gives us a distorted view of our own importance. I like that poetry helps to recalibrate that."
Contrary to the fast-paced nature of modern media, Smith tells us that poetry encourages readers to take their time and think.
"I think poetry fosters a kind of curiosity and the world, as well as humility. It also is something that urges you to slow down and to look beneath the surface and to think and rethink and question and make associations and connections on your own."
"Those are skills that I think are threatened."
We also asked her what advice she might have for writers.
"I always heard from teachers and poets that to be a writer you have to be a reader and I really believe that. I feel like I learned from the other voices that I read. I get tools that I can lift out of other people's poems and say, 'Oh yeah, I can use a question in a poem. I'm going to try that and see what it does with my own material."
Smith admitted that poetry helps her understand the world and herself.
"I also think that it became helpful when I realized that I didn't have to write poems about the things I thought poems were supposed to be about, but that I could write about what was on my mind. I could write about the things that were part of my life, something that was ordinary, simple, even perhaps embarrassing."
"A poem can help me understand why those things mattered and what they meant about who I was and what I might consider becoming."