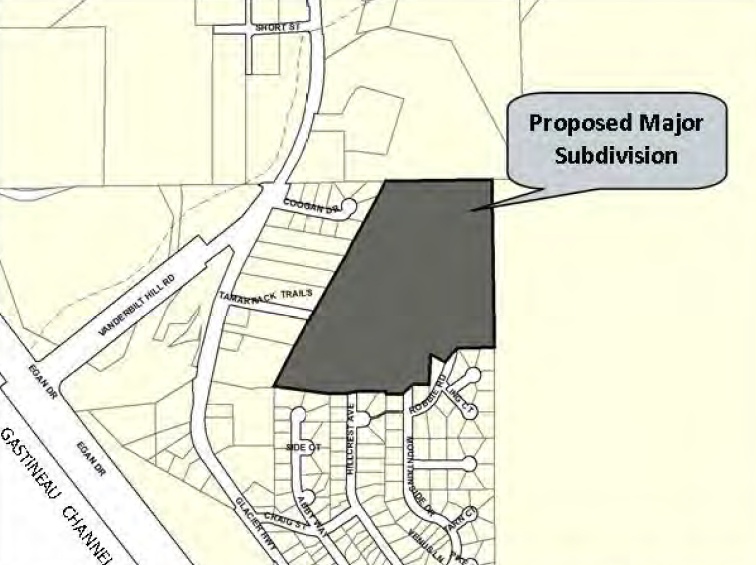 A City and Borough of Juneau plat map showing the area of the proposed development.
Juneau, Alaska (KINY) - The CBJ Planning and Zoning Commission has approved the preliminary plat for Phase 1 of the Chilkat Vistas Subdivision off Glacier Highway near Twin Lakes.
The planned subdivision would create 14 lots and one large tract for future development, for a total of 15 parcels. The development would be a 30.67-acre phased major subdivision.
Phase 1 includes the extension of Hillcrest Avenue and the installation of public water and sewer. For Phase 1, the applicant proposes a mix of bungalow lots, panhandle lots, and standard D15 lots. Future phases may include a mix of single-family and multi-family development.
The approval would allow the applicant, Michael Heumann, to submit for the final plat application. The approval is subject to a number of conditions.
In 2018, Michael and William Heumann purchased the property with the intent to subdivide it and develop the parcel for single- and multi-family homes.
An initial plat was approved in February, but was appealed by nearby residents. According to Heumann, an agreement between parties from Mountainside Estates to allow the development to go forward is now in place.
Prior to approval of the final plat, all required plat corrections issued to Heumann need to be completed.
Heumann also needs certification from the CBJ Treasurer showing that all real property taxes and special assessments levied against the property for the year of recording have been paid. Heumann also needs to submit a complete set of construction plans for all required improvements to the Community Development Department for review by the director of Engineering and Public Works for compliance with city code.
An engineer's estimate for the installation of public utilities and improvements must be submitted to the Community Development Department and reviewed and approved by the department, CBJ Engineering and Public Works.
The developer is required to utilize Best Management Practices to treat or reduce any harmful particulates that may arise from the development. Heumann is also directed to utilize Best Management Practices for storm water runoff to prevent sediment run-off from construction activities into neighboring water bodies.
A final drainage plan to be approved by Engineering and Public Works prior to final plat approval must be signed and stamped by an Alaskan licensed engineer in accordance with city code.
Heumann is also directed to pave, or bond for, the portion of the driveway in the right-of-way or the first 20 feet from the edge of the public roadway, whichever length is greater, for all panhandle lots created with the subdivision.
Prior to construction plan approval, the Heumann is required to submit a lighting plan meeting applicable CBJ standards, and install a residential sprinkler system that meets Capital City Fire & Rescue requirements in each dwelling unit constructed through Phase 1 of the subdivision.
Auke Bay improvements
A state consistency review for improvements at the Auke Bay Ferry Terminal site were also approved by unanimous consent.
According to the CBJ, the Alaska Marine Highway System is replacing underground fuel tanks with above-ground tanks at eight of their ferry terminal locations, including Juneau.
The Auke Bay terminal's single fuel-fired boiler is currently served by an underground tank with an existing "tiger loop," which removes air from the fuel and allows the fuel tank to be installed lower than the boiler.
There is a single supply line routed below grade in a common secondary containment pipe. When the existing fuel tank is removed, the supply line will be abandoned and the tiger loop will be reused. The new above-ground tank will have new above-ground supply pipe. The supply line will run from the new fuel tank along the building, and overhead across the sidewalk to an existing day tank that will remain in service.
Above-ground tanks are preferred for storage of fuel, because they are less costly to install and easier to visually check for leaks. The new tank will include integral secondary containment, interstitial leak detection, whistling atmospheric vents, clock level gages, and supply and return dip tubes with foot valves.
Also, the current septic system will be decommissioned and replaced with a 38-gallon-minimum, two-compartment clarifier prior to new effluent filter systems. Then, a new secondary treatment plant, capable of 1,000 gallons per day, will be installed.
Effluent will be disposed of into a 900-square-foot soil absorption system.