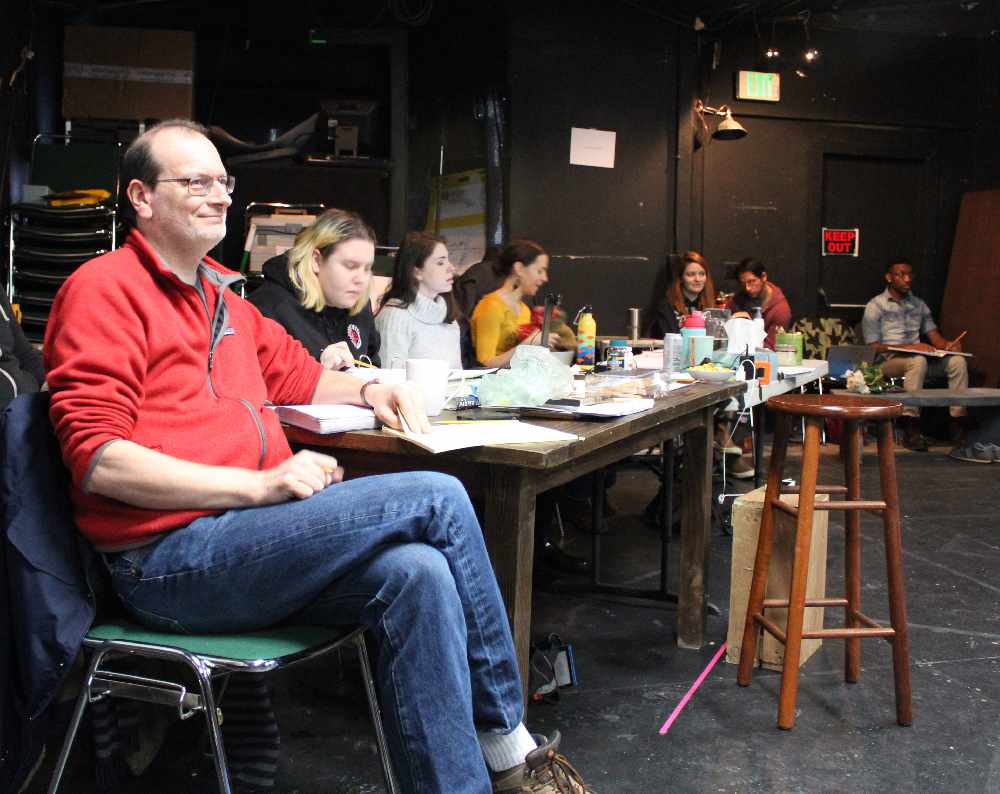 Art Rotch and others during a March rehearsal. Photo courtesy of Perseverance Theatre.
Juneau, AK (KINY) - The Perseverance Theatre is gearing up for its 40th season, after a period where cuts had to be made and a 40th season seemed unlikely.
Recent donations have helped the theater company come out of a financial slump.
Perseverance are currently finalizing artist contracts for the upcoming season and making new hires including veteran theatre artist and journalist Julie York Coppens who will be their Director of Outreach and Communications. They are also actively seeking someone to be the new managing director to help free up the responsibilities of the Executive Artistic Director Art Rotch.
Throughout the summer, Perseverance hold their STAR program which is a five week program for kids to learn theatre. Enrique Bravo, who is an actor-in-residence at the theatre was a guest on Capital Chat on Friday to talk about the program.
"Right now we have close to 40 kids. There are three separate shows and each of them have their own theme. There's a classical show (usually Shakespeare), a musical, and a devised piece." Devised theatre being a type of improv.
Bravo said that guest artists come to help educated the students during the STAR season.
"The great thing about STAR is that we bring in all these artists for these one hour classes where all 40 kids get together."
Find that full interview on demand.
Subscriptions for the Season 40 lineups in both Juneau and Anchorage are available on their website and those that pick up a subscription between now and July 31st can save ten percent through Early Bird Pricing. The next two Fridays (July 20th and 27th) will also have block parties at the JACC from 5:30pm-7pm.
Perseverance Theatre's 2018-19 Juneau Season:
Our Town, by Thornton Wilder
Art Rotch, director
October 5 – November 4, 2018
Franklin, by Samantha Noble
Hannah Wolf, director
November 30 – December 16, 2018
Whale Song, by Cathy Tagnak Rexford
Madeline Sayet, director
February 1 – 24, 2019
Guys and Dolls, Music and lyrics by Frank Loesser, Book by Joe Swerling and Abe Burrows
Shona Osterhaut, director; Rob Cohen, musical director; Ricci Adan, choreographer
March 15 – April 13, 2019
The Underpants, by Steve Martin, adapted from the play Die Hose by Carl Sternheim
Teresa K. Pond, director
May 17 – June 16, 2019
Perseverance Theatre's 2018-19 Anchorage Season:
Our Town, by Thornton Wilder
Art Rotch, director
November 9 – 25, 2018
A Christmas Carol, by Arlitia Jones and Michael Evan Haney, based on the book by Charles Dickens
Evan Michael Haney, director
December 14 – 29, 2018
Franklin, by Samantha Noble
Hannah Wolf, director
January 11 – 20, 2019
Whale Song, by Cathy Tagnak Rexford
Madeline Sayet, director
March 8 – 17, 2019
Guys and Dolls, Music and lyrics by Frank Loesser, Book by Joe Swerling and Abe Burrows
Shona Osterhaut, director; Rob Cohen, musical director; Ricci Adan, choreographer
May 3 – 12, 2019