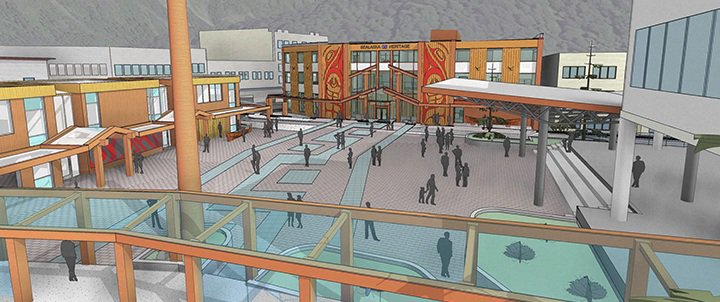 Juneau, Alaska (KINY) - The CBJ Planning Commission discussed parking and access before unanimously approving a conditional use permit to allow construction of the Sealaska Heritage Institute Arts Campus.
The estimated price of the project is $12 million.
They would like to break ground in June or July and have the construction completed in the middle part of 2021.
There was no public comment at the hearing Tuesday night.
The Sealaska Plaza now comprised of seven small lots will be consolidated into two lots.
The campus, which will encompass approximately 6,000 square feet, will house indoor and outdoor space for artists to make monumental Northwest Coast art pieces, such as totem poles and canoes; classrooms for art programming and instruction in areas such as basketry and textile weaving and printmaking; and space for performances, Native art markets, an art library, artists-in-residence, faculty, and public gatherings.
The project includes a pedestrian plaza, a subsurface parking garage, and a two-story building with a basement for Native Arts instruction.
The outdoor canopy area will include a covered walkway and retail uses.
The surface parking lot of nine spaces will have access only on Front Street. They also required a bike rack for at least four bikes to accommodate non-motorized transportation.
The CBJ found fewer than 250 average daily trips of vehicles and no need for a traffic impact analysis.
Instruction will be offered for both non-credit and credit for students seeking art degrees through SHI partners, the University of Alaska Southeast, and the Institute of American Indian Arts. It will also have capabilities for distance learning.