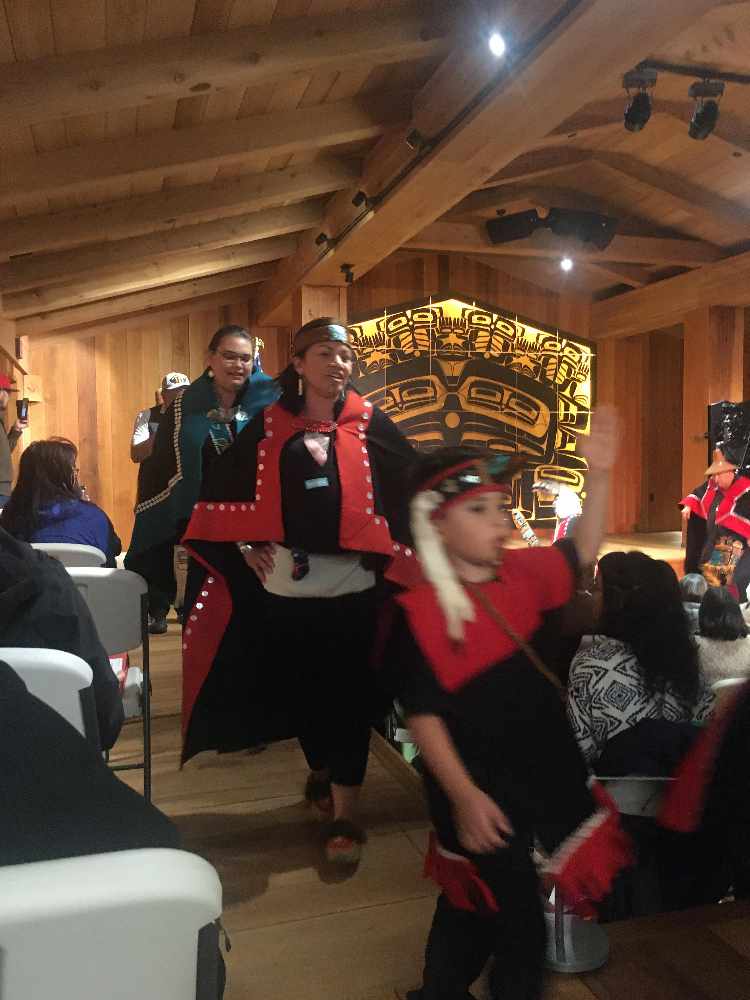 Yees Ku.Oo Multicultural Dance Group was a hit at the ceremony. (Photo credit to Charles Murphy.)
Juneau, Alaska (KINY) - Karen Narasaki, a member of the U.S Commission on Civil Rights, spoke about the impacts Elizabeth Peratrovich made on civil rights at an Indigenous Peoples Celebration.
The event was designed to unveil her new $1 coin at the Shuka Hit: Our Ancestors' House, inside the Walter Soboleff Building.
Narasaki said Peratrovich's story was an important milestone. She said much of the struggles of Native Americans, Asian-Americans, and other groups are not widely known.
Peratrovich worked with multiple groups and the Alaska Native Brotherhood to end the blatant discrimination Natives throughout Alaska faced. Her powerful speech before the Alaska Legislature led to the passage of Alaska's Anti-Discrimination Act in 1945. "This is extraordinary. 1945 was hardly a progressive time in the United States. In many states Native-Americans could not vote," she noted.
Efforts to pass the Act in 1943 failed. Alaska Natives at the time were serving the nation with distinction overseas fighting in World War II. Peratrovich faced bigotry and discrimination and signs no dogs or natives welcome here at home. She fought for full citizenship and worked many years for equal rights for natives. Next year is the 75th anniversary of her efforts to help pass the Act.
Narasaki said voting rights are still challenged for Native Americans today. In North Dakota, the legislature required street addresses for voters knowing that Indian reservations in the state were not platted and could not comply.
She noted it took until 2015 for Alaska to fully comply with the Voting Rights Act of 1965 by helping many in Native villages read the election ballot.
Narasaki said Native women face sexual harassment at work, and many Natives live with substandard schools, housing, water and sewer systems. Narasaki said many are mired in a system that criminalizes poverty. "Elizabeth is an inspiration to not only Alaska but the entire world. It is my hope more people will learn her name and live by her example."
Narasaki's Japanese-American parents were placed in World War II concentration camps as teenagers during World War II. Her father would volunteer to serve in the military. Narasaki has worked on reports on Native Americans, minority students with disabilities, voting rights, police use of force, environmental justice, detention of immigrants, hate crimes and the inequitable distribution of school funding. Washington Magazine has named her as one of the most 100 most powerful women in the nation's capital.
Joe Nelson with Sealaska, dignitaries from Juneau, Goldbelt Corporation Chairman Benjamin Coronell, Tlingit and Haida Central Council President Richard Peterson and Haines Mayor Jan Hill were all on hand for the ceremony.
Jacqueline Ku.seen Pata, President and CEO of the Tlingit & Haida Regional Housing Authority presided over the coin unveiling. She also spoke about the life history and the impacts of Peratrovich. She said it is important that the world know who she was when the coin rolls out in January, 2020. "She went to a segregated school. Many native students went to boarding schools. Her life was a little pre-destined. She was born on July 4, Independence Day."
"She understood independence in a way we don't feel and remember," she added.
Pata said Peratrovich was an educated woman who worked hard and was able to secure the support of other citizens in her fight for equal rights.
She won the respect of politicians because she treated everyone with respect. "This isn't just a story about Tlingit people in southeast Alaska. She was a civil rights leader and led the charge for an anti-discrimination act well before the 1965 Civil Rights Act. We have the opportunity to keep the values she taught us."
Yees Ku.Oo, a multicultural dance group performed at the celebration.
Indigenous Peoples Day is observed on October 14 in Alaska.
Audio from Karen Narasaki