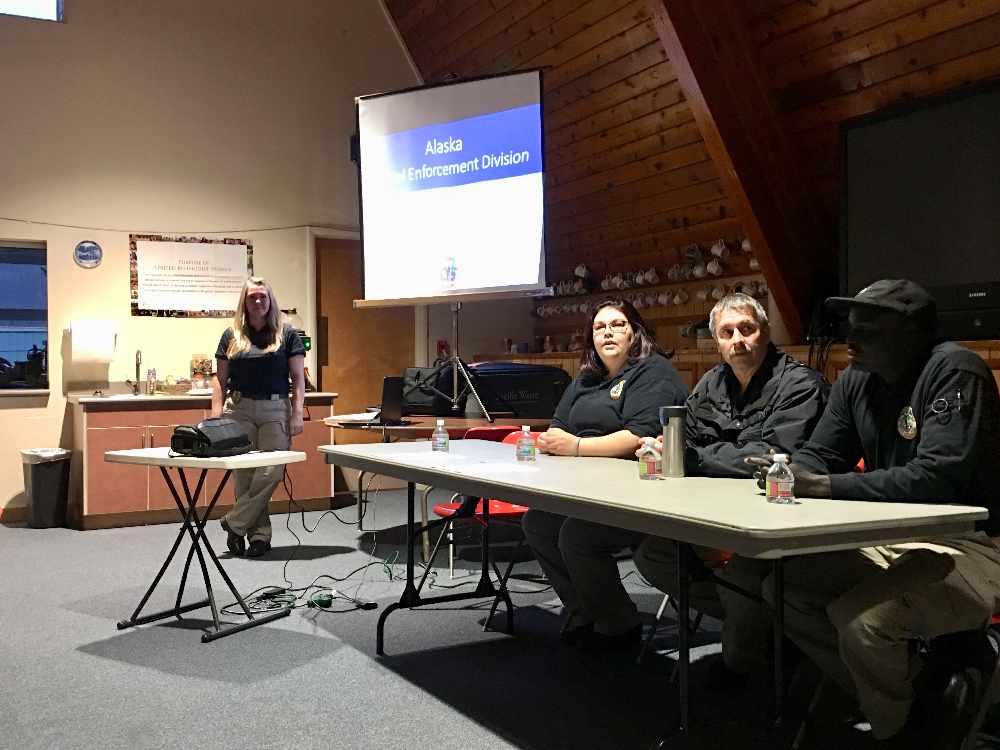 Leah Vankirk (far left) and members of her staff presenting at the Northern Lights Church.
Juneau, AK (KINY) - The Juneau Reentry Coalition held a presentation where the Alaska Pretrial Enforcement Division talked about the kind of work and process that goes into pretrial in Alaska.
These officers are able to hold people accountable, recommend resources, and even arrest if needed.
Regional Supervisor Leah Vankirk spoke after the presentation about how they are ultimately trying to help people.
"A lot of our work with people is trying to help identify what things that could be helpful to them in getting stable and healthy so that they're not in a situation where they're committing crimes."
She briefly explained what pretrial looks like in brief.
"When somebody is ordered to pretrial supervision by the judge, then we review their conditions of release. We are officers of the court and we are ordered to enforce the conditions that a judge orders. We also go over person's defendant's rights with them because they have rights, they're not convicted of that charge in that point in time."
While it is too early for statistical data, Vankirk tells us that they are seeing positive outcomes from the people they work with.
"People are reporting for pretrial supervision, in general. We are seeing people obtain services. We are seeing people sometimes violate their conditions and we're addressing that, we're holding them accountable for those conditions of release that they're ordered to, but then after that, we continue working with people. That sometimes is where we see change too. There's a motivation to change, they know they're going to be held accountable to their conditions of release, and they really do focus on making sure that they're doing what their court-ordered to do."
Vankirk says that they want to go beyond the criminal procedure and ensure people can improve themselves.
"One thing that we focus on is, yes here are your conditions of release, but what we want to see is long-term behavioral change and that's important for recidivism right? So if somebody is struggling with substance abuse, it is important for the long-term that they address that issue and deal with that issue in their lives because if they're able to get to sobriety and maintain their sobriety, they're less likely to find themselves in the situation that they might be in."
The division is able to use electronic monitoring systems as well for various purposes. One device detects alcohol in one's sweat which can be used in cases where a person is not allowed alcohol. They also have a GPS system for those ordered to stay out of certain areas, which is something that they have been able to use to protect and alert victims of domestic abuse. Sometimes their service includes a simple reminder of a court date, which could save someone jail time.
Pretrial services are still not nationally adopted and Alaska has been one of the more proactive states in allowing their Pretrial Officers to arrest when needed and carry firearms.
More information about the Alaska Pretrial Enforcement Division can be found online. They are looking to fill some positions in Juneau and their connected offices. For information about the Juneau Reentry Coalition, check out their website.