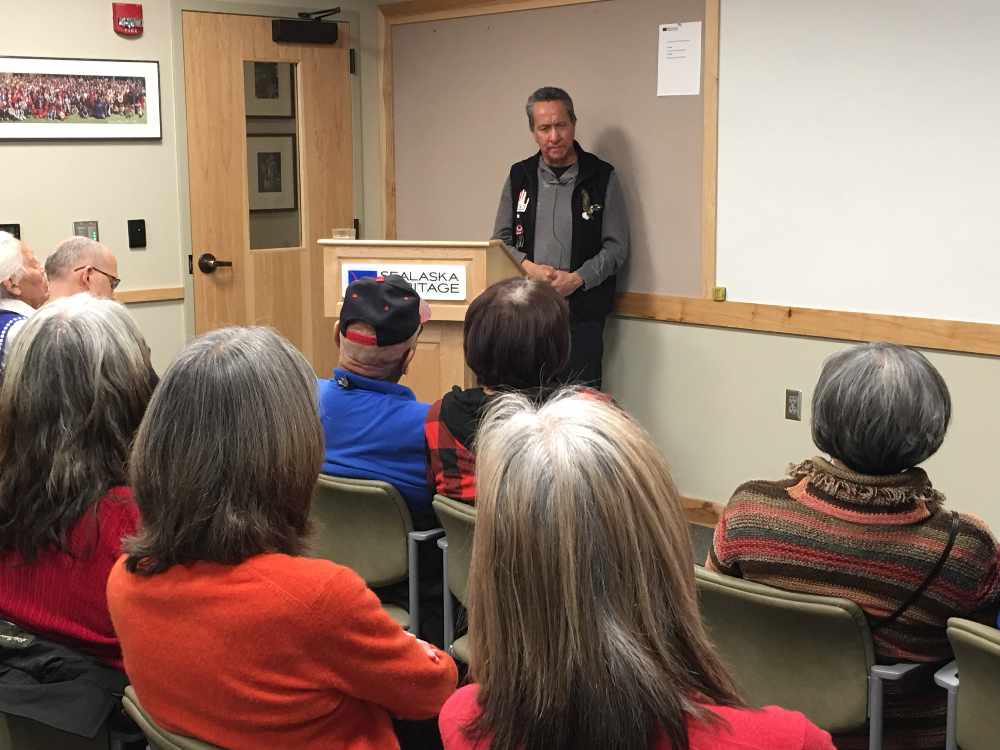 Juneau, AK (KINY) - A historical and cultural talk was presented at the Sealaska Heritage Institute to kick off Native American Heritage Month.
The first in many of these lectures were led by David Kanosh who told stories and migratory history of the Kaagwaantaan peoples.
The Natives sadly had to leave their homeland due to lack of resources and climate change, moving south into parts of Washington. Once the weather turned, they began to move back north, following markers left by their ancestors and making villages and houses along the way. There were many clan members in attendance, marking a connection between them. There were many acknowledgments and thanks for the stories told.
Rosita Worl, President of SHI spoke to us after the lecture. She was asked to share the importance of keeping Native culture alive through events like Heritage Month.
"It's a national time for the whole country to recognize the contributions of Native Americans and the fact that Native Americans once owned this land. Despite everything that came to our country, the whole issue of migrants and how we embrace migrants and together we built a great country. I think this is a time for us to think about those things that came before and that still makes us strong as a country."
"I think particularly at this point in time, we need to remember our history and remember the strengths that Native Americans brought to this country. We want to celebrate that for the whole month, if not the whole year."
We spoke with Kanosh as well and asked him how he would like to see culture be passed on.
"I hope to see them live on in our children, not just in a format like what was done here, but to hear our young ones say, 'Tell me about you. Tell me about what's going on and tell me about all of this.' All of us have a part of a story that comes together. That's how I think I want to see it continue on, in our children, those who come after us."
We then asked him about advice he might have for young Natives who are facing hardships. He recalled treatment he received when he was young and used that as a point of comparison.
"I got punished for speaking my Native language. They used to have these old nurses beds, cribs that had bars that were thick, old ones that used to be in the old hospitals. They had this in the principal's office and when I got caught speaking Tlingit the excuse was, 'You're teaching cuss words!' We don't have those."
"Never the less he would take me and shove me under there and slam the gate, the bars of that crib down and say see, 'That's how you treat them, like the dogs they are.' I never let that get me bitter."
His final piece of advice can right true for everyone.
I had to look inside myself to see how I'm going to let this affect me. I can become bitter. Anyone can become bitter. That is all too easy. Lot's of people do it today, but the thing is to look inside and see how would you treat somebody if you saw yourself coming down the street. How would you treat you?"
"Now, treat those other people like that. Be the change that you wish to see in the world."
Kanosh ended the lecture by saying, "It is here that I leave these stories to you." He will not be allowed to tell them again based on protocols.
The next lecture will be led by Steve Langdon, Worl explained.
"The next lecture will be on November 6th, we'll have Dr. Langdon who is a longtime academic scholar doing research here in Southeast Alaska for some forty years. He's going to be talking about the Tlingits from Klawock and their first salmon cannery that was established there. Even at that point in time, even though land claim rights were not recognized, we were not citizens, they were able to preserve control over their resources."
The lecture was recorded and will be used for archival and educational purposes. More information can be found at the SHI website.