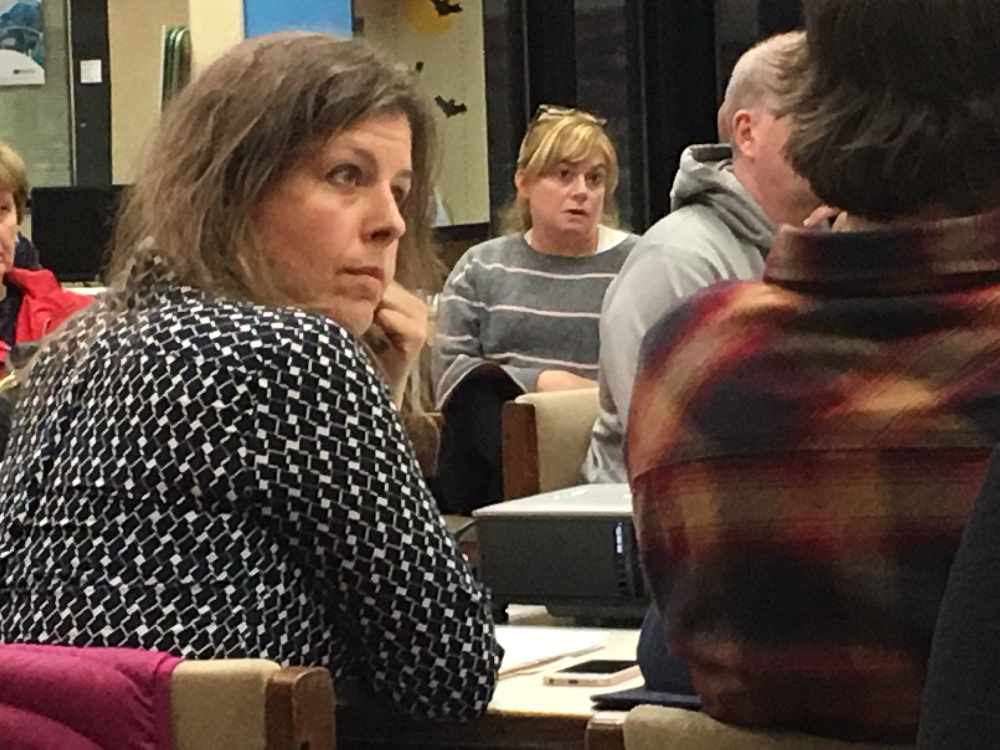 Kelli Grummett (Left) listens to concerns at a community meeting on her boarding house proposal
Juneau, Alaska (KINY) Residents objected to a boarding house proposed on Wolfram Way.
Kelli Grummett wants to turn a near 12,000 square foot home she owns into the boarding house with five rooms. The Tongass House would have five rooms rented by unrelated parties who share common areas of the house like the entryway, living room, family room, kitchen, dining room, and the fully fenced backyard.
A resident manager would be on site to operate the facility. The manager is responsible for ensuring order and compliance with the house roles. He also has knowledge of the mechanical systems of the house and can monitor the conditions and assist in any troubleshooting should a problem occur.
Neighbors were concerned about traffic, parking, garbage being left out for bears, loud parties, crime, drug use, the safety of kids, and impacts on property values.
Grummett said she understands the neighbor's concerns, "I had a couple of single-family entities that I rented the home to and they didn't have the best behavior, weren't as neighborly as they should be and even some drug-related activity."
She said she can have more control of the property with a manager on site and lease terms. She noted renters with leases would have more rights over the property than the new tenants would have. She said under this arrangement she can show up without notice. Previously she had to give 24 hours notice and have a reason to do an inspection of the home She also plans to fine renters should they violate house rules.
Neighbor Chad Mountcastle said he has concerns on the impacts of this project, "I have so many concerns, one of them is the nefarious activity that is already taking place in there. There is no magic wand that will take care of this besides selling the property."
Mountcastle said he was attracted to the neighborhood because it is quiet. He said he congratulated the neighbors for tolerating the past activity on the property.
Grummett applied for a conditional use permit. There was a public meeting at Mendenhall Valley Elementary School attended by 40 residents hosted by the CBJ Community Development Department.
The permit must be approved by the Planning Commission.
Neighbor Jack Mahoney said he was concerned that property values would go down, "All the dilapidated vehicles parked on the property. The property doesn't have enough area to have five people living there with five cars."
Neighbor Chad Brown said his main concern is the safety of kids in the neighborhood, "It sounds like there's been a track record of less than stellar tenants and we want to make sure that this gets taken care of."

audio from Kelli Grummett