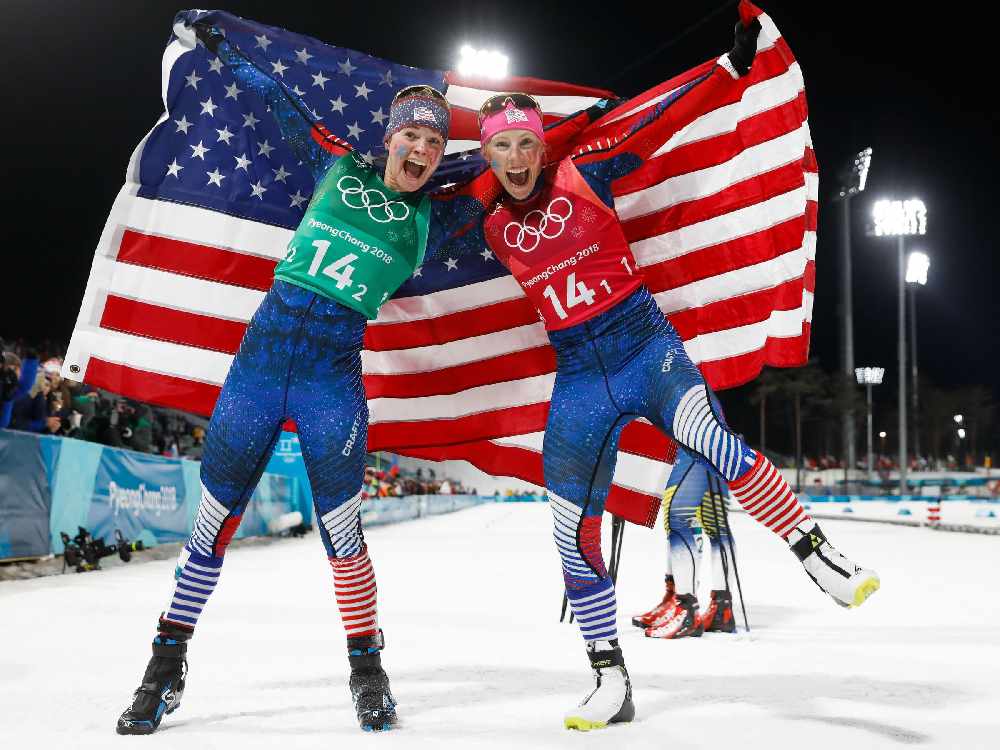 Kikkan Randall shares her joy with teammate Jessica Diggins at the 2018 Winter Olympics
Juneau, Alaska (KINY) - Kikkan Randall knows a thing or two about setting goals. She set goals, worked hard and was able to achieve her dreams in cross-country skiing.
She won 10 state titles while at East High in Anchorage. She set goals of being the best in her sport and achieved 17 U.S. National titles, competed in five Winter Olympic Games, was the first American female cross-country skier to finish in the top ten in World Cup competition, to win a World Cup Race and to win a World Cup discipline title. She teamed with Jessica Diggins in 2013 to win the first ever American FIS Nordic World Ski Championships gold medal in the team sprint.
Randall competed in the 2002 Winter Olympics in Salt Lake City, Utah. She finished 44th in the Individual Sprint. At the 2006 Winter Olympics in Italy, she finished ninth in the Sprint. In the 2010 games in Vancouver, she earned a sixth-place finish in the Team Sprint. She capped off her career in the 2018 Olympics last year in South Korea when she teamed with Jessica Diggins to become the first American cross-country skiers to win a gold medal by winning the women's Team Sprint.
She spoke about her career and gave some motivation tips to the crowd as the third speaker this year in the Pillars of America Series organized by the Glacier Valley Rotary Club.
Randall was on top of the world, but her world would be shocked, when at the age of 35, she felt something was wrong, got checked out, and received the worst news possible.
Three months after her Olympic win, Randall was diagnosed with stage 2 breast cancer. She has undergone surgery, chemotherapy and radiation. Today she is cancer free but she knows it will be a life long fight to beat the disease.
She reviewed her career which started at age one when her father put her on skies. Growing up she heard stories from her aunt and uncle who competed in the Olympics in cross-country skiers. She enjoyed other sports and played soccer, football with the boys, and tried downhill skiing.
She came to Juneau in high school to compete in high school skiing races recalling her trip to the Eaglecrest Ski Area.
She learned a lot about life in downhill skiing, as somethings are downhill, there are curves on the way and other challenges. She earned motivation from her failures, tried harder, set goals. "Putting everything you have into it, is the most important part."
At 16, she realized no American woman had won an Olympic medal in cross-country skiing. She thought about how cool it would be to do something no American woman has ever done before.
As a junior in high school, she told the school teachers and coaches about her dreams and they told her it would take years of training. She still gave it her all, went to the winter trials and qualified for the Olympics. "My dream came true I attended opening ceremonies in Salt Lake City with 80,000 fans. It was the most incredible feeling that I ever experienced."

After a 44th place finish in 2002, she was told by coaches it would take 10 years for her to get to the level of being in medal contention. She focused on small steps she could work on every day to help her become the best skier she could be.
Four years later, she set a goal for getting in the top 20. She fought the mental battle, refocused her mind, and did the best she could in every stride. "I ended up surprising myself. I threw the announcers for a loop because they didn't know who I was."
Her first World Cup win was a surprise for even Randall. She started the race by saying she was going to try and stick with the leaders to see what it felt like. During the race she figured the leader wasn't going that fast, she got ahead of the leader and won the race. Afterward, she suffered a back injury. She found doctors who understood she was an athlete, and they came up with a plan to clear out a blood clot. Six weeks later she returned to the sport. "I love what I do, and I'm not going to take another day for granted. I also took the setback as extra motivation to set the goal of winning a world championship."

Her strategy for winning the World Cup was to go for it. She fought her way to a second-place finish.
The 2010 Olympics were different as Kikkan was considered a gold medal contender. Her personal goal was to finish in the top 12 as an individual. She was disappointed when she couldn't get past the semi-finals.
It made her think about other things and how good it felt to pass along knowledge and be part of a team. Randall said her real enjoyment of the sport comes at helping teammates. She worked with younger members of the US team. She grew in confidence and leadership skills. In high school she got most of her satisfaction from team success.

Belief in yourself and giving your best effort were her mindset for the 2014 Olympics. "If you go out and ski as hard as you possibly can, take risks, no regrets, you will walk away satisfied."

She missed out on advancing in the individual race by a split second.

In 2018 she overcame a stress fracture in her foot. In 2016 she won a bronze medal at the World Cup after giving birth to her son.
In the biggest race of her life, her last, she didn't know until 36 hours before the gold medal race if she was even going to race. It came down to two Alaskan skiers. They chose Randall because of her experience. Her teammate told her she believed in her and wanted to help Kikkkan win.
Don't stop believing was the last episode of the TV show Glee, Randall, and her partner, Diggins watched before the race. They had won together in 2013 and had a lot of confidence in each other. "We decided to not be intimidated, have fun, and do the best we could."

In the last race of her career she knew she was the underdog. Norway and Sweden were the favorites. She kept her team in contention and tried to will her teammate to the finish for a photo finish. She recalled the joy and satisfaction of winning a gold medal for her country.
"Ski smart stay out of trouble and be strong at the end."
Now comes the next test in her life, cancer. She thanked Alaskans for all the support they have shown. She called it the craziest thing that she had ever been told. She called it daunting and intimidating.
Still, Randall will not give up. Her mindset is positive. She said her future is wide open just like the future of all Alaskans. She urged the crowd to set goals, set dreams and share those dreams with others. She said getting help from others helped her in skiing and fighting cancer and it can help them.
"Break it down into challenges, there are life chapters for all of us and get pats on the back every time you succeed."