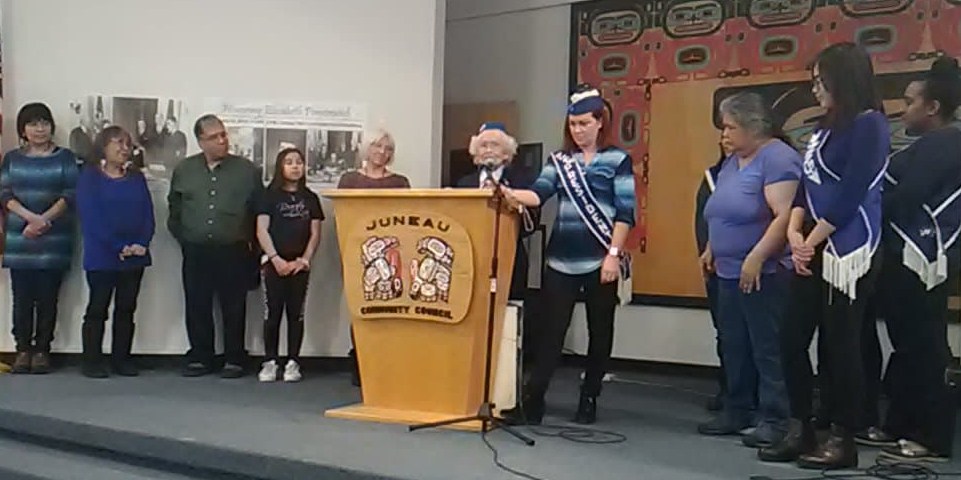 ANS Camp 2 Mother Marie Olson speaks to the audience after receiving the Mildred Sparks Award. (Photo by Greg Knight)
Juneau, Alaska (KINY) - Elizabeth Peratrovich Day was celebrated Saturday in Juneau with an observance at the Tlingit and Haida Community Council Building.
The opening address was offered by Alaska Native Brotherhood Past Grand President Sasha Sobeleff, and Jennifer Quinto spoke as the invited special guest speaker of Alaska Native Sisterhood Camp 2 Vice President Rhonda Butler.
Quinto spoke to the issues of Native foods and health, as well as telling the audience that a return to older, more communal ways would be good for cleansing the collective Tlingit and Haida soul "of the pain that colonization brought to Native people."
The Floyd Kookesh Award was given to Dr. Rosita Worl, while ANS Camp 2 Mother Marie Olson received the Mildred Sparks Award.
"I knew [Elizabeth Peratrovich] and her husband Roy," Olson said. "She and Roy were very instrumental, right up front, in leading the Tlingit people."
According to the Sealaska Heritage Institute, Olson is the daughter of James Williams (Tlingit name Kaajeexán) and Amy Bean. Marie is an Áak'w Kwáan Tlingit Indian of the Wooshkeetaan clan, Xóots hít (Brown Bear House), and a Kiks.ádi yadí.
Olson carries her grandmother's Tlingit name Kaayistaan.
In her youth, Olson attended a boarding school for Alaska Natives, the Wrangell Institute, and later graduating from high school in Seattle, Washington. She attended college at the University of California Berkeley.
In her personal and professional life Olson has served as an educator, civic leader, and cultural advocate. In 1974 she joined Camp 2.
As the finale of the event, the "Elizabeth Peratrovich Rap" was performed by the Junior ANS trio of Kaija Guthrie, Stasha Guthrie, and Ellysiem Paine.
Governor Michael J. Dunleavy proclaimed February 16 as "Elizabeth Peratrovich Day" and issued the following remarks:
"In 1945, in her testimony concerning HB 14, the Anti-Discrimination Act, Ms. Peratrovich confidently challenged the Territorial Legislature, stating, when asked whether the bill would end discrimination, "No law will eliminate crimes, but at least you as legislators can assert to the world that you recognize the evil of the present situation and speak your intent to help us overcome discrimination."
"Her inspiring words helped gain the legislative support needed for the passage of the Bill, which was approved by the Territorial Legislature on February 6, 1945, nearly two decades before the Civil Rights Act of 1964 was enacted on the federal level.
"The passage of HB 14 marked the end of an era, and the beginning of a bright new chapter for all Alaskans, one resulting largely from the faithful and unrelenting advocacy of Elizabeth and her husband, Roy.
"In 1988, the Alaska State Legislature passed a bill designating February 16 of each year as Elizabeth Peratrovich Day in Alaska, to honor and celebrate Elizabeth's profound influence on our state.
"I hereby proclaim February 16, 2019 as Elizabeth Peratrovich Day in Alaska, and encourage all Alaskans to celebrate her great influence on Alaska, and consider their role in carrying forward the principles of justice and equality she so admirably exemplified."
The Governor's full proclamation can be found here.
Every year on February 16, Alaskans honor Peratrovich for her efforts to eliminate discrimination and bring about equal rights in Alaska.