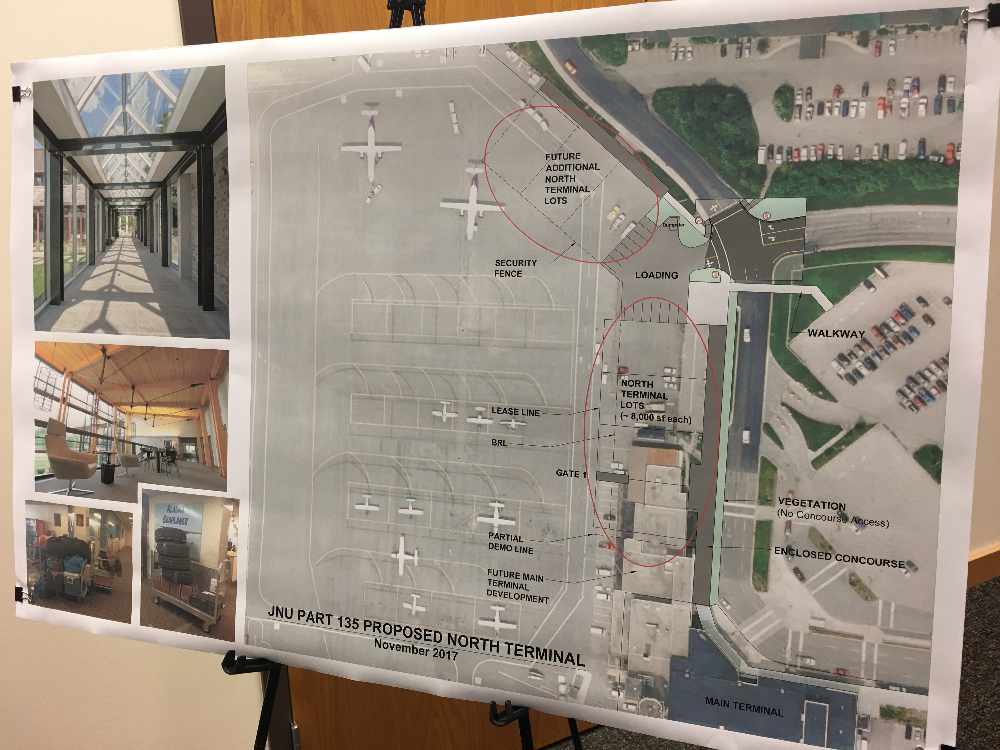 Juneau, AK (KINY) - The Airport Board approved taking a proposed concept into a more detailed process to pin down a design and plan for the North Terminal.
Those involved will now be taking those designs to contractors and architects to pin down a more concrete plan and design, tackling things like pricing, resources, and all avenues that will go into it. To see the Agenda from the latest Airport Board meeting, as well as the initial concept, click here.
We spoke to Airport Manager, Patty Wahto, about the project. She summarizes where it stands currently.
"Thanks to the voters, we have a general obligation bond from 2012 of 6.9 million dollars. The whole idea though is that we knew that just doing one section of this north end was going to cost over 15 million dollars by the time you do all the demolition, all new infrastructure, water, sewer, everything had to be brought up to code.
So we knew that we had this funding gap; the FAA won't fund it and the 6.9 million wasn't enough, so that charged us to think outside the box. One of them, and we had some input from some of the 135 operators (Alaska Seaplanes and now in the last few weeks Harris Air), is what if we were to lease you property and connect it, as we discussed tonight, would that conceptually work for you? They agreed with it.
This is pretty typical where in the state airports around here and a lot of airports we have these small Regional that are not attached to the main terminal. So it's kind of a hybrid of that effect where they're on their own, but they still have the access to the terminal and the amenities here."
Wahto also talked about being able to apply for more federal funding by addressing these areas that didn't qualify previously.
"Because of what's left in that knuckle or central portion, more of that is FAA eligible. So now we're divided up into two separate projects. We can use some of that money to do the central circulation area, but now we can also do these areas where the admin offices are, customs, and anything that's still remaining in that knuckle portion."
"We have the ability to do more with our other money, so whether it's federal dollars (when I say federal it's the airport improvement dollars and it's the passenger facility charger PFC dollars) that we can now use for that."
Wahto said that businesses in those areas struggle to grow due to that space, calling for improvements from businesses and consumers alike.
"Right now they're even limited within this current building; there's no room to expand. They are constrained, heavily. We've heard it from a lot of people, not just the tenants. They've been working out of those areas, but even the people who are using that area we're hearing from them saying, 'When are you going to update this?'"
"We know it. We know it has to be updated."
Wahto is hoping to have the North Terminal Building finished a lot sooner than one might think.
"Our aim is to work on this for the next six months, maybe less and start moving. If we can lease these areas and get them going on areas that don't need the demolition or start moving them into the old section so we can demolish part of the terminal, I'm hoping we can get going on this within the next year-and-a-half."