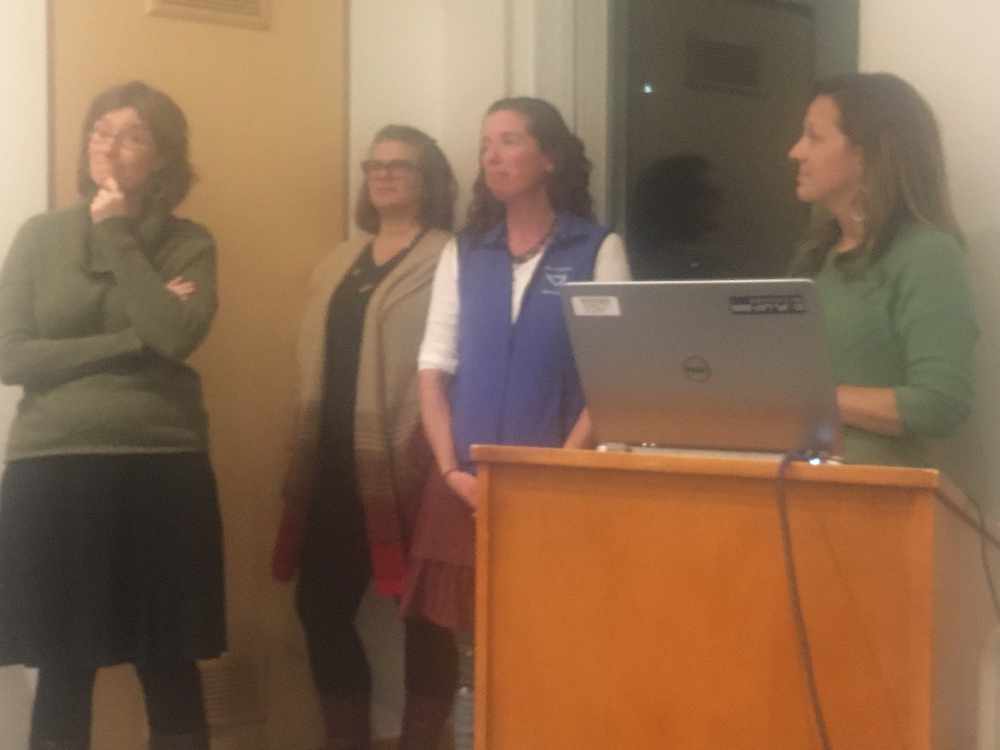 (L-R) Aleria Jensen, Juneau Douglas City Museum Director Beth Weigel, Sadie Wright, and Dr. Suzie Teerlink.
Juneau, Alaska (KINY) - The history of whaling in southeast and information on today's whale watching industry were highlighted at a City Salon event sponsored by the Juneau-Douglas City Museum.
Aleria Jensen, Sadie Wright, and Suzie Teerlink of NOAA Fisheries, Alaska Region, presented In the Heart of Our Sea: Whales in Southeast Alaska Past and Present at the Mendenhall Valley library.
Jensen focused her segment on the history of whaling in our region. There were 15 years of commercial whaling here. For several years there has been intense pressure on the population of whales in the North Pacific. "We brought most whale populations to a near point of collapse."
Jensen grew up in Douglas and remembers seeing her first whale at the age of 15. "I felt like I had seen a dinosaur and it left this indelible impression. There were not a lot of whales back then. They were recovering from centuries of harvest pressure. It has been a slow and gradual recovery."
Jensen said a change in mindset and philosophy brought on the environmental movement and the passage of the endangered species act and the marine mammal protection act. The most whales were harvested worldwide in 1852.
The first commercial shore-based whaling station in Alaska was the Tyee Company in Murder Cove. It operated from 1907 to 1913. Six vessels worked at the station bringing whales in. All of the employees were Norwegians. Whale blubber was boiled down for use as oil. It was used in soap, glue, fertilizer, and other lubricants. They sold the business to a fish processing company.
Another whaling company opened on Southern Admiralty Island, Port Armstrong from 1912 to 1922. The first six weeks they operated they took 71 whales. They took 314 whales total that year 8,500 hundred barrels of whale oil. They also took a record number of sperm whales in 1913, 75. It stood as a record up and down the Pacific Coast. They experienced the same problems as Tyee with dwindling numbers of whales and went out of operation. They had three whaling boats. One of the whaling boats Star #1 was put out of commission to serve in World War I for one year as a minesweeper for the US Navy.
"We think of New England, the Tropics and the Arctic when we think about whaling but there were these closer to home here," she added.
Norway, Iceland, and Japan allow whaling today.
We have a Moby Dick story with a whale slamming into a ship and sinking it. The Lizzie S. Sorenson went down on May 10, 1910. It is one of the few authenticated cases of a boat being sunk by a whale. The whale had been wounded by a harpoon and it rammed repeatedly into the boat near Cape Addington off Prince of Wales Island. Crew members claim the whale acted intentionally. A dead blue whale surfaced near the location of this event the next day.
Sadie Wright spoke about a sperm whale that was discovered deceased north of Juneau this year. The whale stranded on March 19 north of Berner's Bay in the Lynn Canal. It is the first whale the team was able to do a necropsy in the Inside Passage. The jaw of the whale was illegally removed and the theft is still under investigation.
A stranding whale is defined as a dead, injured, sick, out of habitat, or entangled marine mammal under the National Marine Fisheries Service jurisdiction. The team gathers information to determine why the whale became sick or entangled and use the information to better protect whales in the future.
"Photos are fantastic. We like to get on the beach with stranded marine mammals, measure them, get biological samples, get video, and document their survival. If it's entangled, we like to collect the entangling material to use that information to potentially work with groups and organizations that might know how to reduce the risk of entanglement in the future."
The team found it was a 48-foot long male sperm whale. They expect it was about 30 years old. The team found no plastic inside the whale's stomach. There has been an increase in the number of sperm whale deaths caused by or where plastic bags or plastic marine debris are a contributing factor in the world. The team now believes there are more sperm whales located here than they had thought. The cause of death appeared to be several large slashes and broken vertebrae caused by a collision with a large propeller.
The team suspects the whale was dead about a week before they began their tests.
She said nearly all of the team's responses depend on a phone call from the public. The 24-hour hotline is 1-877-925-7773.
Dr. Teerlink spoke about live whales and the way we are working to be good stewards of whales in Alaska.
Whale Alert, a phone app allows information on the location of whales to be given to marine operators. Real-time sightings are made available in an instant. "We are trying to reduce and mitigate the potential of ship strikes."
"People want to get up close and personal with whales. We have a fantastic port for viewing marine wildlife especially whales."
About 25% of the daily cruise ship visitors take whale watching tours while here in Juneau. That can range from 800 to 1,300 visitors per day go on whale-watching tours. The whale watching industry likely generates more income annually than the entire fish catch sold at the docks in Juneau.
An economic analysis of whale watching for Alaska is being done by the McDowell Group.
There are 68 whale watching boats and 20 companies that provide at least some whale watching services in Juneau. There are speed limits, buffer zones, and distance limits for whale watch boats.
Teerlink said they also do a lot of work on training crew members on these boats to educate them on conservation to inform visitors.
"The industry that we have here is very compliant with our laws overall," she added.
The group also helped coordinate and provide volunteers for a beach cleanup this year.
The event was part of the National Endowment of the Arts Big Read Community Read Program.