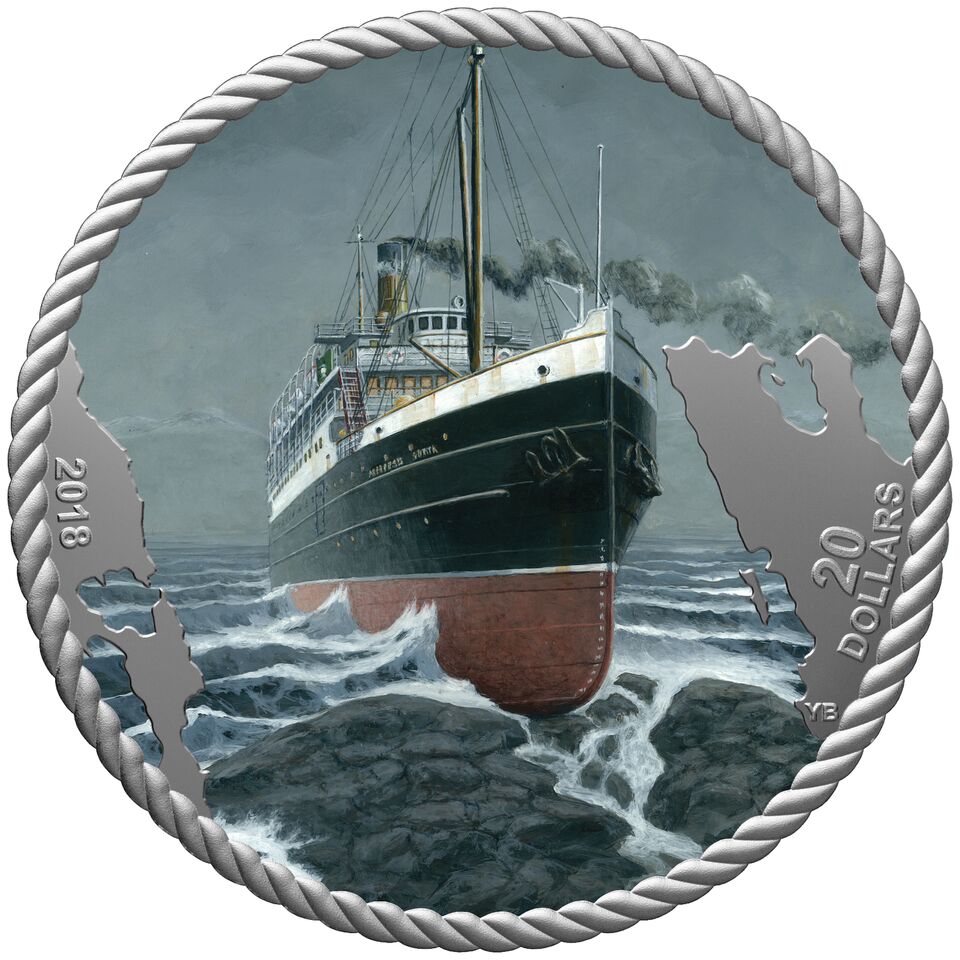 OTTAWA, CANADA (AP/PRNEWSWIRE) - The 100th anniversary of the worst maritime disaster of the Pacific North West is captured on a dramatic colored silver coin.
As a special museum exhibit remembering the sinking of SS Princess Sophia tours the Pacific Northwest, the Royal Canadian Mint has issued a coloured silver coin commemorating this tragic event in Canadian maritime history. 100 years ago, the Canadian Pacific Steamships Line coastal liner struck Vanderbilt Reef, near Juneau, Alaska, and started taking on water within sight of the shoreline. The ship sank a day and a half later, after her more than 350 passengers and crew waited patiently for rescue, killing all aboard. This coin is now available purchase among many others in the Mint's October launch of collector products.
"The Royal Canadian Mint is proud to craft coins that illustrate and preserve the full spectrum of the Canadian experience, including a rich seafaring history," said Jennifer Camelon, Interim President and CEO of the Royal Canadian Mint. "Through this coin, the Mint is able to increase awareness of the incredible story of SS Princess Sophia, while honouring all those who were lost on her last voyage."
The 2018 $20 Fine Silver Coin - The Sinking of the SS Princess Sophia is crafted of 99.99% fine silver and features a dramatic depiction of "the unknown Titanic of the West Coast" by Canadian maritime artist Yves Bérubé. His choice of colours convey the challenging conditions in the early morning of October 24, 1918, when a blinding snow storm pushed the SS Princess Sophia on a fateful collision-course with a dangerous reef hidden by the high tide. The scene showing the moment of impact is framed by engraved cartography of Lynn Canal, the Alaskan inlet where tragedy struck. Completing the reverse design is an innovative nautical rope motif engraved to the edge. The obverse features the effigy of Her Majesty Queen Elizabeth II by Susanna Blunt. Limited to a world-wide mintage of 6,000, this coin retails for $114.95 CAD.
This new coin can be ordered by contacting the Mint at 1-800-267-1871 in Canada,
1-800-268-6468 in the US, or online at www.mint.ca. It can also be purchased at the Royal Canadian Mint's boutiques in Ottawa and Winnipeg, as well as through the Mint's global network of dealers and distributors, including participating Canada Post outlets.
The Royal Canadian Mint is the Crown corporation responsible for the minting and distribution of Canada's circulation coins. An ISO 9001 certified company the Mint is recognized as one of the largest and most versatile mints in the world, offering a wide range of specialized, high quality coinage products and related services on an international scale. For more information on the Mint, its products and services, visit www.mint.ca.
For more on the Princess Sophia tragedy, check out our previous coverage of the various events surrounding the 100 year anniversary.
The Princess Sophia - A Story of Tragedy and the Northern Bond
Community Connects with Past during Princess Sophia Walking Tour