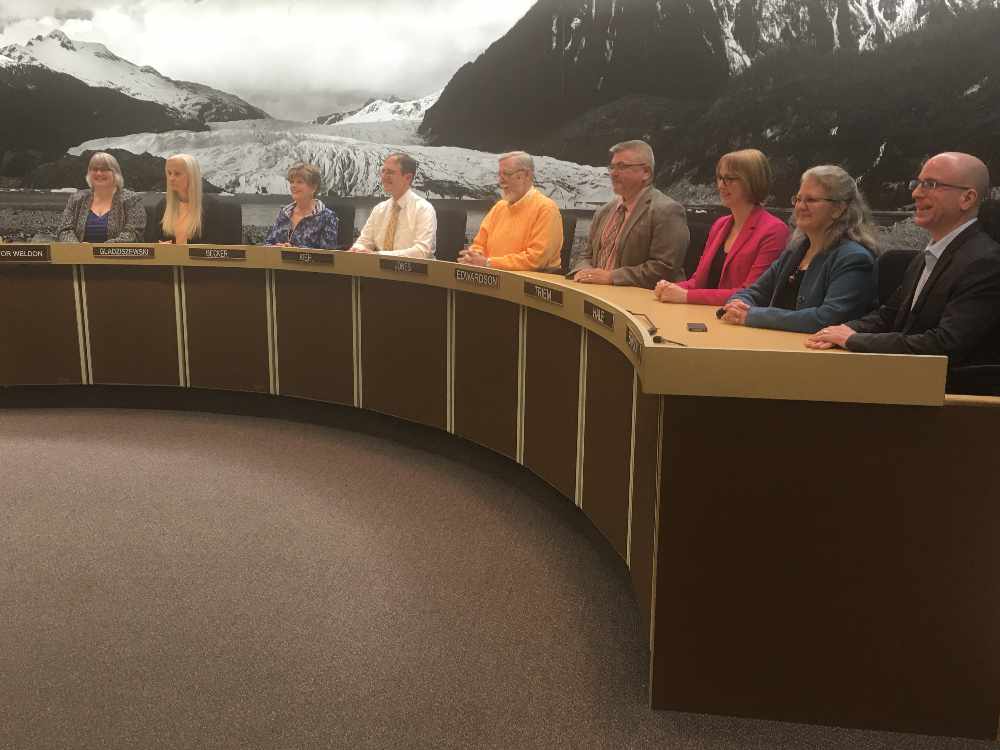 Juneau, AK (KINY) - Excitement levels were high for the first Assembly Meeting with some newly elected officials.
Hugs and words of encouragement were shared by almost all gathered, packing City Hall with a feeling of energy for continued work for the City of Juneau.
We talked to each of the new members on the Assembly, all of which were eager to get started.
Outgoing Assembly Member Norton Gregory was honored at the start of the meeting by outgoing Mayor Ken Koelsch. He was presented with a photo of the Juneau area as a parting gift.
Outgoing Vice Mayor Jerry Nankervis was also honored by outgoing Mayor Koelsch. He served two terms and will be pursuing the District 34 seat at the State House. He was presented with a Tinaa' for his work. Jerry's wife Lisa was also given a small gift of flowers.
Municipal Attorney Robert Palmer swore in all five of the newly elected Assembly members, which did include Loren Jones who was re-elected.
Mayor Weldon lastly honored outgoing Ken Koelsch. He was presented with ornamental gavel. He was also awarded a Tinaa' for his service. Koelsch's outgoing speech referenced a poem from Alice through the Looking-Glass where he talked about the challenges and accomplishes of his term. On the topic of running for anything again, he quoted Edgar Allen Poe's famous poem involving a raven, "Nevermore!" Koelsch also had words of thanks for the media that keep the public informed.
Lastly, he left a coin to each of the members of the Assembly for any decisions that they may struggle with, saying that they could flip it when needed. He also had many thanks for his family and the people of Juneau.
First order of business was to elect a Vice Mayor. Becker nominated Maria Gladziszewski, Kiehl seconded and the motion passed.
Mayor Weldon got the meeting started with a commemoration of the sinking of the Princess Sophia ship 100 years ago. There was also a second proclamation for Domestic Violence Awareness Month for October. Swarupa Toth, a member of the Board of Directors at AWARE, thanked the community for their support. The consent agenda was approved.
Ordinance 2017-06 (AZ) adopted
Ordinance 2017-06 (BA) adopted
2017-06 (BB) adopted
2018-11 (I) – adopted
2018-11 (K) – Adopted
2018-11 (L) – Adopted
2018-11 (M) – Adopted
2018-11 (N) – Douglas Harbor Pile Anodes CIP – adopted
2018-11 (O) – Adopted
2018-44 – adopted
Ordinance 2018-45 (b) – amended, adopted
New Business on JNU Sand/Chemical Building and Fueling Station, bid award. It was recommended that the bid be given to Dawson Construction, LLC in the amount of $9.26 million. This was awarded and the money that the Airport received in the grant will help open up more options for the North Terminal and other projects at the Juneau International Airport.
Senior Citizen/Disabled Veteran Late Filed Hardship Exemption Application – Appeal Accepted
During staff reports, Rorie Watt commented on the status of the Lumberman in the channel. It is on State of Alaska tidelands. He has put in an ask if DNR would revisit their non-action. The Coast Guard has cleaned up oils and fuels and the derelict vessel is essentially an eyesore and a solid waste problem, not an immediate threat to the environment. The Assembly was also invited to a joint meeting with the Juneau School Board.
Weldon's Mayor report involved a welcome to the new members. She also brought up the idea of creating a Childcare Task Force, of which she asked if any Assembly Members would be interested in joining. She would like four Assembly members on the committee. Weldon hopes to see the committee submit 3-4 recommendations with the cost associated with them in the future to address childcare challenges in Juneau.