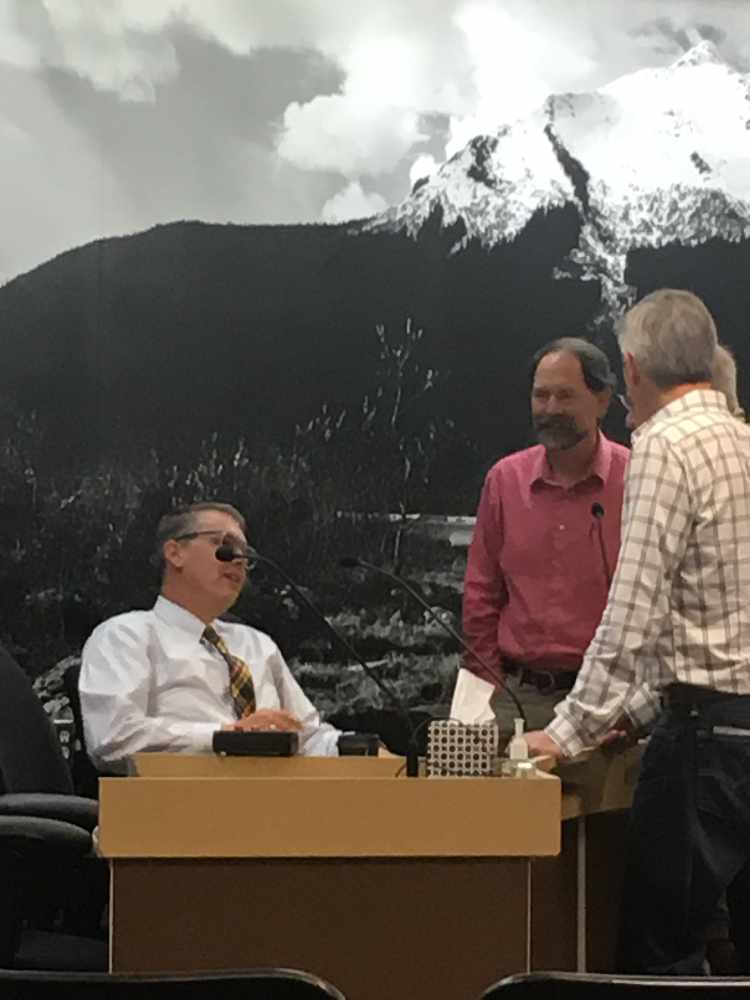 (L-R) CBJ Manager Rorie Watt, Lands Department Director Greg Chaney and John Binkley discuss bids on subport. (Photo credit to Charles Murphy)
Juneau, Alaska (KINY) - The state received five sealed bids on the subport property this morning.
Norwegian Cruise Lines Bahamas bid $20 million for the property. The minimum bid was just over $3.6 million. They were deemed the apparent high bidder.
RCL Royal Caribbean Cruises bid $13 million, God Speed Inc. $12.8 million, Survey Point Holdings of Ketchikan $5.27 million and the CBJ just over $4.25 million.
The state said NCL Bahamas now has 15 days to complete a sales agreement with them.
"That is a fairly shocking bid, I don't know if I've ever seen a property sell for six times the appraised value," CBJ Manager Rorie Watt said.
He said he expects to hear from NCL soon to discuss proposed uses of the property, "Now if their plans mesh with the community is yet to be seen."
Watt said he expected at least three bids. He said the CBJ bid was responsible and reflects the value of the property. "I don't know if the other bidders fully appreciate the zoning requirements that we have on the land. For example, a cruise ship dock is not allowed in that zoning district. There is a lot more to come in this story."
Watt said the bid shows the value of Juneau's waterfront.