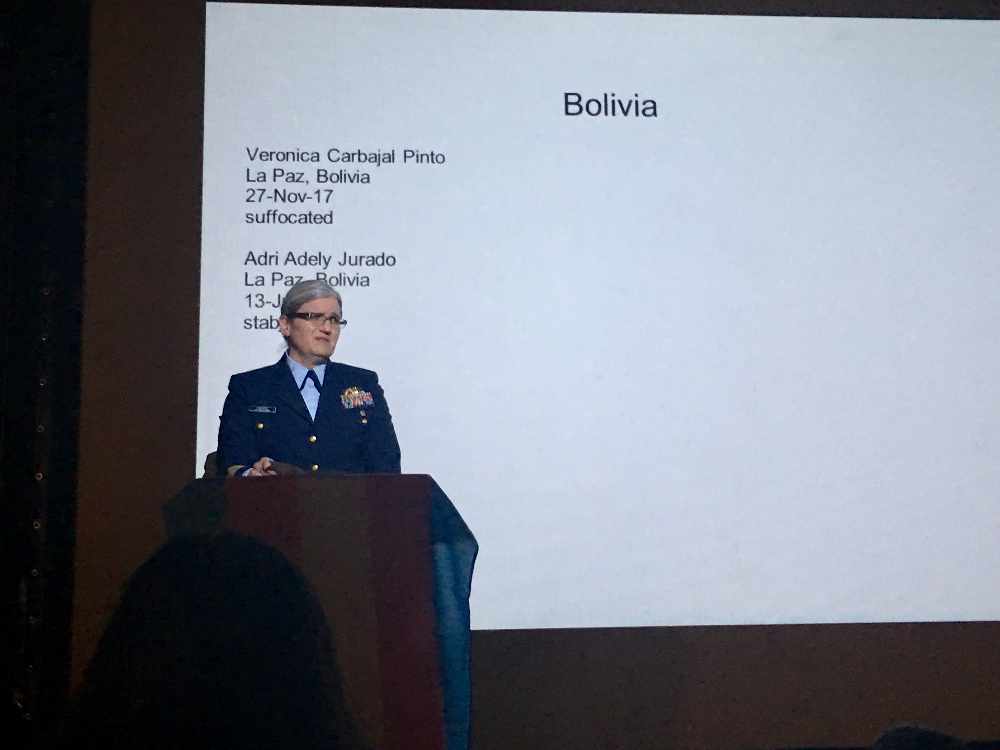 Captain Caputo speaking at the Transgender Day of Remembrance in Juneau.
Juneau, AK (KINY) - The National Transgender Day of Remembrance was observed in Juneau at a showing of "Becoming More Visible" a documentary about four transgendered people and their lives.
The event was held at the Gold Town Nickelodeon Theater and put together by SEAGLA with proceeds going to T-Group, a local trans and non-binary support group.
More than twenty names of those killed as a result of hate crimes were read by two local pastors, while more than 300 names scrolled behind them of those lost globally.
Captain Allison Caputo, the Chief of Maritime Law Enforcement for Sector 17 of the United States Coast Guard, shared her story of transitioning as a member of the military. After the viewing of the film, we asked her what advice she had for people facing adversity based on their gender.
"They need to find groups like SEAGLA and support groups and they need to find other trans people that have had experiences that can help them through it because it's really scary. Trans people just need a supportive environment and they can do almost anything. They are extremely resilient people."
Captain Caputo transitioned later in her life and she explained to us that there is no set age of when a transition takes place.
"I don't think there is any wrong time to transition and I don't think that anybody can be too old to transition. Whether you find your true self as a teenager or like myself coming to terms with it in my 40s, I've also seen people come to terms with it in their 60s, I think that people who are trans are always going to be trans. That struggle, that battle, that inner turmoil, I think if they realize sooner that they can be who they are then their life will be that much richer."
In her experience so far in Juneau, Captain Caputo sees Juneau as a welcoming place.
"I just came from Washington D.C. and I think that Juneau is a wonderful place for trans people. I feel like everybody is very accepting. What I think is if you have somebody that is trans, because of the climate in Juneau and the darkness and the rain, bring your trans friends, your non-binary friends, to community activities. Introduce them. Bring them in. Make them feel accepted."
Holidays can be tough times for those not feeling like they belong, especially if the family is not supportive. Captain Caputo suggested spending more time with those that support you.
"Being trans, sometimes families are supportive and sometimes families are not supportive. If you are a trans person than my suggestion is to be with people that accept you. Be with people that are going to support you. Don't force yourself into a situation where there is going to be fighting or stress. It's already a stressful enough time."
"Be with people that want you to be there."
At the end of the interview when asking for name spellings, Captain Caputo told us that she chose the Irish spelling of the name Allison because it means honesty and truth.
"When people call me Allison, they are talking to me. They are seeing my true self, the true me."
More information about "Becoming More Visible" can be found on the official website.