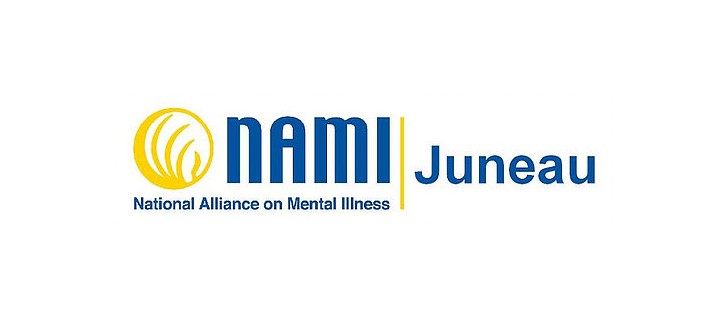 Nami Logo courtesy of NAMI
Juneau, Alaska (KINY) - This Saturday evening, NAMI Juneau will host a comedy show.
Aaron Surma, Executive Director of NAMI, and Tom Cosgrove, Director of Comedy for a Cause joined Dano on Capital Chat to talk about an upcoming event.
Surma said what National Alliance on Mental Illness (NAMI) does.
"You can call us if you have questions about mental health services in Juneau. So we maintain the website juneaumentalhealth.org. It's a list of therapists, a list of provider organizations, and what exactly those folks do, how you pay for the service. A lot of people email us or call us with specific questions so that we can help you navigate mental health services here in town. Above and beyond that, we have a lot of programs in the schools, we do a lot of presentations about mental health currently at JDHS. This week, presenting to ninth graders a presentation called Signs of Suicide, keeping them aware of the signs of suicide support groups. We have support groups for both people addressing their own mental health and family members supporting a loved one. We have classes that do the same."
Surma said how to reach out to NAMI for help with mental health.
"Our phone number is 463-4251. We have a general email address, namijuneau@gmail.com. Or go to our website, we have two websites; namijuneau.org And then one we try to keep separate from us, juneaumentalhealth.org. That just kind of gives general information about the community."
Surma said when their Comedy for a Cause show will take place and how to attend.
"Saturday, doors open at six. The show is from seven to nine at the JAHC. It is $20 for general admission tickets and $35 for reserved seats. You can purchase tickets right now with the JAHC website or go to namijuneau.org. You get a little pop-up thing that will take you to the program and where to buy tickets as well."
Cosgrove explained Comedy for a Cause.
"The reality is it really should be called laughter for a cause. Because laughter is one of the principles of support of NAMI. Humor is healthy. And so we say comedy, but in fact, we've got a couple of comedians, we've got an illusionist, a humorous, a drag performer, and some very interesting fun local songs with a bit of, I don't want to say sarcastic, but pointed point of view."
Cosgrove said who's performing.
"First of all, our headliner is Matt Vogel. He's coming to us from Denver. Actually, Comedy for a Cause is an annual event, but we haven't held it in three and a half years. So we're gonna bring in big guns from Denver. We've also got an illusionist who's coming from all the way from Skagway. We got the humorist I was talking about and the drag performer Luke, the Duke of Bell."
Surma said why laughing is important for mental health.
"There's a lot more discussion in the world I've heard in the last like 2 to 4 years about the specific hormones and neurotransmitters that feel good or don't feel good. And so one of them is endorphins and laughing with somebody else can release some endorphins like that feels good. There's an actual chemical process in your body. Connection with somebody else, laughing together because of something one of you said, releases some chemicals like oxytocin. It just feels good to be connected with somebody in that way."