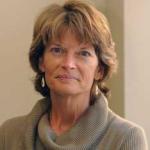 Alaska U. S. Senator Lisa Murkowski
Juneau, Alaska (KINY) - Alaska Senior United States Senator Lisa Murkowski says she will vote to certify the 2020 presidential election.
She said in a release that she swore an oath to support and defend the Constitution of the United States and that's what she will do when the matter comes before Congress on Wednesday, January 6.
Murkowski urged her colleagues from both parties to do likewise.
She points out that the courts and state legislatures have all honored their duty to hear legal allegations and have found nothing to warrant overturning the results.
Challenges to the results are expected in both the House and Senate.