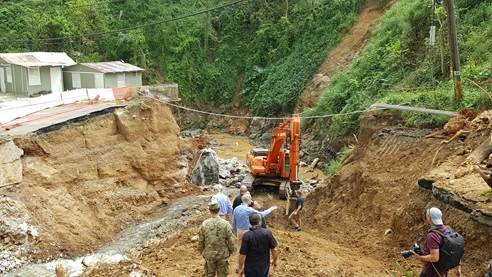 Photo above shows a roadway wiped out by by flooding during Hurricane Maria in Barranquitas,
San Juan, Puerto Rico (KINY) Alaska U.S Senator Lisa Murkowski led a congressional delegation to Puerto Rico and the U.S. Virgin Island to assess damages in the hurricane ravaged islands and ongoing recovery efforts.
The delegation also held discussions with local leaders on how to restore power expeditiously and rebuilt a stronger, more sustainable electric grib. Other Senators on the trip include Bill Cassidy of Louisians, Al Franken of Minnesota, Tom Carper of Delewards, Kamala Harris of California, Bill Shuster of Pennsylvania, Garrett Graves of Louisiana and Peter DeFazio of Oregon.
Murkowski said she was the trip was productive, "I've seen my shares of disasters but the reality on the ground is extraordinary. Everywhere we went, we saw devastation. The families we met have touched each and every one of us, and we will stand strong with them throughout their recovery," she noted, "As members of Congress, we have a big responsibility to our fellow Americans who call Puerto Rico and the U.S. Virgin island home. We must work together to not only restore power in the short term, but also find a workable long-term solution to help the island move forward with a more resilient and reliable energy grid than can withstand severe hurricanes.