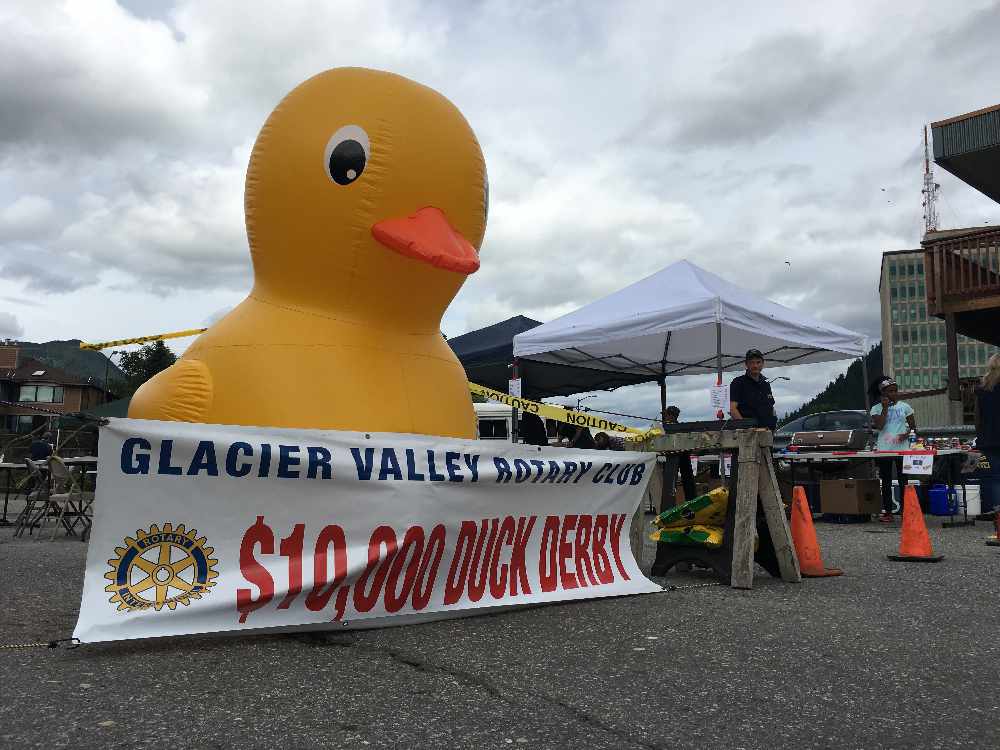 Juneau, AK (KINY) - The annual Duck Derby put on by the Glacier Valley Rotary Club has concluded with many community members earning cash prizes, all while enabling the club to continue helping the community.
There were 5,984 ducks purchased, which were released at the top of Gold Creek. After a quick tour of the creek, the ducks were gathered under the bridge by volunteers with a couple layers of netting to ensure that none of them escaped into the channel.
President of the Glacier Valley Rotary Club, Sharon Burns talked about the significance of this major fundraiser and how it helps Juneau through scholarships, park projects, and programs like Pillars of America.
"Our motto is 'Service above Self', so that's what we do. For example, we put on the Pillars of America speaker series every year, which is to inspire kids, middle school and high schoolers to hear stories from people who have come from unfortunate beginnings or things that just created a hard childhood that they were able to overcome. We love doing that every year."
"All of these things cost money, so the Duck Derby really is important."
Beth Weldon, who was a past president of the Glacier Valley Rotary Club gave her thoughts on the community fundraiser.
"It's people helping other people. It's all about community service and rotarians are all members of our community and this is our way of giving back."
Viki Kibodeaux, who is a program coordinator for Juneau Youth Services, was one of the winners.

"I feel amazing! This is my third time coming to the Duck Derby and I bought the package of thirteen. Lucky thirteen! I figured that the third time's the charm."
Burns says that the event goes beyond a typical fundraiser, becoming more of a community day.
"The Duck Derby has become a community day. People come out and they have a vested interest, not just because they bought duck tickets, but they bring their kids. We have stuff for the kids to do. It becomes a family day as well and that's part of what rotary is about."
She also wanted to extend her gratitude for the support over the years.
"We just want to thank everybody who has supported the Duck Derby. It's just an amazing thing; we live in such an incredible town. I just want to say thank Juneau for everybody who has come out, not just this year, but in years gone by. Thank you."
Proceeds will go to various projects like the Pillars of America speaker series, the various park revitalization projects, and scholarships.
Here's a full list of the winners:
1st $5000 Delsey Rodriguez-Ayala
2nd AK Airlines Tickets James Cartmill
3rd $2000 Steve Strickler
4th $500 Nhico Moises
5th $500 John DeBuse
6th $500 Viki Kibodeaux
7th $500 Ricky Nelson
8th $500 Sandy Spickler
9th $250 Robin Lonas
10th $250 Erica Simpson