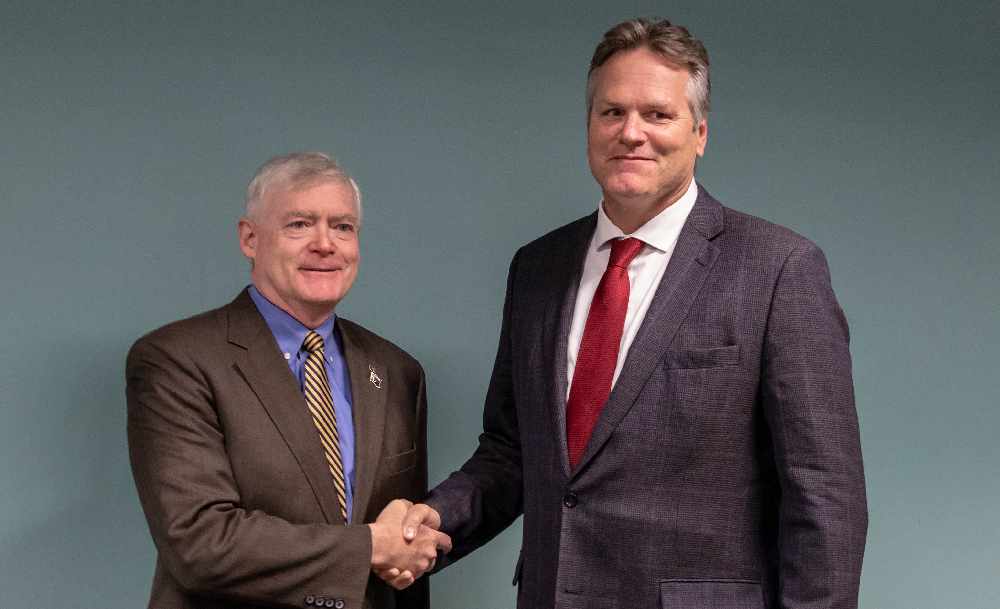 Mead Treadwell (left) shaking hands with gubenatorial candidate Mike Dunleavy (Right). Image courtesy of press release.
Juneau, AK (KINY) - Candidate for Governor, Mike Dunleavy has received an endorsement from former Lt. Governor Mead Treadwell.
Treadwell finished second in the 2018 Republican primary election for governor.
According to a press release, the endorsement was made earlier this morning in Fairbanks where the two were attending a meeting of the Alaska Support Industry Alliance, a group that promotes the state's oil, gas, and mining industries. At the meeting, Treadwell gave a speech on Arctic policy, which he is regarded to be an expert of.
"It's great to receive the endorsement of a former competitor who understands the state is on the wrong track," said Dunleavy. "I'm grateful for the support of Mead Treadwell, and also of businessman Scott Hawkins. Whatever differences existed among the Republican primary candidates, we all stand united in our commitment to change the leadership of this state, so that Alaska can realize its true potential."
Dunleavy said he and Treadwell both appreciate the crucial role that resource development plays in solving Alaska's most pressing problems. "Whether we're talking about protecting the PFD, confronting our crime problem, or improving our educational outcomes, resource development holds the key for funding the government and building a more prosperous economy so that we can successfully tackle these challenges."