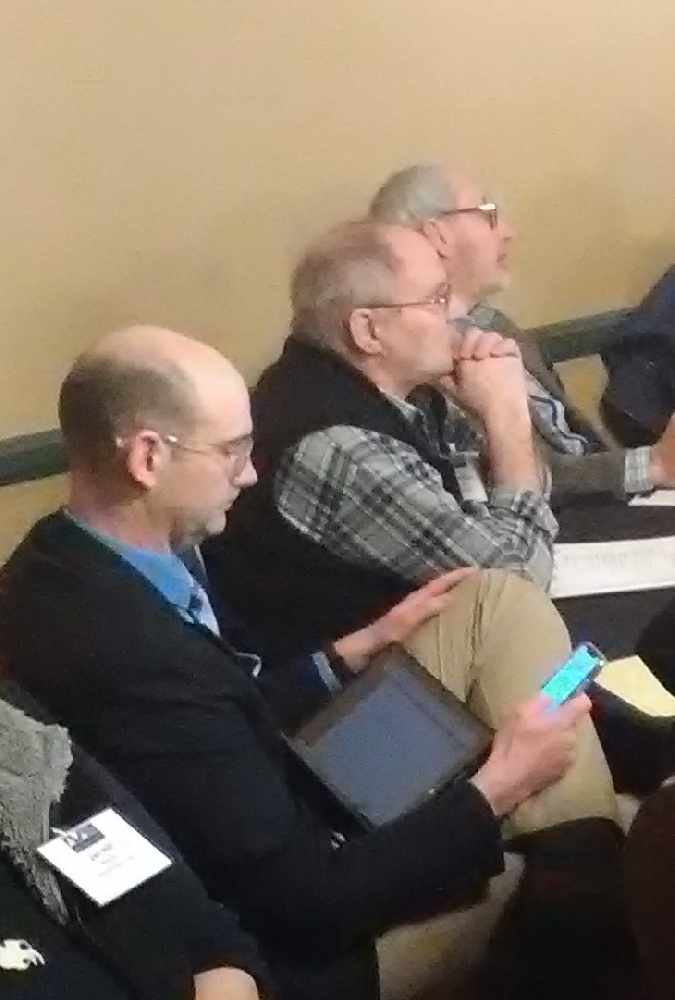 Valdez Mayor Jeremy O'Neil (left) called on Gov. Mike Dunleavy to resign last week in a Facebook post. (Photo by Greg Knight)
Valdez, Alaska (KINY) - The mayor of Valdez, Jeremy O'Neil, called for Gov. Michael J. Dunleavy to resign in a post on social media last week.
O'Neil verified to News of the North that he was, indeed, the author of the Feb. 15 post during his visit to the Alaska Municipal League conference in Juneau on Feb. 20.
O'Neil said that he made the comments, not as mayor of Valdez, but as, "A citizen of Alaska."
The request by O'Neil, a healthcare executive who was recently elected as mayor of the city, gets to the point in the first paragraph.
"I know you are only a few short weeks into your administration, but in light of recent circumstances, I respectfully ask you to resign," O'Neil wrote on his personal Facebook page. "Your cringe-worthy press conference on Wednesday was a low point in Alaska politics. It hit rock bottom when you were asked whether our citizens should consider moving from the State as a response to the vision you put forward of our future, and you replied, 'people will need to do what they need to do.' Never in my wildest dreams could I have imagined a more paternalistic, uninspired or destructive response, from our State's highest official."
O'Neil, whose family goes back generations in Alaska, said the governor's policies are turning Alaskans against each other.
"I appreciate and sympathize with the difficult fiscal road ahead of us," O'Neil wrote. "Nevertheless, your proposal turns Alaskans against each other, picks massive winners and losers, and turns the hard-fought gains of over 50 years of statehood into an ash heap of lost time and opportunities. Yours is a lesson in fiscal tyranny, malpractice and folly."
O'Neil also takes issue with Dunleavy's Senate Bill 57, which would repeal property taxes on local oil and gas infrastructure
The repeal action, if approved, would also include the trans-Alaska pipeline.
"The nightmare proposal of SB 57 is a State power grab, wrapped in a malignant cost shift, wrapped in the age-old government fallacy of 'we know what's good for you, better than you do,'" O'Neil wrote. "You would expect such tactics from extremists who ultimately turn their citizens into beggars. Mr. Dunleavy, never in the history of our state has this worked. Creating a structure of massive losers to fill budget gaps, creates division, implants fear, and hurts everyone."
"When the Alaskan pioneers of the Day family landed in Valdez in 1929 to build a future, I can't imagine they envisioned a day like today," O'Neil added. "And when they banded together with their neighbors to solidify the future of their community by conveying their land interests in what would become the site of the Valdez Trans-Alaska Pipeline Terminal, imagine what their horror would be with Wednesday's short-term ploy to bail out the State on the backs of their family, friends and neighbors."
O'Neil ended the post with, "Please resign. Good day."