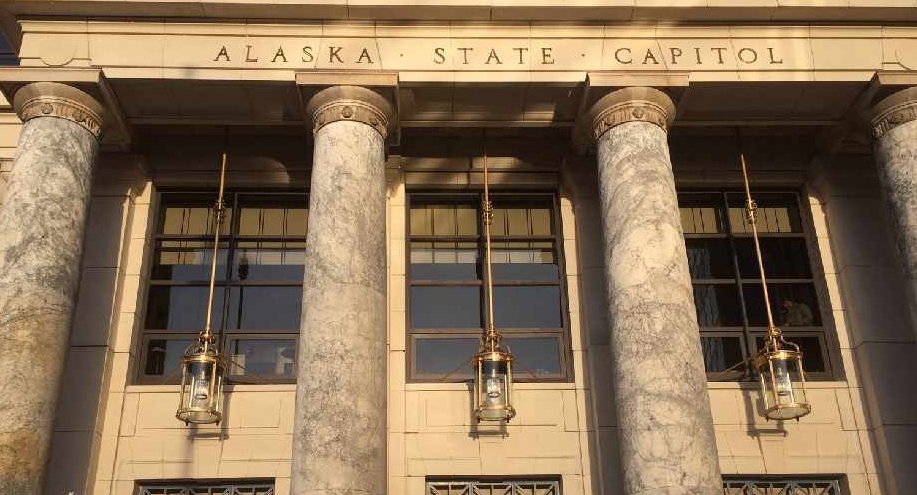 Juneau, Alaska (KINY) - The Alaska Legislative Council, a group made up of House and Senate leaders, voted 8-6 to require masks at the state Capitol, regardless of vaccination status.
The policy states that Face coverings or masks are required in all legislative facilities, regardless of vaccination status.
Face coverings considered acceptable under the policy are clean medical or surgical masks, approved face shields, or clean cloth masks made of tightly woven material of multiple layers
The policy outlines that mask-wearing is optional inside legislators' offices, however, the masking protocol must be observed if Legislative Affairs Agency staff and lounge personnel enter an office to perform duties.
Social distancing is encouraged in offices, committee rooms, and in common areas of legislative facilities.
Those entering the building or legislative facility must self-screen for COVID symptoms prior to entry.
Testing is being recommended for those experiencing symptoms, or if an individual is returning to work after traveling, especially if travel were to a community experiencing a high rate of infection.
In May the council voted to make mask-wearing optional, with an easing of testing rules and an increasing number of individuals getting vaccinated.
A change was proposed by Senate President Peter Micciche to make the masking policy state recommended rather than required.
"I think the required part just puts us back into that battle again, the one that we heard a very audible cheer, the meeting that we eliminated the - through those doors - when we eliminated the mask requirement in the building," Michiccie said. "I think, we pushed, I bet we're in the 90% range for vaccinated individuals I've read everything CDC has ever put out, I'd like to move that we change required to recommended and let individuals make the choice."
Kodiak Senator Gary Stevens asked about Juneau's current masking guidelines, Representative Sara Hannan said Juneau does require masking inside public buildings.
"It seems to me we need to honor the community that we're in, and if they require masks, then I think we should require masks in this building as well," Stevens said. "I think it's a little premature, when you read all the information coming from CDC and others, I think we're possibly facing a real uptick in the number of cases and it seems like this is not the time to be making things easier for that virus to travel."
The proposal failed in a 7-7 vote.