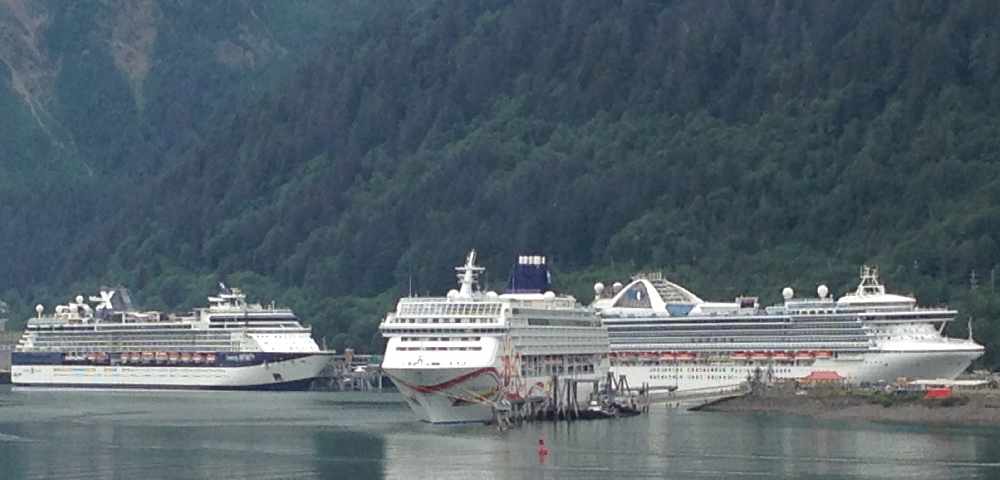 The future use of Marine Passenger Fees will be determined by the CBJ Assembly.
Juneau, Alaska (KINY) - The City and Borough Finance Committee approved sending a list of uses of Marine Passenger Fees to the Assembly on Wednesday.
Based on projected passenger numbers, the amount of revenue from the FY20 fees is anticipated to be $6 million. The funds come from a $5 per cruise ship passenger tax and are used for projects and services that enhance the tourism experience and offset community impacts created by the cruise ship industry, including use of emergency services, transportation, and infrastructure.
An amendment adding $50,000 to an already budgeted $250,000 amount for dock electrification was passed unanimously.
In December, CBJ solicited project proposals from city departments and the public, including businesses and the visitor industry, to be funded with MPF proceeds. City Manager Rorie Watt is recommending 29 operating, grant and capital funding allocations. They include additional ambulance service, a Shipping Congestion Mitigation Pilot Project, legal fees to Cruise Lines International Association and CBJ as part of a settlement agreement, dock electrification and some services and infrastructure improvements at the AJ and Franklin docks.
City and Borough of Juneau Manager Rorie Watt had previously made five recommendations for uses of the Marine Passenger Fees in the borough.
"Based on our latest projection of passengers expected to visit this summer, the amount of revenue available in FY20 is anticipated to be $6,000,000," Watt states. "Due to the impact of the legal fees on this year's allocation, the Port Operations and Port Building costs are allocated to Port Development Fee. I expect this to revert to Marine Passenger Fee in FY21."
Watt also said the city will perform a cost allocation plan to evaluate the budgeting of indirect costs.
A new idea Watt suggests is a Congestion Mitigation Pilot project.
"Cruise industry and tourism members support an attempt to minimize heavy truck traffic during peak tourism activity times," Watt states. "The details are not worked out on this idea. I am unsure if this pilot idea may be able to be put in place this summer. Conceptually, staff and AML are attempting to come up with a pilot project that would reduce conflict between the trucking of goods and busy tourist times. There are many details that would have to be resolved, including whether this program would be available to other shippers."
Watt also believes, now that the litigation with CLIA has been completed, there are several projects that will get greater attention.
Regarding the role of public fund for capital improvements at the private docks, Watt said, "In FY19 we provided funds for "Public/Private Port Infrastructure Planning. Small Cruise Ship Moorage Master Planning funding was also provided in FY19… I have included some level of funding for infrastructure at the two private docks in this year's proposed allocation. This is a change from recent years. This recommendation will similarly trigger the conversation on the role of the public fees at the private docks."
The issue of fee usage now moves to the full Assembly.