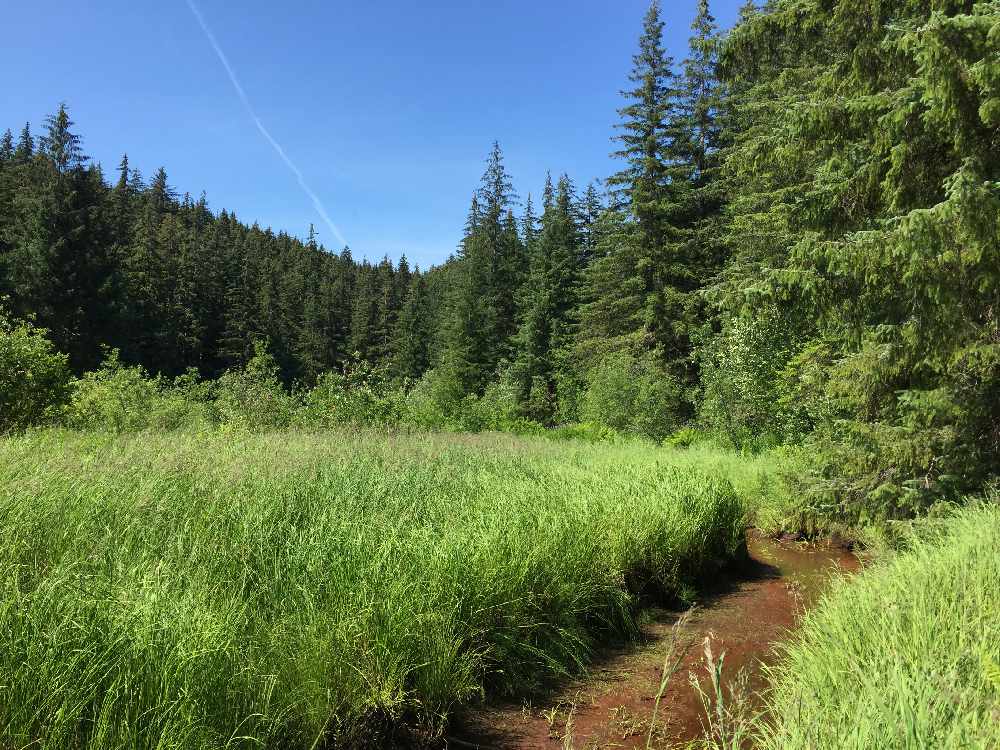 The Very Beary Berry Wetlands
Juneau, Alaska (KINY) - Southeast Alaska Land Trust Board President Jay Nelson announced Tuesday that the trust has finalized the purchase of over 70 acres in the Herbert and Eagle River valley in Juneau.
The property sits adjacent to the Herbert River Wetlands, a 147-acre parcel of lands owned by the City and Borough of Juneau, which was protected under a conservation agreement in 2003. Together, these two projects create a 217.5-acre block of wetlands important for salmon, bears, and other wildlife. The Southeast Alaska Land Trust now has protected more than 3,500 acres of land throughout Southeast Alaska.
Dubbed the Very Beary Berry Wetlands by a major donor, Kristi Allen, the newly conserved property includes Strawberry Creek, a tributary of the Herbert River, which meanders through the middle of the property. The creek provides excellent habitat for coho, sockeye, pink salmon, Dolly Varden and cutthroat trout. Black bears, beavers, and countless species of birds also frequent the Very Beary Berry Wetlands. Scenic views of the property are well known by travelers driving along Glacier Highway. In addition, the property sits near the Boy Scout Beach and the Eagle Beach State Recreation Area, two of Juneau's most popular recreational areas.
Kristi Allen lives in Juneau and is a long-time supporter of the Southeast Alaska Land Trust. Allen's donation was made possible through the estate of David R. Allen, Kristi's father. Additional funding came from the estate of the late Marge and Ed Huizer – two well-known Juneau locals who were passionate about conservation and opportunities for local recreation. The purchase of the Very Beary Berry Wetlands represents one of the largest privately supported projects in the Southeast Alaska Land Trust's 24-year history.
"My dad loved Alaska," stated Kristi, "and he would visit whenever he could. He helped me write letters about the 147-acre Herbert River Wetlands property, which was protected by the Southeast Alaska Land Trust in 2003. When this 70-acre contiguous property came up for sale, I worked with the Southeast Alaska Land Trust and used my inheritance, knowing my dad would be happy. My friends Marge and Ed Huizer also helped and would be pleased with its protection name: Very Beary Berry Wetlands."
Jay Nelson praised the project, saying that, "Kristi Allen's gift will protect an important Juneau wetland in perpetuity. We are honored to be able to work with Kristi on this community-based conservation success."
The Very Beary Berry Wetlands are free and open year-round for the enjoyment of the public.