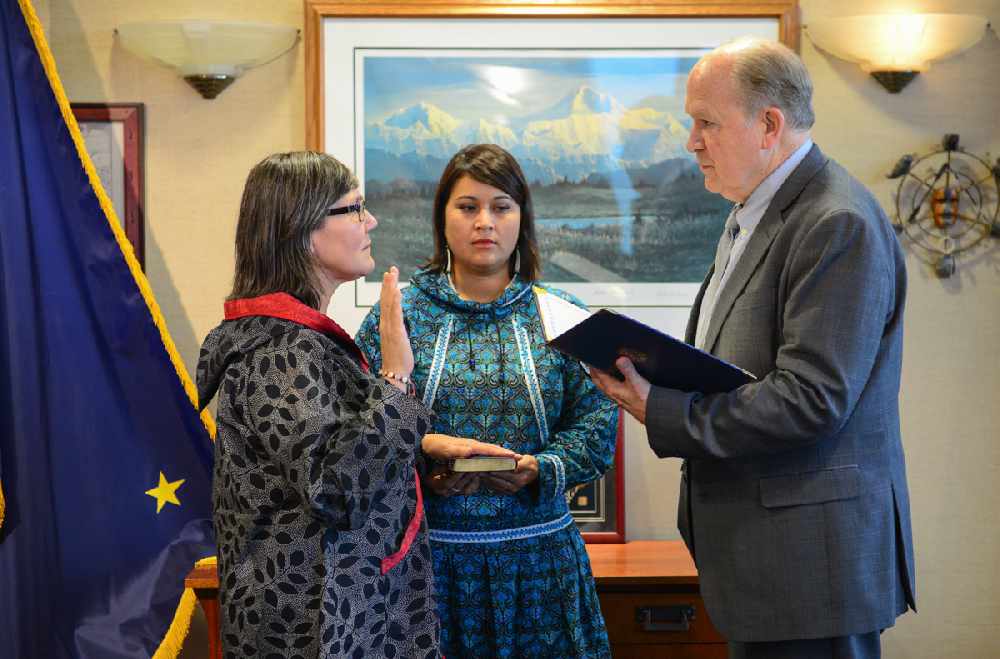 Lieutenant Governor Valerie Nurr'araaluk Davidson (left), Director of Rural and Native Affairs Barbara Blake (center), and Governor Bill Walker (right) participate in the swearing-in ceremony.
Juneau, AK (KINY) - Supposedly following behavior that does not fit the role of the governor's office, Byron Mallot offered his resignation which was accepted by Governor Walker earlier this afternoon.
This is a developing story that will be updated as information is gathered.
Governor Walker released this statement on the matter via a press release.
"It is with profound disappointment and sadness that I accepted the resignation of Lieutenant Governor Byron Mallott."
"Byron recently made inappropriate comments that do not reflect the sterling level of behavior required in his role as Lieutenant Governor. I learned of the incident last night. Byron has taken full responsibility for his actions and has resigned."
"As leaders, we must hold ourselves to the highest standards of conduct."
"Valerie Davidson was confirmed as Lieutenant Governor-designee earlier this April. She was sworn in today as Lieutenant Governor. Doctor Jay Butler has been appointed Commissioner of the Department of Health and Social Services. Alaskans can be confident that Valerie Davidson will assume the duties of Lieutenant Governor with grace and dignity."
Lt Gov Valerie Nurr'araaluk Davidson released this statement alongside Walker's.
"Alaskans deserve the highest standards of conduct by their elected officials. While I am deeply saddened by the resignation of Lt. Governor Byron Mallott, I am profoundly disappointed by his conduct."
"Respect for women, and the dignity of all Alaskans, is our responsibility. I stand ready to serve as your Lieutenant Governor."
Candidate for governor, Mike Dunleavy also issued a statement on the matter.
"As we, like all Alaskans, await details surrounding the resignation of the lieutenant governor, our campaign remains focused on restoring trust in state government.
"We need safe neighborhoods, a healthy economy and full Permanent Fund dividends. This campaign has always been about the people of Alaska, not politicians."
Mallott also issued a letter of resignation that was shared by KTUU, where he cited that his inappropriate comments "placed a person whom I respect and revere in a position of vulnerability." Mallott also apologized to that person and is seeking healing for his family, staff, friends, and all who placed their faith in him. Mallott ended his letter by saying that Davidson will bring "honor to the office of Lt. Governor."
The resignation has brought up a lot of questions about the upcoming election. A press release from the Division of Elections cleared up how the election will proceed.
"Although Election Day is not until November 6, the election actually begins on October 22 with early and absentee in-person, electronic transmission, and special needs voting. Accordingly, the general election ballot has been certified and printed, and Bill Walker and Byron Mallott appear together as candidates for governor and lieutenant governor on that ballot."
"The Division of Elections has conferred with the Department of Law. Under state law, it is too late for a candidate to withdraw from the ballot; that must happen at least 64 days before the general election. Under the Alaska Constitution, a vote for governor is considered a vote for the lieutenant governor running with him or her. Even if a lieutenant governor withdraws, the gubernatorial candidate may remain on the ballot. Accordingly, if Governor Walker is re-elected, Byron Mallott will technically be elected along with him. However, given Mr. Mallott's resignation, Governor Walker would be able to appoint a lieutenant governor successor consistent with state statute."
"Though [Mallott] cannot remove his name from the ballot, he will not accept the position of Lieutenant Governor if elected," a statement from Walker's campaign read.
Walker did not answer questions at the press conference. He read the brief statement and left the room.
The Associated Press reported that the campaign manager for Alaska Gov. Bill Walker said the campaign has been in talks with Democrat Mark Begich about a "path forward" for the state.
John-Henry Heckendorn said Tuesday the talks so far have been inconclusive but will continue.
A Real Clear Politics Poll done by Alaska Survey Research showed Dunleavy with a 20 point lead. Dunleavy had 47 percent, Walker 27 percent and Begich 23 percent in the latest poll.