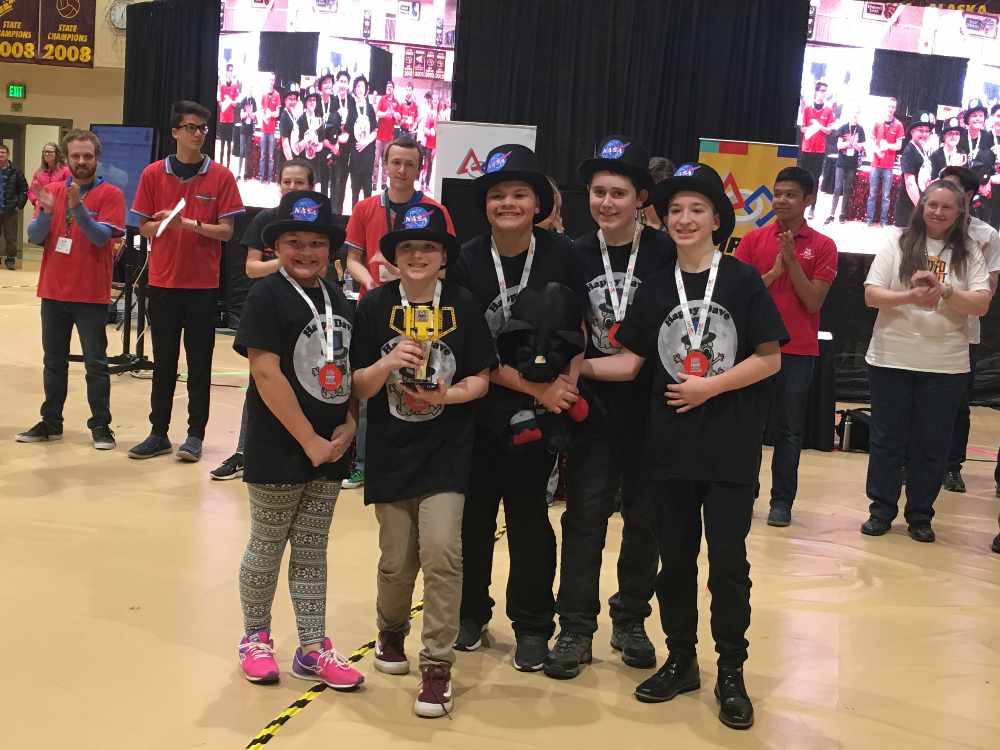 Juneau, Alaska (KINY) - A group of Juneau home-school students will travel to San Jose, California to compete with 19 other teams from across the world at the 9th Annual First Lego League Global Innovation Award competition.
Happy Dave won the Global Innovation nomination at the Alaska state competition in Anchorage for the past two years, and this year they were selected as one of the 20 semi-finalists for the Global Innovation Award. They created an innovative solution to provide fresh food in space with their product "Astrogreens." Astrogreens are baby plants with up to 40% more nutritional value than an adult plant.
They could be very useful for long term space travel.
Members of the team include Stig Cunningham, Kajson Cunningham, Aiden Pietan, Sione Tupou and Meliame Tupou. Coaches of the team include Amber Cunningham, Bobbi Epperly, and JJ Tupou.
Coach Cunningham said the state title gave them the ability to apply for the world competition. 30 countries apply each year. "There product is so amazing. One of the purposes of the Global Innovation Award is they have a product that is possibly marketable."
First place would earn the team $20,000. Second and third place finishes earn $5,000. The money can be used to continue work on the team's inventions. The contest is held from June 30-July 2.
Advantages to the product are they provide a fresh food source in space, have long-term usage, are lightweight, have a long shelf life, are of low cost, and are easy to grow.
Kajson Cunningham said he learned a lot about patience and teamwork, "Having fun while we are trying to solve problems instead of being upset that something doesn't work.
The team realized that astronauts lacked fresh food in space. After researching and reading several articles, we found that astronauts only get fresh food delivered to the International Space Station every two months. Meals on the ISS are mostly dehydrated, prepackaged or canned.
Sione Tupou said the product contains recyclable pulp. They grow into healthy strong stem greens using acrylic plates by using rubber banded pressure. Later they grow under grow lights and provide a harvest for up to two weeks. The team used recycled drink trays to create a paper pulp slurry and created a seed packet that is dehydrated. Once dried, they vaccu-sealed the packets to keep them fresh and protected for long term travel.
Meliame Tupou talked about the social benefits of working as the only girl on the team. "It was really hard for me at first to talk to boys, but I learned how to work with different people."
Aiden Pietan owns his own business Glacier Greens and used that experience to help the team. He said the product the team created is very nutritious, "One ounce of broccoli microgreens is equal to one pound of broccoli heads in nutrients."
Stig Cunningham said they wanted to make sure the product had practical uses on earth, "We put more thought into it and it can be used for disaster relief, emergency situations, people in the military, on boats, and in remote areas."
The FIRST LEGO League Global Innovation Award teams must consider possible barriers to implementation, document the evaluation of their invention, and validate their design with professionals working in STEM (science, technology, engineering, and math). From improvements to the water cycle to innovative solutions to waste management, past Global Innovation Award finalists have brought their inventions to market, received patents, and incorporated as businesses.
FIRST LEGO League is an international program for 9 to 16-year-old children (ages vary by country) created in a partnership between FIRST and the LEGO Group in 1998 to get children excited about science and technology – and teach them valuable career and life skills. Children work alongside adult coaches to design, build, and program autonomous robots using LEGO MINDSTORMS® and create an innovative solution to a real-world problem as part of their research project.
Innovators and inventors play a critical role in growing our economy and improving our quality of life. The FIRST LEGO League Global Innovation Award is designed to encourage and assist teams with the further development of their original and important ideas for solving global issues. Students emerge as strong visionaries and divergent thinkers capable of applying innovative thinking to any problem.
The Global Innovation Award is sponsored by Booz Allen Hamilton, Collins Aerospace, John Deere, LEGO Education, Qualcomm Incorporated, and XPRIZE and in collaboration with the U.S. Patent and Trademark Office.