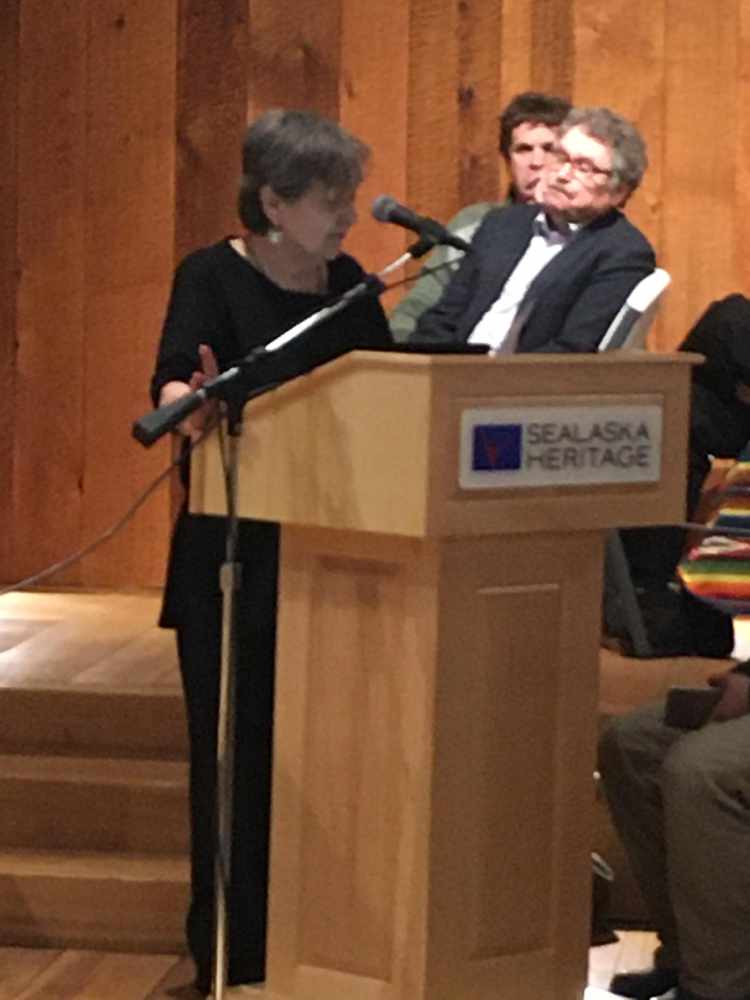 Ernestine Hayes.
Juneau, Alaska (KINY) - Ernestine Hayes remembered her days as a child in the Juneau Indian Village as a series of lectures continued at Sealaska as part of Native American Heritage Month.
Hayes recalled her grandmother telling her the Taku Winds were the voice of her grandfather telling her not to go out to play
on dark winter days.
She spoke about how natives were impacted by colonization and prevented from living a subsistence way of life.
She noted in addition to lifestyle changes there were cultural changes like music, clothing, and hairstyles.
She called the lecture, the Juneau Indian Village, pilings, pavement, and politics.
Hayes lived in a home with few modern conveniences including hot water.
She also spoke about the Dawes Act where natives could become U.S Citizens but had to abandon tribal customs and adopt the ways and habits of 'civilized life."
She said regulations made it almost impossible to catch fish of shoot deer.
Hayes explained many Tlingits got jobs in mines, steamships, and local businesses.
Hayes also praised the work being done now in the former Juneau Indian Village. "Now there is great reason to hope."
She noted history is now being told by indigenous voices and the proposed Cultural Immersion Park will expand the indigenous presence in the area. She also endorsed efforts to create the Selaska Heritage Institute Arts Campus at Heritage Square.

Audio from Ernestine Hayes on her favorite memories growing up in the Juneau Indian Village.