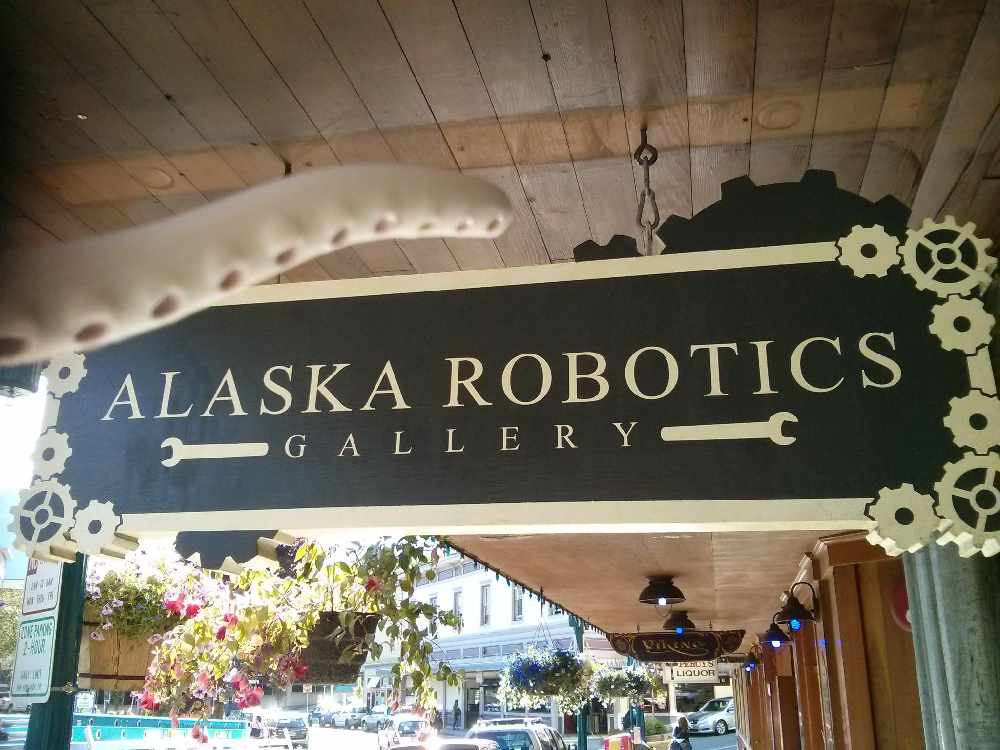 Juneau, AK (KINY) - Further discovering Juneau, Alex visits the Alaska Robotic Gallery on Front St and talks to the owners on how they took a hobby and made it a profession.
The Alaska Robotics Gallery is just one of the many small businesses that drives Juneau, both economically and as a community. Stepping into the storefront is like entering a sanctuary for comic book fans, board game players, and those that appreciate all forms of pop-culture. There's an air of creativity about the place that's hard not to notice.
We stopped by the Robotics Gallery storefront to talk to Pat Race and Aaron Suring, who are both owners, about how their creative pursuits became a viable business and what the future holds.
The gallery started as a small community project called the Ruby Room, which was hosted out of their media production business Lucid Reverie. Eventually, they started to sell a few comics out of seeing a decline of their availability in local stores.
"We kind of complained a little bit and then when they didn't do anything about it we decided maybe we carry a few of the essentials at the Ruby Room," Suring explained.
Things grew to the point that a decision had to be made about the future. Suring described that thought process.
"At some point it got to be well if we want to do this for real," Suring said, "We need to spend some heavy money advertising our current location or move to a place where people are going to find us. We decided that location was the key, so that's when we moved over to Front Street here and got this going."
The addition of comics to the gallery was driven by Race's interest. We asked him how he grew to love the medium.
"I think I've been drawing comics ever since I probably took my first math class; I think that just in the margins it's been comics, comics, comics. When I was in school, I kind of reconnected with comics up in Fairbanks and I found an anthology called Flight. The Flight anthologies really got me back into comics; it showed me that it was a medium, not a genre, that comics can really be about anything and for anyone."
Race has been creating web comics for quite a while now.
"I started making a webcomic I think in maybe 2006 or 2007, which is when I first started sharing comics on the internet. It was kind of this way of putting ideas out there or sharing jokes to the world or whatever and so I did that for a couple years infrequently."
Race and his crew also work in short film and video production. We asked him what projects he most enjoyed working on.
"One of the projects that I'm most proud of is working with the Rasmuson Foundation to do individual artist profiles for their Distinguished Artist Awards. So we got to travel out and make short biographical films of artists and so that's been a lot of fun."
Race then explained how Lucid Reverie has been a part of promoting film production in Juneau.
"We do a lot of short films. We do work for hire and we kind of also do our own work. In addition to that, we run a small film festival, so the Jump Society Film Festival is a festival of locally-made short films and we have it twice a year and our only rule is it needs to be 10 minutes or less and so we've been doing that since 2002. That's been a lot of fun; it's a way for us to share our films that we work on and see other people's work."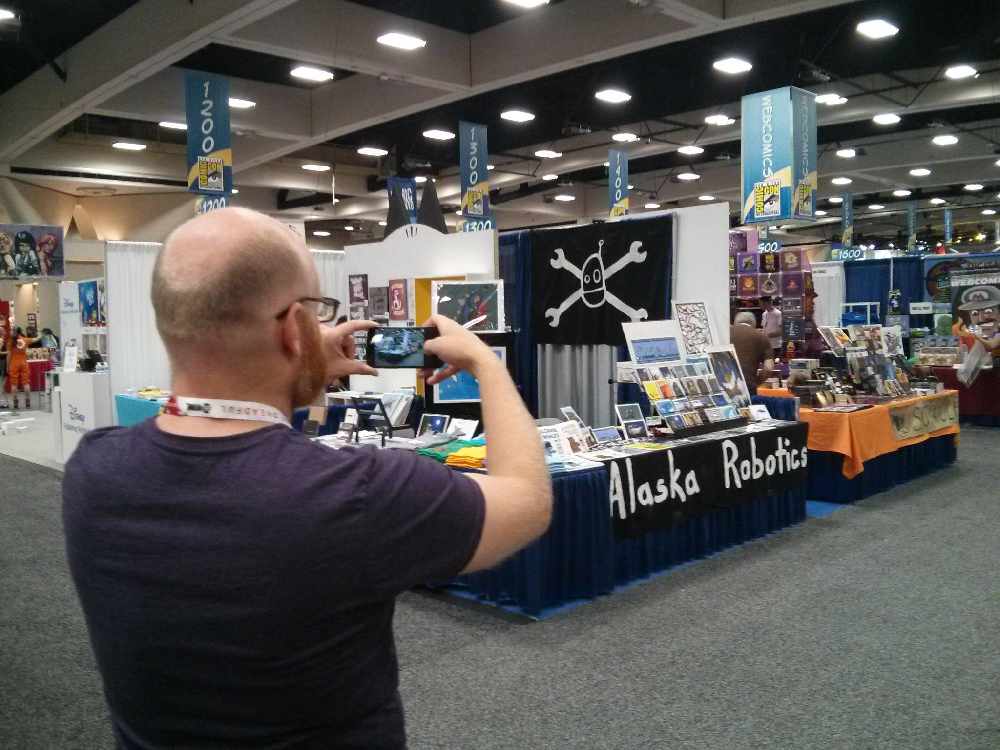 Race also believes that following a passion often leads to quality work.
"People who follow their enthusiasm, I think, do a lot better work and so it's it's really fun to see people's identity come through in their work. Encouraging people to follow their enthusiasm is something I like to do."
We asked how the community has reacted to their creative pursuits in comics, film, and art. Suring praised Juneau as a place of acceptance.
"Juneau is a very welcoming community for just about any kind of thing, it's pretty remarkable. I think if you have a passion for something and are willing to put it out there and be out there," Race said, "the people will come and try and figure out what it is and why you're passionate about it and what's so cool about it and are willing to talk to you and kind of figure that out."
The Gallery has also helped encourage young artists and hosted community shows that feature themes or a singular person. Race hopes they can continue being a part of developing local talent.
"One of the things we like to do is that we like to support local artists, especially emerging artists. Young people who are trying to get a start, we try to provide a lot of training opportunities rather than going out into the world and attending courses, my favorite thing is to bring people here to Juneau. So we're always bringing artist to town and sharing their work, doing workshops, and things like that, both in the schools and in the community."
Race said that he hopes to get to a point where he can work at the Gallery full-time to support his creative pursuits. At the moment, they are doing part-time work as Lucid Reverie for media production.
"Alaska Robotics has always been a label for our own individual creative projects," Race explained, "whether that's short films or webcomics or this Gallery itself. . . What I would I really like to do is be able to transition into doing the work that I do for the gallery full-time, because right now I'm balancing things with a lot of work for hire."
Race also told us of their comic book convention that takes place in early spring.
"A lot of people come to town for that, that's been a lot of fun, and so I think in the future we're going to be working towards further developing our convention and building up this store space. We've got a lot of ideas that can make this place better."
The Alaska Robotics Gallery fosters creative minds through art, something they've been doing for years and have no interest in stopping. It will be interesting to see what sort of creations come out of the gallery in the future.
"This gallery has given us a chance to kind of slowly build towards the goal of doing this more independently and more full-time. It's kind of is one of those things that started as a hobby and evolved into a profession."
Got an idea for Learning Juneau? Send an email to news@abcstations.com or find Alex on Twitter @AlexMcCKINY